Japan's Yamada Denki to launch Every Phone with Windows 10 Mobile on Nov. 28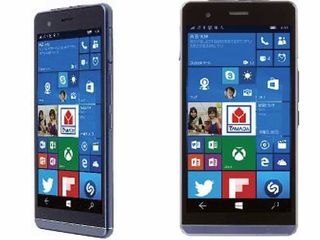 Japan's Yamada Denki is jumping into the Windows 10 Mobile market with the release of the Every Phone. The company has announced that it will begin selling the phone in that country on Saturday, November 28 for the price of JPY 39,800, or about $320.
The hardware specs on the Every Phone, on the surface, seem pretty solid. It has a 5.5-inch display with a resolution of 1280x720, with 2GB of RAM and 32GB of storage, with a microSD card slot for more storage. Ther;s a Qualcomm Snapdragon 410 1.2GHz processor inside, along with a 13MP rear camera and a 5MP front-facing camera. The phone is supposed to be very thin at just 6.9mm.The first 3,000 buyers of the Every Phone will get a free Bluetooth keyboard and screen protector.
This news follows that of another Japanese company, Freetel, who has announced its own Windows 10 Mobile smartphone, the budget-priced Katana 01, will go on sale in that country on November 30.
Thanks to Taran for the tip!
Source: Yamada Denki: Via: Cross-Coretech
Windows Central Newsletter
Get the best of Windows Central in in your inbox, every day!
Perfect phone for the price... But Androids are at around 200$ for phones at that specs.. Its a true 640XL successor with brand name change

650 XL might also have a 1 GB RAM

May be bcoz they are Microsoft

It's a $120 cheaper and unlocked, I'll take a proven Lumia any day over this phone!

@Garry Williams1.
What message does this send OEMs?
Hmm?
Sure, brand loyalty is admirable but you need to think about the bigger picture. If people don't buy these devices then OEMs will just put their hands up and say "look we tried, but we didn't even break even so we will just stick to Android and scrape by".

At exactly half that price you can get Meizu M2 Note with beautiful 5.5" 1080p IGZO display, octa-core CPU, 2 GB RAM, 13MP +5 MP Sony cameras, 3000mAh Sony bateries, 16GB Rom+ microSD. AND it is actually of decent quality, they aren't falling apart like some other phones. So this phone is overpriced.I get that Nokia always had great quality phones and that invvolves bigger price, but don't get why woulf this OEM increase price whem they get OS for free, no cost for adapting UI and probably won't make a single app for it.
It really needs to be half a this price to be decent offer, especialy when China is so near...

I get that there are many android OEMs which keep the price very competitive, my question is have you ever seen revenue/profits from these companies?? They are pouring money here and there to get more ppl to buy at cheap price but what about profits?? How will this model be sustained if you don't have enough revenue to keep on doing what your doing?

They have profit for sure. They are maybe working at postitive 0 or very small revenue. It's always better to earn 1$on 10 phones, than 3$ on 2 phones. And you should now a thing, big companies are even more greedy. Take for example Gillete, when catridge was 2$ on sale, it costed them 0.2$. Same is for phones, if Meizu sells them for 120$, it probably costs them half of that or so... They won't go bankrupt, they know what they are doing :)

Who cares about profit, what matters is how much it benefits me as a customer, if they are selling at a loss then thats even better news to me...unless you just love paying 3x more than what the phone really cost then an iphone would be up your alley.
Also, they are obviously making money, otherwise they wouldnt be making and selling a huge amount of phones. High specs + low price = profit by number of units sold.

@Shobin Drogan, Without profits, there are no wages and no wages means no support. Products don't just materialise out of thin air :P.

The bottom line is that they are getting this OS free just like they do the Android OS and the phone itself is probably a recycled Android device so the shouldn't be any added manufacturing costs. With that being said, they should be able to price it more competitively to ensure its success. This is what will sabotage windows phone I'd OEMs continue does this path. How many newly design WP phone have items made??? None, HTC, Samsung, BLU, Acer, and everyone thus far are simply loading the window mobile rom on their existing Android devices. So as stated, there isn't any added design or manufacturing costs.

Everything, well electronics anyway, is expensive in Japan. That's just how it is I guess.

Yes at half the price you can get that Phone but can you get the same responsiveness??? Qualcomm Snapdragon 410 on Windows 10 mobile will out-perform Mediatek MT6753 on Android 5.0

Good software is not cheap, by installing Windows they can't make money selling your personal data

Awesome. Hope Windows mobile market share picks up in Japan!

Can't wait for japanese game in windows

NEKO ATSUME: KITTY COLLECTOR Posted via the Windows Central App for Android

MAYBE, but I doubt it. Japan's never touched the non-Japanese consoles, but maybe the fact this is Japanese hardware gets people on-board with it, as opposed to the international offerings of Apple, Samsung, and the like. The big problem will be that mobile gaming is HUGE in Japan, and with a giant hole where third-party apps and games would go in Windows 10 Mobile, I don't know how many will bother.

If you are a developer, like my, you got to be stupid, to not jump on Windows 10. How can you miss such a rising market share of the whole ecosystem of Windows 10 -_-

It depends, do you choose to ignore that the marketshare is heavily driven by desktops and laptops where the users are totally uninterested in playing phone games on said computers? I know of 6 PCs off the top of my head, none are used for the universal apps, except maybe a few core noes from Microsoft (like the Xbox app).

There is lot of Japanese PC games on windows desktop. At the end marketshare. Lot of japanese people using Vaio, Fujitsu, Toshiba Laptop but they all run windows

The point you then have to remember: What are the Japanese games on Windows 10 Mobile?

Indeed! Maybe this is the time Windows mobile devices will gain traction and maybe it will have a domino effect hopefully for Xbox too. I'm hoping with this, W10M gains Japanese developers for making mobile games too since it's really a big deal on Japanese market.

Japan is the best selling country for iPhones from a marketshare point of view. It is even worse than USA. This means it is a very different market, will be interesting to see if win10mo will be able to gain some marketshare there.

Unlikely, since people there are so big on playing phone games. Those aren't nearly as plentiful with W10M, so I don't think too many folks will buy in.

Yet it has the most OEMs trying to change the game and thay do not like andorid, so maybe a third competitor may gain market if these OEMs can have some software house on thier wagon, we'll see.

Damn, just the kind of phone I want! Posted via the Windows Central App for Android

Weird name!! From the title I first thought how many mobiles they are going to launch !! Nice spec but not friendly price w.r.t market

I thought it meant that they were going to offer it on every device they make... SMDH.
That was a disappointment.... It's like god hates WM...

Apparently every phone is just one phone. Not the same weight as Samsung announcing the same thing. Baby steps....

Yeah! That was my first question too! "Oh, every phone will ship with W10m? Wonder how many they are gonna make!" :)

Hmmm... It seems lots of free games from Freeapps app are Japanese type.

Checkmate, Android... We now have EVERY PHONE!!!!1!

So basically a 640XL with more RAM, better processor and thinner size. Good work...

It's basically a Lumia 950 with lower resolution, slower processor, and not as good camera.

This Phone have amazing things.

Looks way better than the Microsoft mobile devices

Will this support Continuum

Are there any offline maps for Japan on Windows Phone?

No. Not that I'm aware of. I use a Lumia 636. Bing maps is pretty terrible

I guess MapFan? You just need to set your region settings to Japan in order to download the app.

This looks better than Katana 01 and even Lumia 950/XL

Hmm.. I am visiting Japan right now. Wondering if I should pick this up.

Horrible for the price. At 320 you get powerful Android devices that are superior to those specs. Posted via the Windows Central App for Android

Japan's flagship Windows 10 Mobile device is the Acer Jade Primo since Microsoft Japan doesn't like to launch the Lumia 950 there despite that there is a demand.
Another thing is that Softbank, NTT Docomo and AU still doesn't recognize Windows Phone/Mobile.

Yes, the big carriers have a hatred for Microsoft and has no interest in selling Windows Phones. The 3rd-Tier carriers are our only hope. Thankfully sim-free phones and 3rd Tier carriers are getting much more popular. I'm thinking of buying this phone today. I have a Lumia 636 (which I had to buy after my HTC 8X broke when I dropped it, I really wanted th 640XL) but now I have the money to upgrade. Will going from a Snapdragon 400 with 1GB of RAM to a Snapdragon 410 with 2GB of RAM? I will also post this in the forums.
Windows Central Newsletter
Thank you for signing up to Windows Central. You will receive a verification email shortly.
There was a problem. Please refresh the page and try again.