Microsoft's Receipt Tracker Windows Phone app will help with organizing expenses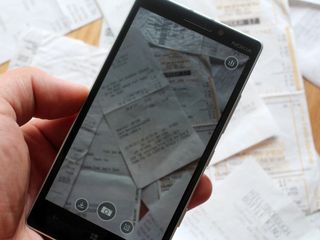 When you are on a business trip, you are always told to keep track of your receipts, but that can be extremely hard to do in practice. As part of its new wave of Microsoft Garage app releases, Microsoft has launched a new Windows Phone app, Receipt Tracker, that uses Optical Character Recognition (OCR) to extract information from photos of receipts.
That's not all it does, however. Microsoft says:
The app was created by team members at the Microsoft Foundry Intern Program in Vancouver, British Columbia, Canada.
Download Receipt Tracker from the Windows Phone Store
Hopefully won't be removed after a while like tetra lockscreen
Edit: Looks like this app comes from Microsoft Corporation, hence I think less possible to be removed after a while

tetra lockscreen was terrible. I'm glad it's gone

I personally liked tetra lockscreen. It was to me an evolution of what live lockscreen could become. Its a shame that both have been forgotten

Good idea poorly executed

it was laggy as hell. i liked the idea, but terribly done.

What was wrong with it? I know the live lock screen was just slow for everyone. Was Tetra the same way?

Not sure for others but the last update tetra received made it run pretty smooth on my 1020.

I even forgot I had tetra, I simply used the features flawlessly.
Shame shame shame ring the bell. When I updated to the previous mobile technical preview i had "default lock screen..." On the App list... That made me wonder if they are working on live lock screens for wm10.

Tetra was faster than live on me

Its not available in India?

Nor South Africa, probably got something to do with the format of receipts... But then again, at least in South Africa, receipts very often differ in format from one shop to the next, any Americans care to comment?

They give receipts in india?

Please come here sometimes.

Yes, and they also can give birth to people who can take responsibilities of companies like Microsoft, in case you don't know (which is obvious), Nadella is also an Indian by birth. Stop being a racist, and grow up. You know nothing about India, except curry, bollywood, and maybe the outsourcing companies and the call centres.

Which is more than enough

Make up your mind first!!!

Not available for my 1520 in netherlands

Can someone please compast this with Office Lense? I already use Office Lense a lot for receipts. Wish it wouldn't go into my general Camera Roll, but better than nothing, and its fast... Yeah, like mjyumping is saying, this sounds great unless it gets removed in 6 months...

When using Office Lens, Export as PDF option. It will go into your OneDrive --> Documents --> Office Lens folder.

True, but the original photo goes into my Camera Roll also...

This one seems to stay out of the camera roll, but you can share it to OneNote after you're happy with the "Event" you've created. I like it.

I don't understand why the original phots remain in the camera roll. Hopefully they'll add a setting to turn it off.

Not available in Denmark.

Not available anywhere? :P

you forgot "Only" at the end of the statement.

Yeah. I guess US only. Perhaps this should be made clear in the article itself.

Not available in the UK (1520)

Not available for a 930 in the uk

Do these apps work with Windows 10 mobile?

Not available for a Vodafone 1520 in Italy. Seriously, has someone had the chance to install it ? :)

Follow the install Link and click on store instead of store beta to install it

Don't panic because I'm in the US and it doesn't come up in the store.

Hmm, no autofocus on my AT&T Lumia 1520... Doesn't want to save the receipt after clicking the checkbox for 'done'. OCR so far has only detected about 20% of the info on the receipt... But still, interesting... Needs some polish...

I've tried a lot of solutions and find handy scan the best...

Available just in one of the lowest WP market share of the world! Keep this way MS.

Not in the UK on my sim free 830

Not avaliable in Mexico, Device: Lumia 640XL. Edit: Maybe because it use OCR is only avaliable in english speaking contries.

I don't understand why it's not available for India.

Let me guess. This is another Microsoft Garage App which will only be for a few weeks and then be removed from the store as happened with Tetra Lockscreen. Very bad.

Not available in Austria.

I found it only by clicking on the WCentral link, not by going into the Store.

Integration with Concur? Doesn't Microsoft own Concur now? Posted via the Windows Central App for Android

Not in UK either. WHY DO THEY DO THIS?! Infuriating.

Available in Colombia :) Lumia 520

Lol it wont download! In the UK too!

Not available for my device .... UK 735 ??

This is great....one question will these end up in my photos just like all my album cover art did? If so no thank you, some stuff needs to be kept separated from others

Tin foil hat assessment: Perfect for sharing your expenses with companies, to make targeted ads even more effective!!!

Awesome! Once committed to using OneNote for everything, this is a great addition! :)

So was I :)) Then they purchased Wunderlist and I gave it a try. My life changed :))) Still loving and using OneNote though for everything that isn't a to-do list.

I just take a picture and have it upload to OneDrive. OneDrive does the OCR thing so you can search for them later too.

I like this app a LOT, but it's lacking quite a few basic features, like editing category item names.

Just tried it and uninstalled. I like the categorization but most important is to save images as PDF for me.

Office Lens offers that capability. Give it a shot if you haven't already.

Not available in Portugal

As usual. They make it only for the united states......

Crashes on launch, 630....

Not available in Finland.

Don't care for it. For a truly useful app, I need it to itemize each line item in the receipt. All this does is give you a total. What if I have multiple expense types in one receipt? I need to be able to break those down. 2 stars. Uninstalled.

You make a valid point, that would be useful.

I just changed my region to United States. Downloaded app and change it back. Still works!

Thanks. Worked for me too!!

Not available for a Spark (Telecom) Lumia 1520 in New Zealand.

There ought to be an update coming soon. So that it includes other languages support other than only English US which is supported right now

My guess is like Cortana its a dictionary issue with the OCR

This seems like an overlapping product. It offers similar functionality to Office Lens but its also missing some (like exporting as a PDF). They need to merge the two and maybe make a "receipt mode" in Office Lens instead.

Can't download in Portugal

I'm an Australian 930 user and it's given me the 'not available on your device' message. Would have been a good app to have :|

I hope they release this for other markets soon.

I could get to the app on the store by scanning the QR code. But is says "This app is not available for your device" (L830).

It is not working. Crashing at first step. When i try to capture photo, it is crashing. I am using Lumia 525 with 1 GB ram.

Not available in Romania, either. Great international strategy, AGAIN, Microsoft.

Not sure how useful this is unless it's able to send data to a personal finance app.

This is what annoys me the most about Windows Phone. Missing apps? That's out of microsoft's control, and not every company can afford to support a third mobile OS. Fine, it might not be ideal but I can live with it. But when Microsoft release an app, which doesn't have any regional complications like Music, and they decide to only ticket the "United States" box and give a giant F.U. to the rest of the world, it grinds my gears.

How do i access lenses in windows phone 10. i wanted to scan the QR code but can't find a way to do it.

Would be nice if they setup some basic events group these trips ootb
Windows Central Newsletter
Get the best of Windows Central in in your inbox, every day!
Thank you for signing up to Windows Central. You will receive a verification email shortly.
There was a problem. Please refresh the page and try again.