Microsoft's sci-fi short story collection Future Visions is now available as a free ebook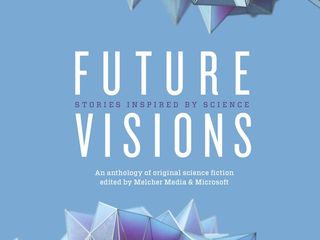 As promised earlier this year, Microsoft has now released a free ebook title Future Visions. It's an original sci-fi short story collection, featuring new works from a number of well-known science fiction authors, and all of them are based on some of the projects that are being developed by Microsoft Research.
The goal of the collection was to have each author give their own take on what the research projects at Microsoft might turn into in the future:
The stories in the collection include works by Elizabeth Bear, Greg Bear, David Brin, Nancy Kress, Ann Leckie, Jack McDevitt, Seanan McGuire and Robert J. Sawyer, along with a short graphic novel by writer Michele Rosenthal and artist Blue Delliquanti. Microsoft says all of the authors had access to the people and projects in their Research division:
Microsoft adds that a limited number of hardcover print copies of Future Visions will be made, but they won't go on sale to the public.
Download the Future Visions ebook collection from Microsoft (opens in new tab)
Source: Microsoft (opens in new tab)
Windows Central Newsletter
Get the best of Windows Central in your inbox, every day!
Just downloaded it. Looks interesting.

Can anyone give me a link to this, I can't seem to download it.

http://news.microsoft.com/futurevisions/
Scroll down till u see amazon link to downlaod...

get the Kindle App from the Windows Store

Will have to add this to my list of things to read after I complete the Sherlock Holmes collection. Lol

Me too. Bought the compete set. Hopefully it's complete.

I'm impressed. I thought it will be only PDF, only to see I can get it on my Kobo from the store.

Loaded it into Kindle for Windows Phone with WhisperSync. I would've preferred a pdf version I could use with OneReader.

As a Publishing student... Wow. That's real bad done ePub. Come on, Microsoft and Melcher Media :( I think those libraries allow book updates, so go for it. There's a lot of things to correct there, even in the text.

Why isn't there a book section in the store?

because Amazon knows how to sell ebooks. Go and download their Kindle app from the Windows Store (on Windows 10 devices)

Hey Cortana - read me a story from Future Visions