Microsoft's Stop Restart App may help devices that have yet to receive the critical update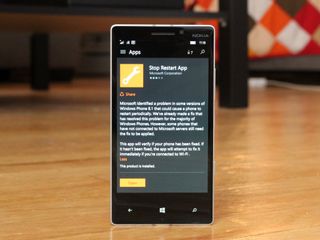 Microsoft is sending out emails to Windows Phone owners with information about the critical update that the company pushed out last month, urging them to install the update. Some may not have received the update, whether due to lack of cellular connectivity, no wireless signal, or a number of other reasons, and for that Microsoft has an app that is said to help.
Microsoft's Stop Restart App is another way for the company to help users who are experiencing random reboots on their devices. Here is the app description:
If you have yet to receive the critical update, or are still having issues, be sure to give the app a shot and let us know how it works out for you.
Download the Stop Restart App from the Windows Phone Store
Thanks for the tip, Yashdeep W!
Jared started off writing about mobile phones back when BlackBerry ruled the market, and Windows Mobile was kinda cool. Now, with a family, mortgage and other responsibilities he has no choice but to look for the best deals, and he's here to share them with you.
Great idea but needs a little work, for my device is still yet to be fixed

This update doesn't have any effect on the OS number. And the update is only of 1 MB.

Wifi required for just 1MB update. :|

I did it through mobile data.

Hi Su please unblock me I want to talk to you.

Really! 1 MB? Can I do this with my mobile data?

Off the topic - is windows phone app store down? I can't download or update any app on my 830 ( India ).

Don't know.. Though Its working for me..

Try checking your date and time. That's usually why I get that issue. Make sure it is set to correct time and date.

Checked ! Still facing the issue. :(

Its good but what about freezing issue. Its still there. Even after denim and 8.1 update

It's so sick - Windows Phone 8.1 has the bug with the rebooting but Windows 10 TP... Doesn't?

Not bad... My phone checks out... Weeeee

It's showing me that I should install critical updates that are offered to me but I see none of them in phone updates.

I already have installed the update..still it says the same

It is just a reminder to install critical updates whenever available, not that there are critical updates available you have not downloaded... "... critical updates offered to you." (italics is mine).

Is this enough to say , Microsoft is really interested in Windowsphone.....? They will bring Windowsphone like Windows PC

This app doesn't "fix" your problem guys, it only checks whether it is fixed or not. Gosh read before you give poor reviews.

It's not getting poor reviews because it doesn't work. It's getting poor reviews because it's a pretend bandage. Do you give 5 stars to every app, just because they work?

I guess yes..if the app serves its purpose

"If it hasn't been fixed, the app will attempt to fix it immediately if you're connected to Wi-Fi." The above quotation is part of Microsoft's statement. If true, then it's NOT a "pretend bandage"! If it works, then YES, I give 5 stars! Maybe you should first investigate whether the app truly does what it's suppose to do before glibly throwing around your "pretend bandage" statement?

Did it actually work for you? At the moment, it just notifies if you have the update or not. If the update's not available for your phone, there's nothing the app can do to "fix" anything. This app doesn't do anything new for people that already know how to check for updates on their own. It's about as useful as a web wrapper, but I guess you people give those 5 star reviews too, because they do exaclty what they're supposed to do.

I thought that was the purpose of rating? so you're going to rate apps 5* because of its eye candy interface even though it doesn't work? 0h.

I will say that when I first installed that update it made my phone worse. After a hard reset everything is smooth. Not really happy about having to a do a hard reset but unfortunately I have had very few experiences with updates that went smoothly, and did not require a reset, regardless of the OS.

Does it concern also those on windows 10 mobile?

In a word - no.
I'm running WP10 on aa L925 and the app stated mine doesn't need to be checked (not affected).

It says your phone is ok..

Was not able to fix via the app or by phone update. Posted on Microsoft forum and was given a link to fix the problem via a PC connection. It did install, now let's see if the problem goes away.

Link to that post please?

They are really serious about this update... I've received an email from them yesterday "informing" me of a critical update

I had never experienced this issue before, but last night my 930 restarted 3 times in less than 10 minutes. I'll be downloading this if it keeps up, since the update hasn't reached my device yet.

My w10 new version not downloading. 0% showing

What can i do friends. My L920 w10 new version 10166not updates

I received the notification email even though I updated already. Does Msft means telling my old phones which I had stop using since years ago?

Not work, my 630 still have that reboot issue even I've installing critical update, and that app says my phone OK..

Does this work on Windows 10 Mobile? My phone randomly reboots, namely when it's charging, breaking the SD card.

I've used it and my Lumia 830 has no problems.

I haven't had a reboot since I installed update 2, however this morning my Lumia 830 rebooted, so hoping it was a one-off. The app says I'm OK

Hard reset for problem solving is not the good idea.

I flashed back to 8.1 on my L635 in order to install 10166 and the first phone update was the random reboot fix, so no need for the Stop Restart App....

We need 'Stop Nadella App' .

The problem with bbm or music player on wp8.1 when u press the back button bbm while playing music it automatically select the previous song and keeps playing it for no reason

I don't have a restart problem, I have a black screen problem. Anyone know how to solve that?

Even my 720 just shuts off at random. After a call ends, after a song stops or crazily while charging. Just plain dead. Have to use volume down and power button a number of times to boot it up. Still doesn't boot up sometimes for like 15-20 minutes.

My Lumia 1520 as well! EXACT same problem.

Off topic.. I don't know what all bugs MS fixed in last update, but my L925's mic is working perfectly fine after the update during calls... (y)

I threw my Lumia 928 away since it wouldnt stay one for longer than a few hours without shutting off... Really wish they would have admitted there was problem and said they were trying to fix it so I wouldn't have had to throw it away. What a shame. Microsoft wouldn't replace it either which was just ridiculous.

Well I'm stunting with the New Microsoft Lumia 640 LTE. I'm 100% sure my Microsoft Mobile Device is Alright.

How will I know if my phone got this update. My phone is set to received updates automatically and will restart on its own at 3:00AM. I haven't notice an update installed on my phone lately.

Well my 1520 installed the update. Great news. No more spontaneous restarts. Not so great news. New spontaneous hard lockups with screen stuck on requiring a hard restart.

This app shows ur phone is ok but u still need to critical update n when i check update there is no update

Windows Phone OS is a joke, i can get my 1320 reboot everytime i navigate through outlooks PC site. Seems like the settings area is worst trigger for reboot.

What email from Microsoft? What update?

What is the update that's causing all of the problems in the first place? Does it have a number that I can see if aplied on my Lumia 928?

But my device is facing random switch off.....

Funny story. I never had random reboots until I installed the critical update. Now I have had two since then!

Not available in store, lumia 620, currently on slow ring

It rebooted once or twice after that update but I haven't had any issues since then.

My 822 started to shut down at random after last update (which was to fix reboot problem, which I didin't have). Du'h

I have the Lumia 830, and prior to the update to fix the restart issue I and no problem with my 830, but after the update it started giving me that restart issue twice in just the last 10 minutes. I downloaded the app to fix it, but it says my phone is ok. Am I missing something here, does anyone else have the same issue as me? I'll try, and look for a FI, this thing is driving me crazy.

Same phone. Similar problem. Restarts once a day.

I thought Windows Phone was meant to be more stable? Seems to me like it has just as many problems, I mean for some reason a factory reset of my phone defaulted it to Spanish, even though it's a British variant. Now I can select English but so many apps default to Spanish still and the langauge pack for English wont download, it's just stuck on 0% forever. It means things like Cortana wont work :\ Just so many weird issues like that. I don't get why the OS is so slow as well, people say it's so much smoother than IOS or Android, but for me Microsoft just put in long animation transitions to make it look smoother. In reality everything runs slower, every time I back out of an app and go back into it, I have to wait ages for it to resume. The camera app is a massive offender, it takes a good 5 or 6 seconds to resume, even though it should have been running in the background. Then you have the battery life, it loves to stay on 100% for ages, then as soon as it gets off it, the percentages drop a lot faster. Some nights I can go to bed, wake up and I've lost 5%, other nights I'll lose 30% and it's like why? I haven't used the phone any differently, there is nothing in the multi-tasker. Windows 10 mobile has a lot to fix from the quite frankly poor OS that is 8.1

Yeah!!! You're Absolutely Right! WTF!!!

I'm using Nokia Lumia 730 DS. Normally after the Recent update version 8.10.14203.206. , I think I'm facing this Automatically shuts down issue. But I will restart my by using normal option or by soft reset. Some times it'll show Battery level Critical, even it has above 50%. But Now Guys, Please some one HELP ME!!! Yesterday, I've been paying a game Stick cricket with 30% of charge. At that time it switches off automatically. Then I've done the regular restart by pressing Power Button, does'nt worked. Then I had tried to do the soft reset. But my phone does'nt even wake up. So then put on charger. It was likely restarting, but it repeatingly shows the Nokia logo and windows logo. Yet it did'nt started fully. If I put in charger, I can do the soft reset. But if I removed the charger, my phone gets switched off. I don't what is the reason, whether it's battery prob or OS prob. I bought this just before FOUR months. Guys some please help me!!! This problem is still longing and crossed a day, no respose in my mobile.!!!!!PLEASEEEEEEEEEEE!!!!!!!

who think that small app can stop restarting the mobile??my phone is stuck at insider update.it wont go back to 8,wont rebboot,wont update.and restarts periodically.and when i find this app,nothing changed.it says your phone is ok.is this some kind of joke>>?

Hello friends .............. Do not Worry about this Start stop problem in window phones . It is not your phone''s problem , it is the Window 8.1 which is not compatible properly with configurations of your device ........ my Lumia 640 used to stop 4-5 times a day, but as I upgrade my window 8.1 to Window 10 it starts working properly. So if you want to get way from this problem than UPGRADE YOUR WINDOW to WINDOW 10(if possible). Thanks ................ SAURABH PATIL (Hansraj College D.U)

not true.. NOKIA 735 Windows 8.1 (now upgraded to Windows 10) My Nokia Windows phone is still shutting down and restarting randomly, a few times a day!! I ran the STOP RESTART app, but it says all is OK. No its Not!! I upgraded to Windows 10. its still rebooting!! I see across the web that this is a known issue and fixes are not working. Why have you not fixed it and why still allowing consumers to buy expensive brands that are not reliable. shame on you Microsoft and Nokia
Windows Central Newsletter
Thank you for signing up to Windows Central. You will receive a verification email shortly.
There was a problem. Please refresh the page and try again.