Microsoft's Windows Live Writer blog tool goes open source as Open Live Writer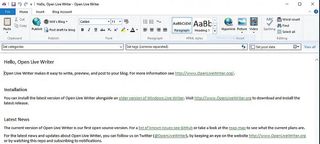 Windows Live Writer, a Microsoft-developed application that allowed users to write and preview blog posts offline, is getting a new name and a new lease on life. A few years after development of the app ended, a team of Microsoft volunteers have relaunched the app as an open source project under the name Open Live Writer.
Microsoft team member Rob Dolin stated in a blog post that Windows Live Writer was the number one app user for authoring a blog post to WordPress.com on a Windows PC, even well after active development of the app ended. He wrote:
The first version of Open Live Writer still lacks a number of features compared to the old Windows Live Writer, but the team has a proposed roadmap for future updates that will slowly add new functions to the app.
Source: Openlivewriter.org, .NET Foundation
I am hoping they will do this to Photo Gallery and Movie Maker.

I would love to see Photo Gallery because of its advanced and simple tag organisation.

Basically open source the whole Windows Live Essentials suite.

So it's basically WordPad

Yes, with some blog related features. You can also see the webpage preview while writing your blog. It was good. I use to love it.

No it's not. Can WordPad download blog templates and publish blog posts?

Microsoft style, change the name and reduce the features and call it progress

The point is that it's open source. WinBeta's article talked about what they did remove. For example, there was a third-party spell checker that was super old and they weren't sure if they could redistribute that component with an open source project.

Facts have no business in Windows Central comments.

What I want is someone to port this to Linux, or turn this into a universal Windows app... just saying...

I could. Thanks for the idea. Will start as soon as exams end.

Already logged: Issued #46: https://github.com/OpenLiveWriter/OpenLiveWriter/issues/46

I missed this tool and I'm so glad it's back. Hopefully more people will help with the development.

I use yo use this LiveWriter a lot, but now I wonder if it has any advantages over just using MS Word.

Heck you can even use powershell if you know what your doing

Very nice to see this come back, will give it a go now that I've started up my WordPress again.

I still regularly use this program. Making it open source is smart... Hopefully they can do the same with Mail, Movie Maker and Photo Gallery

So WordPress.com is going universal with its new app, and yet Live Writer is still going to be redeveloped as a x86 app?

That was my assumption too, but, alas, the new Wordpress app is a Win32 desktop app, not universal!

Honestly these blogging features could of have been merge into WordPad

Oh man, I remember using Windows Live Writer to post to my Windows Live Spaces blog, those were the days lol
Windows Central Newsletter
Thank you for signing up to Windows Central. You will receive a verification email shortly.
There was a problem. Please refresh the page and try again.