Former Microsoft developer Mike Porter talks gaming degrees and games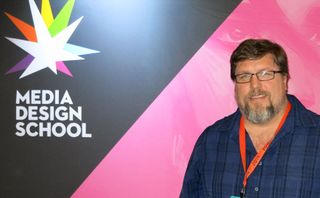 Not too long ago, you couldn't just learn how to make games at college. Video games are a relatively new form of media, only becoming popular in the 1980s. The earliest game developers came from other disciplines, whether it was computer science, art, etc. and learned how to create and contribute to games through practical experience.
Nowadays, more and more universities offer at least some game-specific classes. A few even have game-specific degree programs, allowing students to focus on games from the very beginning of their higher education.
At QuakeCon 2015, I met with Mike Porter of San Diego-based NewSchool and New Zealand-based Media Design School to learn about his schools' gaming education programs. Mike formerly worked at Microsoft on Windows 8's koi pond and games like Halo 3. Even if you don't aspire to make games, you'll want to watch our video interview for Mike's insights into gaming!
From game developer to educator
Mike Porter's game development history started with developer Terminal Reality, where he contributed to several PC titles for Microsoft including Monster Truck Madness 2 and CART Precision Racing. From there he went to Ritual Entertainment, Sierra, and eventually Microsoft from 2005-2009. There he contributed to Halo 3 and Shadowrun for Xbox 360. He also contributed to the Windows 8 koi pond, creating the rocks, some of the plants, and working on the sand look (under direction from Peter Zhan).
After leaving Microsoft, Mike joined the New Zealand-based Media Design School. There he heads the school's Bachelor's Program for game development with an art specialization. The program has produced two graduating classes to date.
Student work sample from NewSchool Media Design School
Learning to make games
Media Design School is a close partner with NewSchool of Architecture & Design, found in San Diego, California. Aspiring developers who would rather study in California than New Zealand can select from four Bachelor's programs at NewSchool:
Bachelor of Science in Media Design: Become a graphic designer, illustrator, art director, web designer, web programmer, and more.
Bachelor of Arts in Animation: Become a 3D modeler, VFX artist, animator, technical director, and more.
Bachelor of Arts in Game Art: Become a game designer, game artist, level designer, texture artist, producer, and more. Definitely a great choice for anyone interested in the art and design side of games.
Bachelor of Science in Game Programming: Become a game programmer, game developer, AI programmer, network programmer, technical director, and more.
To learn more about Media Design School in New Zealand, visit MediaDesignSchool.com.
For more information about NewSchool Media Design School of Digital Arts, head to NewSchoolArch.edu/Academics/MDS.
Should you become a game developer?
Game development is a tough industry. Many developers and some publishers have shut down over time. And even successful publishers routinely lay off staff when games complete development. Most recently, mobile publisher GREE let thirty percent of its San Francisco-based staff go. Ouch!
Job security isn't the best in the gaming industry, so individual developers need to be ready to find new employers when necessary. But I can say firsthand that working in an industry that you love is an extremely rewarding experience. Even writing about games is a dream come true. Hence, there will always be new generations of gaming developers, artists, and journalists who decide to turn their favorite hobby into a career.
Mike Porter and I discussed several other topics, including a game that we both highly anticipate: the upcoming Doom from id Software and Bethesda. Be sure to watch our video interview to catch the Doom conversation, and don't miss my detailed Doom multiplayer impressions from QuakeCon.
Paul Acevedo is the Games Editor at Windows Central. A lifelong gamer, he has written about videogames for over 15 years and reviewed over 350 games for our site. Follow him on Twitter @PaulRAcevedo. Don't hate. Appreciate!
Wish my uni had video game courses, although for my adaption and translation course I did play a level of halo ce and compared it to the book ;)

Off topic, does anyone realize that the icon to make Cortana listen for music is gone or is it just me? I do realize that when i say 'what music is this' that she listens but after she does my audio driver crash. If its a known bug maybe that's why the icon is not there. Let me know if anyone else has this problem.

Put your issue on the forums. Don't hijack the discussion!

Send me the link to the forum

One day you too will need answers. You will remember this day.

Did anyone else just think of the scene from Billy Madison where Steve Buscemi is cleaning his guns and going over his list of people who've bullied him?

haha yeah :) Except in this case he's crying because people helped him find a better place to get help. It's like getting upset when someone gives you directions to the local visitor centre instead of holding your hand and taking you to your destination when it's completely out of their way.

We'll also remember how to use the forums

Oh I know why that's gone btw, simple fix

the video is unavailable in restricted mode and i cant turn it off in edge. im gonna stick with chrome for a while

It works fine in edge for me??!!

You meet some great people Paul. That game development business is damned precarious. Read numerous blogs from those that have been chewed up and spat out even when they are highly talented. Saying that, it is a business that I wish I had the talent to do. Nice to see that this guy is helping yo usher in the next wave of talent.

I was in the gaming industry for 14 yrs, and made some of the best (or most popular) games out there. I started off at Sony, then moved to Angel Studios, which was purchased by Rockstar.. I worked on games like Red Dead Redemption, Table Tennis, Midnight Club, Smugglers Run, etc.. After Midnight Club Los Angeles was completed, much of the team was let go. The rest were moved to Red Dead Redemption. And after that game was completed and made a ton of money for Rockstar, 1/3 of the studio was 'laid off'. The gaming industry doesn't appreciate veterans and leaders. What they want is young kids who will spend their lives in the studio and sleep under their desks. I tell people to reconsider if they are thinking about going into games... you will want to leave by the time you're 40, if not earlier.

Damn that sounds bleak. Seems to be the nature of entertainment industries.

No it's the nature of all businesses in general today...

Come on over to the simulation industry. We have people until they retire. There are a number of people who get lured from here to the gaming industry to find they don't have a job in a year or two.

I've worked both in games and simulation. Games is definitely more fun when you're young and don't have a family. Simulation was more like a real job... but still a decently cool fun real job. The budgets were much smaller and the timelines were much shorter. The art quality was lower because of the timelines. But overall it was still nice.

Creating a game is much harder than most people think. Good to see college programs dedicated to games.

A big problem with game students is that they think they're ready when they graduate from school. Especially when it comes to the art side. The real amount of students that truly are ready is small. These students often began preparing before college and also worked at their craft 6+ hrs a day outside of school work. Making art was what they did in their free personal time. But for most students, it will require continuous work after graduating. Hours and hours spent every day perfecting your craft. Then when you finally break in, you still have to keep improving because technology changes so fast. It's a tough, but rewarding, industry. Not for those that need security though.

The tech side is not different. Unless the graduate has been doing lots of projects on the side then they are woefully under prepared for the real world.

True. But in tech, it's an issue everywhere. It's not really a game industry thing. Coders need to spend time coding.

My daughter will be starting her senior year majoring in animation and digital media. She's going to get into Game design.

Game Design is actually a pretty different field than animation and digital media. Animation and Digital Media probably means that she is focusing on creating art assets that can be used in games. Not to say that artists never become game designers. It just happens to be a different skill set. Programming/scripting. Project Management. Etc..

I wish i did this when I was younger. Now I'm a Network analyst, still decent but not what my passion is m. Games.

Game Maker Studio on the Weekends?

As a developer in training I would like to turn my books and characters into games one day

I studied at Vancouver film school for 3d model/animation.two percent of my class made it... And the ones that did want out..

Why do they want out? Did you just recently graduate? That 2% number seems awfully low. It may be true for recent graduates because the vast majority of students aren't ready right out of school. But within a few years a respectable amount should be able to secure a job somewhere. It takes a lot of practice after school is done.

It is amazing how those that have the talent and love for video games have programs like these to look into! Makes me want to visit NZ again and check it out! Hopefully I remember how to speak Kiwi!

It's true. I've worked for three game publishers with studios of their own. I worked Operations so didn't program games, but I architected their database back ends when they required persistence (i.e. MMORPGS). It is a volatile industry, but extremely rewarding. I have yet to work with the level of skill and talent that I've worked with during those 8 or so years. Add to that the cutting edge technology and it's a paradise for gamer or tech enthusiasts. Just be prepared to read the pulse regularly and keep abreast of the politics because they will provide the right cues that it is time to move on. Once a game launches, pretty much maintenance crews are kept and not much more unless the IP was acquired somewhere else to begin with and nor developed in house. Wish they had game programming schools when I went through college, I love what I do but can't help but wonder...

I wanted to design Games at one time...
Windows Central Newsletter
Thank you for signing up to Windows Central. You will receive a verification email shortly.
There was a problem. Please refresh the page and try again.