Minecraft getting in on the Halo 5 action with character pack featuring Blue Team and Fireteam Osiris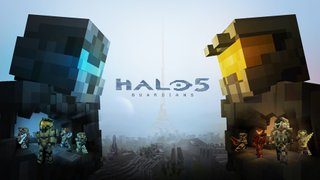 Minecraft players will soon be able to get in on the Halo 5 action with new character skins. Beginning Friday, October 23, owners of the both the Xbox One and Xbox 360 editions of Minecraft will be able to play as characters from Halo 5: Guardians through an update to the Minecraft: Halo Edition mash-up pack.
The update, which is free to current owners of the pack, will contain eight new characters, SPARTANS from Blue Team and Fireteam Osiris. Here's a list of the new character skins:
Blue Team:
Spartan-117 The Master Chief
Spartan-104 Fredric
Spartan-087 Kelly
Spartan-058 Linda
Fireteam Osiris:
Spartan Locke
Spartan Buck
Spartan Tanaka
Spartan Vale
All of this comes ahead of the actual launch of Halo 5, which arrives on the Xbox One on October 27. If you don't already own the Minecraft: Halo Edition mash-up, you can grab it now from the Xbox Store.
$3.99 on the Xbox Store (opens in new tab)
Windows Central Newsletter
Get the best of Windows Central in in your inbox, every day!
Love Halo and Minecraft! I'd like to see a Lego Halo game or a Halo game by Telltale.

I want to see an open-world Halo RPG game. Like a mix between No Man's Sky and Fallout sandbox aspects.

What can Telltale possibly do with Halo? Let's not get crazy here..

If I played Halo, this would be cool. Nice work MS.

Wow only 3.99! Lmao let me make it for free on PC brb

And you felt the need to tell us this, why?

Yeah, let us know when you make a mashup pack for PC Minecraft that includes characters and music from an intellectual property that you don't own, that is as well done as this one.

Was thinking the same thing. Is this also available for windows 10 edition on PC?

I don't think so, since they stated nothing regarding the Windows 10 edition, which is still in beta and so far behind.
Windows Central Newsletter
Thank you for signing up to Windows Central. You will receive a verification email shortly.
There was a problem. Please refresh the page and try again.