Miniclip's Strawberry Shortcake: Berry Rush is the latest endless runner for Windows Phone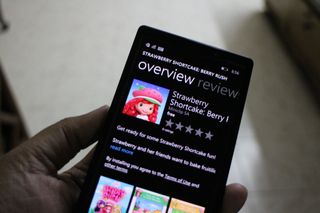 The list of endless running games on Windows Phone is continually growing, with the latest additon being Miniclip's Strawberry Shortcake: Berry Rush. The game is set in the Strawberry Shortcake universe, and features a similar set of controls as other games in the genre, which involves collecting fruit and coins that are then used in a cake-decorating mini game, all while dodging obstacles.
Here's what the game offers:
Play as your favorite Strawberry Shortcake character!
Race through the colorful and amazing world of Berry Bitty City!
Ride rainbows, leap off flowers and catch butterfly power-ups!
Bake and decorate delicious cakes!
Dress your characters with tons of cool outfits!
Collect fruit and coins to make recipes and unlock cute puppy companions!
Download the game from the link below, and let us know what you think of Berry Rush in the comments.
Thanks everyone for sending this in!
Windows Central Newsletter
Get the best of Windows Central in in your inbox, every day!
Harish Jonnalagadda is a Senior Editor overseeing Asia for Android Central, Windows Central's sister site. When not reviewing phones, he's testing PC hardware, including video cards, motherboards, gaming accessories, and keyboards.
I dont want this game for free, I want iStunt 2 ;-;

Would you like cheese with that whine?

Whine = complain (what the first poster is doing)

It's sad we need comments to explain other comments

Windows Phone, the home of endless endless runner games smh!!

All platforms have endless runner games. We don't have more that IOS or Android.

Getting tired of these kinds of articles with only one picture for the header of the article

Getting tired of your whining, go create your own website and write your own articles.

Friends, chill, even I was looking for more pics

Miniclip used to be a big supporter of Xbox on WP. Now, this is their 3rd-straight non-Xbox game. #SaveXboxWP. Details here.

You want achievements from Strawberry shortcake? My 3 yr daughter plays this game.

First endless runner for WP :D

No it's not. There's Temple Run, Temple Run 2, Subway Surfers, Sonic Dash, and some other endless runners that I'm missing. Those came before Strawberry Shortcake..unless you were being sarcastic. XD

I wish Miniclip would give us 8 ball pool...

True that. Also, so many other games from Miniclip

If they bring this game, i wish soon they will bring 8 ball pool.

Ooh my niece is going to loooove this! Thanks to apps corner I can just let her have my phone and she would happily play "my little pony" to her hearts content. Wish I could give her some puzzles to play instead, but unfortunately she already has an iPad.... So hard to compete with that with puzzles lol.

Gents don't play this game!

Seems like barbie game...

You seem like a Barbie to me. :3

Too late windows central its already on top free list

Now all we need is a video review with a 40 year old guy saying how great this game is. Complete with fedora

It's "40-year-old guy", not "40 year old".

lolz you gramzorz my internets comment

I am passionate about hyphenated compound adjectives.

If that's passionate, then what do you call your outbursts on so many articles? Rage-fests?

To what rage-fueled "outbursts" are you referring? I think you're confusing me with someone else. I am calm.

No, you're the save xbox guy. There's been some interesting posts with packed statements. I don't want to argue, but my point is you've made some ridiculous replies.

I'd like to see an example of a "ridiculous reply" that I've made. My guess is that your interepretation of whatever I wrote differs from how I intended whatever I wrote to be interpreted. With specific examples, I can perhaps demonstrate this, which would be a lot more fair than simply labeling my comments as "rage-fueled", "packed", and "ridiculous"--characterizations I take umbrage at.

If you read your own comment, you will get an example.

Nice. Let's keep ask\ send\ request them to bring 8 pool ball !!
I will tell them in their email and in this game review in the store. and do the same as me.

Love this authors last name. Hate this game.

Straw-ba-ba-berry x2 shortcake :P
LOL good for little angeLs/Barbies in our homes ;)

Great! Another endless runner that I'm going to have to download... for the kids.

No Mintberry Crunch game? :(

Save yourselves by switching to android. Being a fanboy only makes you a loser in some cases.

Exactly Guys! Being a fanboy only makes you a loser, take shreyas15 for example.
Windows Central Newsletter
Thank you for signing up to Windows Central. You will receive a verification email shortly.
There was a problem. Please refresh the page and try again.