Miss out on Immortals Fenyx Rising when it launched? Now's the the perfect time to play.
I know your backlog is probably full, but you should really give Immortals a try now.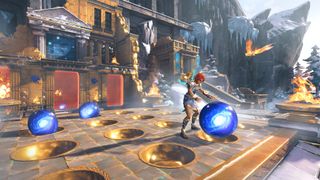 (Image credit: Ubisoft)
Immortals Fenyx Rising may be one of the best games you've never played — at least in my opinion. While the pandemic ended up causing a number of game delays at the end of 2020, Immortals Fenyx Rising still released during a packed holiday that also saw the launch of the Xbox Series X, Xbox Series S, and PS5. When you combine that with high-profile releases like Assassin's Creed Valhalla, Call of Duty: Black Ops Cold War, and more, it's easy to see why Immortals was swept under the rug. But this new IP has a lot going for it, and now's the perfect time to play.
We're at that time of the year where there aren't too many upcoming big rleeases, save for a couple like Resident Evil Village. As we come to terms with how there will be many more game delays going forward, we should start to pick at our back catalog. If you had any interest in The Legend of Zelda: Breath of the Wild, I think you'll find a lot to love in Immortals Fenyx Rising.
Immortals takes a few pages from Breath of the Wild's book and creates a fantastic fantasy tale pulling from Greek mythology. The story, narrated by Prometheus and Zeus, follows a young demi-god on the Golden Isle who must find a way to save their brother and defeat the evil forces of Typhon, who has escaped from his imprisonment in Tartarus. It's open-world, the art style is gorgeous, and there's a good mix of puzzles and combat when it comes to its gameplay — how could you not enjoy fighting the likes of Medusa? There's just so much to do and it opening up chests you find never gets old.
On top of all that, the dialogue is genuinely funny. It jokes about how vain Aphrodite and Ares are, how Zeus has fathered pretty much everyone under the sun — it knows the type of game it is and isn't afraid to be silly or weird. The jokes can be hit or miss for some people, but I appreciate the direction it took.
What makes it more enticing to play now is that you can usually find it listed for half of its launch price on Amazon, and a couple of expansions have released like the Myths of the Eastern Realm, which follows a new hero in a tale inspired by Chinese mythology.
I still think that Immortals was absolutely worthy of being a game of the year contender last year, and it's some of the most fun I've had with a game in a long time. In a year where we could all use a little levity and brightness, it was a beacon to me like Animal Crossing: New Horizons was to others (and also me, because I definitely played a ton of New Horizons too).
Ubisoft hasn't announced any plans for a sequel just yet, but I have high hopes this could be the beginning of a wonderful franchise. And if you go out and support the game a sequel becomes even more likely.
Gods & Monsters
A fun and light-hearted adventure

Immortals Fenyx Rising is the perfect game to play when you want to break up the monotony of realistic shooters flooding the market. Take a trip to the Golden Isle and learn a little bit about Greek mythology while you're there.
Get the Windows Central Newsletter
All the latest news, reviews, and guides for Windows and Xbox diehards.
Jennifer Locke has been playing video games nearly her entire life, and is very happy Xbox is growing a stronger first-party portfolio. You can find her obsessing over Star Wars and other geeky things on Twitter @JenLocke95.