Mobile Device Center automatically installs with Windows 7 (hooray!)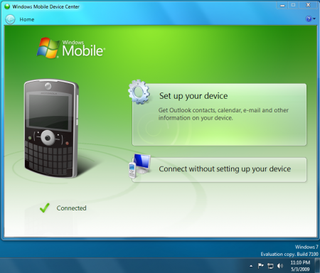 Back in April we whined complained about how syncing your Windows phone with Windows (the desktop operating system) took a few steps too many. You had to manually go out and find the software (ActiveSync for you XP users, Mobile Device Center for Vista and Windows 7).
Our cries have been heard.
With the Release Candidate version of Windows 7 (that's Build 7100, for those keeping track at home), everything's taken care of for you. We'd heard as much from PocketNow but just had to try it ourselves. Here's my experience:
Phil plugged in his trusty ol' Moto Q9h.
Windows 7 downloaded and installed some drivers.
Mobile Device Center was automatically downloaded and installed.
Phil thrust his arms in the air in celebration, sounded a barbaric yawp and immediately began a post praising Microsoft's foresight.
OK, it's not perfect. There really are no dialog boxes telling you what's going on, and the process isn't as quick as I'd like. It took a couple of minutes to install the drivers and software, which in and of itself was fine. But there basically were no dialog boxes (other than the one saying drivers were being installed) to let the user know what was going on. But we're not going to let that rain on our parade.
And for those of you wanting to try out the Release Candidate, it'll be available to the public on Tuesday (opens in new tab).
Phil is the father of two beautiful girls and is the Dad behind Modern Dad. Before that he spent seven years at the helm of Android Central. Before that he spent a decade in a newsroom of a two-time Pulitzer Prize-finalist newspaper. Before that — well, we don't talk much about those days. Subscribe to the Modern Dad newsletter!
This has been the case since the first Win7 Betas...nothing new.

It sure didn't do it with the 7068 build.

Yea its been doing it but if you installed device center manually it wouldn't which caused a lot of problems

It's been doing this since the 7000 beta including many of the leaked interim builds (7068 included). However, it's possible that they just didn't have your specific phone on the list of devices to download Mobile Device Center with. That is, when WU went to see what software to download for your phone, it grabbed drivers, but they perhaps didn't have it configured to also download Device Center. It's possible they updated that.

Ahhhhhh. That could well be. Not gonna stop my yawping, though. :)

My 7000 release did not have WMDC at all and I had to go on the internet and manually find the software and download it just like Phil noted. Without doing that, plugging in my phone did nothing, nada. If this release has the software on board that IS a change. Downloading the 7100 Core.Edition-LiTE as we speak...love W7 so far.

I wish it would offer Windows Live and Live Mesh sync, Active Sync (the exchange bit) is a bit redundant for me as a home user.

I upgraded from 7000 to 7100 and already had WMDM installed. Well, after the upgrade it crashed everytime, I had to uninstall it, then it still would fail because my device driver was already loaded. Going into dev mgr with the device plugged in, hitting update driver solved my problem.

Oooooo. Upgrade instead of a clean install? Brave soul. :)

I must have missed the boat. I have WIndows 7 RC1 build 7100 installed on my Toshiba U305-S7477 laptop. I did a clean install. My Sprint HTC Touch Pro synced great with Vista after I installed the Mobile Device Center. My Windows 7 Build 7100 did not sync. Do have have to manually install Mobile Device Center like I did in Vista? What do you have to do to get the automatic install stated other than connect USB cable from Touch Pro to laptop? I have exchange server setup through 4smartphone. With Vista I was still able to use the Mobile Device Center to sync Notes and favorites. Any suggestions please. WME@dhorwitz.com

If you're one of those people, who can't get the automatic feature to work or if for some reason your phone is not supported, this article will help you install WMDC on Windows 7: http://capitalhead.com/articles/enable-activesync--windows-mobile-device...

I have windows 7 build 7160 and to be honest connecting my Omnia to it really SUCKS. the omnia just wont get recognized. after much work it finally did, and one week later: again unknown device

Although I've tried to get it working a few times, it hasn't worked for me. I've had to follow these instructions: http://capitalhead.com/articles/enable-activesync--windows-mobile-device...

Hi... I just updated to Windows 7 Ultimate and I cannot get my Black Jack II to sync. I tried letting it do it by itself but it keeps giving me an error when connecting, so I put in the software that came with my phone and it says that my Flash software is corrupt even tho I have tried to DL and fix it several times. What am I doing wrong? Anyone else have trouble? Any advice would be great. Thanks! My email is - alyssasmommy@bellsouth.net or juliesays@live.com Please let me know if you have found out how to fix this problem.

Microshit is crap at most things. Installed Windows 7, but, won't install Mobile 6 SDK? Says I need to have WMDC installed? But, it won't install it, saying there is a component missing, but won't say what. Usual Microsoft shit

I am trying to get my PC (Windows 7) to recognize the Pocket PC (ASUS a686) that is connected via usb and cannot figure out how to get it to read it. I have Windows Mobile Device, but should I change some security settings or firewall settings? No idea why it's not recognizing the pocket pc when it's plugged in via usb. Thoughts?
Windows Central Newsletter
Get the best of Windows Central in in your inbox, every day!
Thank you for signing up to Windows Central. You will receive a verification email shortly.
There was a problem. Please refresh the page and try again.