Mobile Nations podcast changes and updates!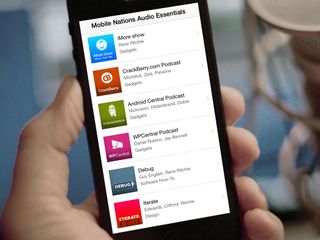 We're going to be making some changes to the podcasts we do here at Mobile Nations — Android Central, CrackBerry, Connectedly, iMore, and Windows Phone Central. That'll no doubt excite some people and upset others, but our single, unwavering goal is to make better shows that you'll enjoy even more. We want to respect your time and your interests, we want to stay focused and stay relevant, So, with all of that in mind, here's what's changing!
Windows Phone Central, CrackBerry, and Connectedly
The CrackBerry podcast is going to continue as an occasional show — whenever BlackBerry news and Bla1ze want to fire it up. We have the most enthusiastic BlackBerry users, abusers, and community on the planet, and we'll talk with them whenever we have a chance.
We're working hard to reboot the Windows Phone Central and Connectedly podcasts. No spoilers yet, but stay tuned! (And keep bugging Dan and Adam!)
Android Central podcast and iMore show
Both the Android Central podcast and the iMore show continue to be the heart of our communities and the shows themselves aren't changing. (Though Ally Kazmucha joined the iMore show a regular co-host last week!)
What is changing are the RSS/iTunes VIDEOS. (Audio is staying exactly the same!)
We're going to stop posting those and go all-in on YouTube. It was a tough decision to make but ultimately it cost us a fortunate to serve a tiny fraction of the audience and it just wasn't feasible to keep doing it.
To be clear, the video versions of the shows aren't going away. They're just going to be posted exclusively to YouTube for now. Luckily, there are playlists for both shows that make them really easy to keep up with:
Debug and Iterate
Our developer and designer shows are staying as-is. No changes. If you're at all interested in pushing bits or pixels, or in the history of bit or pixel pushing, check them out! (We had a whole series on .NET and Mono on Debug recently, check it out!)
Vector and ZEN&TECH
Less is more is a hard lesson to learn. I've been doing 7+ shows a week for a while now and it's tough. Getting guests for Vector every week is hard, doing two entertainment-themed shows a week is hard, and it's all more than a little unfocused. So, we're merging some thing together.
Vector is merging with ZEN&TECH to be the all new, all better Vector. It's staying weekly but it's switching format to a panel show where Guy English, Dave Wiskus, Georgia Dow and I talk about technology and culture, from the latest news to how it impacts our lives. We'll also still have the occasional guests.
We're not going to keep posting Vector on Mobile Nations, so if you want to make absolutely sure you don't miss it, subscribe now:
Review and The TV Show
Review is merging with The TV Show to be the all new, all better Review. Dave Wiskus and I will still do the week TV rundowns and Guy English, Dave Wiskus, Georgia Dow and I will still do the current movies, and Guy English, Don Melton, Matt Drance and I will still do the 80s movies, but since it's all one theme, it'll all be in one feed.
We're not going to keep posting Review on Mobile Nations, so if you want to make absolutely sure you don't miss it, subscribe now:
Thanks everyone!
Your support for, and involvement in, all of our shows means more to us than you could imagine! We really hope you understand the changes and keep enjoying the shows we approach, both on Mobile Nations and off.
As always your feedback is invaluable to us, so please make sure you read the entire post and let me know your questions or comments!
Get the Windows Central Newsletter
All the latest news, reviews, and guides for Windows and Xbox diehards.