MobiSystems' OfficeSuite makes the jump to Windows PC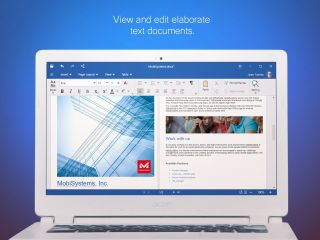 MobiSystems has officially launched a Windows PC version of its OfficeSuite bundle of programs. The productivity suite, which was previously only available for Android and iOS, packs alternatives to Microsoft's own Office offerings, including editors for documents, presentations and spreadsheets.
Here's a bit of what you can expect out of OfficeSuite for Windows:
Powerful PDF management options including quick conversion and sharing options, digital security and certification, and advanced markup and annotation!
Create beautiful-looking DOCUMENTS with the included Microsoft Font Pack, as well as a large selection of preloaded templates!
Powerful capabilities for editing your SPREADSHEETS include cell formatting, extensive formulas library, conditional formatting with data bars and color scales, all perfect for editing large-scale data!
Make your PRESENTATIONS more engaging with dozens of customizable shapes and transitions!
On top of the above features, OfficeSuite is compatible with all Microsoft document formats, so you should have no trouble working with files made in Microsoft Office. The suite also supports PDF files with madvanced markup, as well as OpenDocument file types and more.
If you're interested, you can check out OfficeSuite for Windows for free at MobiSystems' website. Do note that you'll need to purchase OfficeSuite Premium to print documents without a watermark, however.
Dan Thorp-Lancaster is the former Editor-in-Chief of Windows Central. He began working with Windows Central, Android Central, and iMore as a news writer in 2014 and is obsessed with tech of all sorts. You can follow Dan on Twitter @DthorpL and Instagram @heyitsdtl.
Or I could use a good office suite with many features not available from MobiSystems and use Office365. If I wanted a free version, then I can just use Office online.

Is this on the Windows Store?

Nope, it's .exe installer.

All these alternatives are toys compared to Microsoft Office. There are always compatibility issues and missing features. LibreOffice is ok but feels clunky. And with Office Online free, even non-business users who just want an occasional letter have a great and free way to do it.

In theory some of those free alternatives are more then enough for most consumers (I'm talking about people who don't need Office for work). The problem is that that's it's pretty hard to find a solution to a problem online. And the main target group of those free alternatives will have some problems sooner or later.
MS Office is the gold standard.

Unfortunately many younger people these days that grew up with Apple devices are used to other programs. I was working on a team project and received a .PAGES file and I was like how am I supposed to open this in Word.
.
Apparently a few people in my team project have never used Microsoft Office before :/

Are you talking about iOS devices or about MacBooks?
Most people still never used MacOS.
And hey even Apple says that MS Office is the best. Just remember the presentation of the iPad Pro with MS office.

You're underestimating the number of people who use MacBooks in the US. College students here have a huge bias to Apple. Seckndart schools are also using iPads and iWork for assignment these days, along with iTunes U, which pushes them towards macOS. Apples market share is disproportionately high in the US.

Yes in the US. But around the world it's different. And even in the US most people use Windows. Apple is just more visual.
And like I said before. Even Apple is saying that MS Office is the best.

Naturally, I assume it is win32 instead of UWP. The ONLY win32 software that I install is from Microsoft. Even then, I do so reluctantly.

You can try out portableapps.com They let you install all most all win32 apps you will ever need without making any modifications to os

I could also sequence win32 apps into App-V but I shouldn't have to. Microsoft's UWP converter for win32 is even easier but 3rd party vendors continue to give Microsoft users the shaft. Too lazy, stupid or a bit of both?

As of Windows 10 I only prefer apps/software from Windows Store.
.
But then there is software from Cyberlink, Wolfram, Autodesk that are Win32 only so yeah I'm fine with those :(

The only way they will change is if we demand proper Windows 10 support. Sad but true.

I only buy software that isn't tied to an online account. I want to truly own my software, with freedom to move it between machines and install on multiple machines (I.e. Desktop and Laptop) without having to double pay. That rules out the MS Store and Microsoft software. I even deleted my MS Account and Office 365 subscription. I tend to just use Corel. The have the right stuff to set of a base package on a system. WordPerfect Office, PaintShop Pro and VideoStudio, AfterShor and PDF Fusion (Preview on steroids). They give me what I need to have a good base experience, simipar to what Mac users get out of the box.

"you should have no trouble working with files made in Microsoft Office". Yeah, if you don't care for the fact it will mess around with your formatting and layout and if you really don't care for your Excel charts, you can use it just fine. And forget about pivot tables and VBA. Also no office remote for your presentations. If there's one front where Microsoft wins, is in Office. Nothing comes close to it

I have that experience as well when editing Microsoft Office files with Open and Libre Office before, all messed up! Never used alternative again!

Just got free ms office. With new dell laptop in an amazon. Offer

If they already have an iOS version, why didn't they just use the iOS porting tool. Why do I have to go to a website and take multiple steps to get their software?

I'm still using wordperfect 5.1. Why mess with perfection?
Windows Central Newsletter
Thank you for signing up to Windows Central. You will receive a verification email shortly.
There was a problem. Please refresh the page and try again.