Moody's cuts Nokia's debt rating to lowest investment level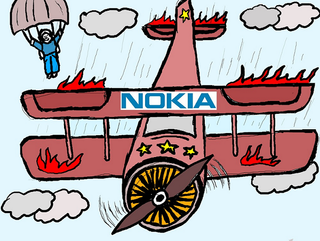 Today, credit-rating agency Moody's, cut Nokia Oyj's debt rating to the lowest investment-grade level. This comes on the heels of Nokia's announcement last week that they would be posting a 3 percent loss this quarter and would likely see a loss in Q2 as well. Citing deteriorating sales of low-end phones, Moody's dropped Nokia's debt rating one step, to Baa3, with a negative outlook, which means that the rating could be lowered even further, if things don't pick up for the Finnish manufacturer. Moody's decision affects an estimated $5.2 billion in debt and puts their rating more in line with those of Standard & Poor and Fitch, who were much quicker to lower their ratings.
The change in Nokia's rating has obviously affected the company's stock. Shares have been trading down 2.4% in Helsinki and credit-default swaps jumped to a record-high 516, up from 354 at the beginning of April.
In a press release that was put out soon after the Moody's announcement, Nokia Executive Vice President and CFO, Timo Ihamuotila, said that "Nokia is quickly taking action. Nokia will continue to increase its focus on lowering the company's cost structure, improving cash flow and maintaining a strong financial position." Nokia also tried to reassure people by noting that Nokia has approximately 4.9 billion Euros ($6.4 billion) in cash reserves.
Nokia's Lumia line of Windows Phone devices is selling well, especially the wildly popular Lumia 900, which has seen strong sales. Stephen Elop, CEO of Nokia, has said that he and his mates continues "to increase the clock speed of the company." Nokia is slated to break ground on a new factory in Vietnam, which is expected to start churning out low-end phones in 2013, a year behind schedule due to stalled negotiations with the Vietnamese government.
Get the Windows Central Newsletter
All the latest news, reviews, and guides for Windows and Xbox diehards.