Moody's cuts Nokia's debt rating to lowest investment level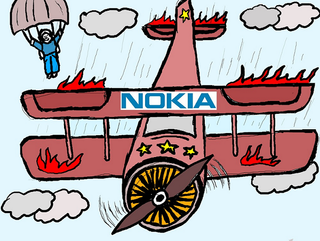 Today, credit-rating agency Moody's, cut Nokia Oyj's debt rating to the lowest investment-grade level. This comes on the heels of Nokia's announcement last week that they would be posting a 3 percent loss this quarter and would likely see a loss in Q2 as well. Citing deteriorating sales of low-end phones, Moody's dropped Nokia's debt rating one step, to Baa3, with a negative outlook, which means that the rating could be lowered even further, if things don't pick up for the Finnish manufacturer. Moody's decision affects an estimated $5.2 billion in debt and puts their rating more in line with those of Standard & Poor and Fitch, who were much quicker to lower their ratings.
The change in Nokia's rating has obviously affected the company's stock. Shares have been trading down 2.4% in Helsinki and credit-default swaps jumped to a record-high 516, up from 354 at the beginning of April.
In a press release that was put out soon after the Moody's announcement, Nokia Executive Vice President and CFO, Timo Ihamuotila, said that "Nokia is quickly taking action. Nokia will continue to increase its focus on lowering the company's cost structure, improving cash flow and maintaining a strong financial position." Nokia also tried to reassure people by noting that Nokia has approximately 4.9 billion Euros ($6.4 billion) in cash reserves.
Nokia's Lumia line of Windows Phone devices is selling well, especially the wildly popular Lumia 900, which has seen strong sales. Stephen Elop, CEO of Nokia, has said that he and his mates continues "to increase the clock speed of the company." Nokia is slated to break ground on a new factory in Vietnam, which is expected to start churning out low-end phones in 2013, a year behind schedule due to stalled negotiations with the Vietnamese government.
Windows Central Newsletter
Get the best of Windows Central in in your inbox, every day!
LOL at the picture, although the parachute should be gold.

they are just throwing negative news at the stock so they can get in at a low price.

Missionsparta cuts Moody's credibility rating to lowest possible level today.... Other WP7 users to follow.....

I think that graphic is quite inappropriate. Anyone who believes that Nokia is going to be able to turn things around with Windows Phone has quite a different picture in mind. Nokia is just starting with Windows Phones and just released its first high-end device last week and while it is still too early to know if the trend will sustain, it is looking good for Nokia (and Windows Phone) so far.

Some good news though... "Moody's expects Lumia devices to become the third smartphone system next to Google Inc.'s (GOOG) Android and Apple Inc.'s (APPL) iOS, with the help of price and marketing support. But the firm projects margin pressure in Nokia's mobile phones segment and the downward migration of lower-end smartphones will continue."
http://online.wsj.com/article/BT-CO-20120416-706917.html

I'm thinking of buying Nokia stock now. It only up from here.

I am also thinking of doing this very soon. I firmly believe they will make a strong comeback.

Just curious, how many shares should one buy for it to really be worth it? I'm kind of new to the stockmarket...

Don't buy Nokia stock. The ADR fee and comission fee, along with it being a terrible idea to buy it, make it a huge no-go.

I consider Nokia a "government" backed stock...the "government" being Microsoft. I'd be surprised if Microsoft let Nokia crash and burn. I think Nokia will turn things around though.

Tbh, the Finnish government probably wouldn't let Nokia fail... Aside from the fact its a national institution and puts the country on the map, too many jobs are reliant on Nokia in Finland, and the company generates far too much tax revenues for the public purse. Nokia just need to build reliable, solid phones and regain consumer awareness, both of which they are achieving now. The big difference between Nokia and Palm, is Nokia have a myriad of markets they operate in, have thier future riding on more than just one handset, have capital in the bank, have the backing of a country/government, still have general consumer awareness, and have Microsoft as close allies, whose own future profits/losses may become ultimately linked to the fortunes of Nokia.

So not worried. There had to be some sort of bottoming out. Once they start producing additional model lines to compliment or exceed the Lumia line, things will turn around.

Bought shares on Friday as well. Blood in the streets, time to buy.

I bet Moody's was bullied real hard at school and is now determined to screw every single one of us over...

NOK reports earnings this Thursday. I wanna pick up some shares but debating if I should wait til after they report. Is the bad news already priced into the stock now since they already preannounced?

The best way to treat such bogus assessments is to ignore them. I actually thought that -3% net loss is a big achievement, especially since the company is still in transition & Windows Phones have been on sale for barely one quarter!
Take a deep breath. Reject the naysayers.

I have owned Nokia stock for over a couple years. Even sold it before because it was on a steep decline. When I first bought in they were around $13 a share but started to fall fast. When around $9.75 I just accepted the loss and moved on. Then about 6 mo ago I bought again at $5.80. I am still losing money. It is ok to want to support a company and be optimistic fols, but this is not a good move. Nokia is in trouble. I am a Nokia fan boy and I love my Lumia 900 and N8, but they aren't going well folks. I hate to think this way, but if they continue to fall in revenue and profit they won't make it. Microsoft will have to buy them. I simply bought in out of love , but that isn't a smart way to invest. You must do rigorous research on companies before throwing your cash in. You will not get paid off their stock increase and you will not earn any dividend. Stay away

First off I think there have been many analysis saying to buy Nokia. I bought at $5.15..$5.00 $4.75 I really don't care what Moody's thinks. It was never going to be an easy transition from Symbian to WP. With that said currently all of the Nokia hand devices running WP OS have been outstanding in sales. I don't really see a boost to Nokia stock until the end of this year. with the new WP8 devices coming out along with perhaps a good solid 10 inch tablet running win8 This company is going to bounce back, what we see now in stock price is golden really $4.50 per, come the end of the year $ 9.00 per in 12 months could see $11.00 or higher not a bad return.

Not anymore. 4 analysts are saying buy, 18 are saying hold and 6 are saying sell.

I don't get stocks,
in the last 3 weeks I think there were 2 analists that change nokia from a sell to a buy
but moody downgrades them ..
now what does that do to Nokia ?
I think analists changing it from a sell to a buy is good but to downgrade the credit is bad for the company..
I know they are building a plant somewhere and to get money to build this the intrest rates are going to be nuts..
this is what can hurt a company instead of helping them..
Plus with 14 bill in the bank ?? how does a compnay get downgraded with that kind of cash.. I would think they must be doing something right with all that cash.. I can see downgrading someone that has no cash and lots of dept..
I don't know I don't get it that they cant get a break..


@jabtano. I understand your optimism, but it's a very risky investment. They could be bankrupt by next year. Hell they dipped under $4 earlier today. You make see a golden opportunity, but make sure u check the beta, price/earnings, price book, dividend payout, etc. They aren't a good investment right now and are in just as worse shape as RIM. Just look at HTC. They move a huge amount of devices. More high end smartphones than Nokia. They have been losing money. Its easy to look at a companies assets and say it's a good investment, but it's only a fraction of an investor's research.

I've already did the data, Indeed they could go broke. but then so could every other company. As I had stated before the transition was going to cost Nokia deeply this was known up front. The problem with the Markets is everyone wants to see change happen overnight, it doesn't work that way. I think moving forward Nokia looks very good down the road long term stock wise. Between now and the next 12 months we should be seeing some very exciting stuff come from Nokia. They know in order to gain market share they need to be bold and innovated I think the Lumia line has done just that. This is just the first of a series of innovation in design. Also buying and picking stocks is tricky it really comes down to luck. Look at HTC as you pointed out, one stock can fall rather fast over the span of a few quarters, however it can also rise in a matter of a few quarters as well.

Vietnam is the new China...

That graphic seems a bit negative, although I know it's supposed to be humorous. Lol! I should take a chill pill, but I would rather see a plane having trouble taking of if it's got to be negative.... I mean, I'm positive that Nokia will succeed,, aren't you guys?

I know it seems like something the Verge would put up :).

I think Nokia is going to turn it around but they really need to get a ranage of devices on more carriers becaus I think so many more people would like to buy them if their carrier had them--like me for instance.

If this keeps up, it could become Nokia, a division of Microsoft Inc. It will turn around once Apollo drops.

Want more money? Make Tmo Lumia 900. MANY people waiting.

It doesn't help that the Galaxy SIII is launching in early May. I think Nokia can pull it off. Microsoft can help for a bit. At least with Marketing money. What was Nokia's last earning report? Was it under -1billion? I think with the release of cheaper models and the launch of the Lumia 900 in Europe it will definitely help. Especially the launch in china. I think that they can break even by Q4 2012 and start profiting by Q1 2013. As long as they don't lose a billion $ each quarter till then

Great technology doesn't necessarily translate to business success. Look at Palm - their PDAs OWNED the market (I bought the first US Robotics Pilot - it was REVOLUTIONARY in 1995). The Palm Treos and Centros were great until the iPhone came along and WebOS was awesome but undercapitalized and poor manuafacturing Quality Assurance spelled it's death (my Palm Pixi still makes a nice little 8 GB MP3 player - picked a couple up @ $55 each a year ago). So the technical prowess of WP7 may not be enough for Nokia to turn around a death spiral. Look at RIM and Blackberry - you can fall off a cliff pretty fast. And don't tell me MS won't let Nokia fail (if they were that interested they would have bought a 49% stake (wouldn't have gotten through if they tried to buy them outright), let Nokia manufacture all their hardware and moved forward. I believe Samsung and HTC are getting ready to abandon WP7 - look at their latest Android hardware (both the One X and One S are amazing pieces of hardware - can you imagine WP7 running on hardware like this????). Maybe WP8 will bring back the other OEMs.
Windows Central Newsletter
Thank you for signing up to Windows Central. You will receive a verification email shortly.
There was a problem. Please refresh the page and try again.