More details on Windows Holographic VR headsets due in December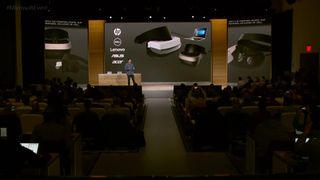 At its October Windows 10 event, Microsoft announced that it is working with partner companies to create VR headsets based on the Windows Holographic platform. However, outside of a short prototype demonstration, the company was scant on details. But if you're eager to hear more about these low-cost VR headsets, it looks like you'll get your chance as soon as December.
Included in an interview with Polygon about the upcoming VR headsets, Microsoft's lead on the project, Alex Kipman, noted that Microsoft will announce more details about the headsets at some form of event in December. Those details should include more information on specs like field of view and resolution, according to Polygon.
Kipman did have some interesting things to say concerning what to expect from the headsets, however. While each of the upcoming headsets will pack inside-out tracking, which allows for movement tracking in any direction without a need for external sensors (think HoloLens), the overall experience you get will vary depending on your hardware. While headsets will start at a $299, there will be different configurations available at different price points. The experience is also dependent on the PC to which you're tethered, so that hardware will influence the experience as well:
The first Windows Holographic VR headsets — which are being brought to market by partners like HP, Lenovo, Dell, Acer and ASUS — are expected to land alongside the Windows 10 Creators Update in early 2017.
Dan Thorp-Lancaster is the former Editor-in-Chief of Windows Central. He began working with Windows Central, Android Central, and iMore as a news writer in 2014 and is obsessed with tech of all sorts. You can follow Dan on Twitter @DthorpL and Instagram @heyitsdtl.
Hopefully this is not late December.

As long as it's before the release it's all good

Yeah, doesn't really matter if it's late Dec or not, you won't be able to buy them until after (or just before) the W10 Creators Update.

The matter is not the time when it arrives, but the minimum hardware specs they require. Most people don't have enough cash to pay a grand for a gaming Rig to use Oculus VR or HTC Vive, thats why I think Sony's PlayStationVR low cost solution is much better choice. BTW I'm a Microsoft fan, won't buy the PlayStation VR probably never since I don't own a PS4 and don't plan to use one.

That's exactly it. I was mostly talking about the details for Price/Specs and the minimum requirements each headset.

"The experience is also dependent on the PC to which you're tethered, so that hardware will influence the experience as well​" Was hoping it will tether with flagship like 950xl or x3 for some basic tank.

I doubt holographic is part of W10M for quite some time (if ever), maybe by R3/4, if we're lucky, as part of some kind of epic Surface phone reveal.

The Alcatel Idol 4S works with its own VR headset on W10M. So it's still possible, that the HP one would work with an Elite x3 and/or the Acer one with the Jade Primo. I know it's done by an app, not Holographic, but HP and Acer could build an app for their phones as well.

Yeah but the article's about holographic, & the OP's statement was in relation to that. I'd say what you're suggesting will be a poor 2nd-cousin, compared to what's coming to W10. Hopefully holographic-lite will come to W10M by the time we hit ~RS4...

No neg, at this rate RS4 likely 2018? Hopefully there are still W10M phone to buy.

Yeah, early 2018.... Oh there will be, it's a long way off, I'm sure there's plans to stimulate things just that little bit more -between now & then. RS3 is possible, unlikely IMHO, but who knows...


I really doubt OEM VR headsets from HP,Dell,Lenovo, etc will work on mobile CPU, what Sony did with the PlayStation VR is much more effective than what Samsung did with the Gear VR which is an underpowered experience.

I'm waiting to see if my AMD Radeon R7 M270 with 4GB DDR3 has enough juice to power these headsets. I have a Dell Inspiron 5548 with this videoCard and my CPU is 1 year old (Intel Core i7 5500U Broadwell). I have 8GB of RAM, hope I don't have to purchase a new laptop to make use of these low cost headsets.

So wait, the VR headsets will be connected to a laptop/desktop for power and information right? What port will it use? Will it work with USB 3? I've never used VR and have no idea about what's the idea MSFT is pushing.
.
Planning to get a laptop soon and can wait if this is something really cool. :)

You made a good point on the port, if it uses USB 3.1 It means these laptops may require USB Type C version2, my laptop only has USB 3.0 so I maybe will indeed need another laptop. I'm starting to realize how fast the desktop tech advanced in 1 year, now my laptop is starting to look old hehe :)

Will it come to Xbox though?

It desperately need to be part of the XBox One ecosystem.

Curious to see if these headsets are part of Microsoft's VR ambitions with Scorpio. Plenty of time to speculate :D

I'd expect this news as part of WinHEC in China on Dec 8-9.

Am putting my Rift purchase on hold till I get more info. I want to find out what one of the high end headsets will deliver.

Am I the only one not excited about VR?

Have you not tried it? It's quite amazing and will only get amazinger in the future!!!!! Lol

I have not tried it, but the fact that you used the word "amazinger" kinda makes me wanna try it.
Windows Central Newsletter
Thank you for signing up to Windows Central. You will receive a verification email shortly.
There was a problem. Please refresh the page and try again.