More global Nokia websites, including the US and India, redirecting to Microsoft Mobile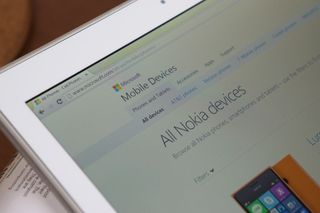 A couple of weeks after the UK Nokia website started redirecting visitors to the new Microsoft Mobile web page, it appears that the process is moving forward with more Nokia sites across the globe, including the US, India and French sites.
This would seem to be the continuation of a process by Microsoft that will eventually see the Nokia brand dumped by the company following its purchase of its Devices and Services division in April. The Nokia Conversations blog site remains online and continues to be updated but we would imagine that will change soon as well.
If your local Nokia website starts redirecting to the Microsoft Mobile page, please let us know and we will update this post if needed. Thanks to the many folks who tipped us!
Source: Nokia US
:/ Nokia means a lot in our life.

websites are not loading, too slow taking hours to load

Sorry to be off topic but from where I can renew my mix radio subscription? Oxicash wallet is down.

I am from India and I see Nokia.com Without any redirect

Have you tried selecting "Phones" from the navigation menu?

Do you use proxy or something?

The Nokia.com website isn't redirecting me to Microsoft site. Everything fine on my end.

When will the music subscription restrart?

Nokia India website is slow like hell while redirecting to MS site

Cause every single Indian is trying to access the damned website to make sure Microsoft didn't forget about them.

Seems like you're doing a survey on Indians and Nokia India very poorly..

Not redirecting in Canada yet. Will keep an eye on it.

Nokia Philippines site also now redirects to Microsoft. I hope they hook up with major telcos here again soon to release the 830 and 730.

Anyone having problems should clear out their browser cache and DNS cache.

Yeeeeee Thats good news Nokia is going to be back soon manufacturing good phones again..

Italian site www.nokia.it redirects to https://www.windowscentral.com/e?link=https2F%2Fclick.linksynergy.co...

Not getting a forced redirect here in AZ, USA, but there is a large link stating: STEP INSIDE OUR NEW HOME
Nokia devices and services have moved to a new website.
That takes me to https://www.windowscentral.com/e?link=https2F%2Fclick.linksynergy.co...

http://www.youtube.com/playlist?list=PLQCME3WJpcNfHg4mxzHJh8dIzqPxMrCvk

Good news Nokia is getting rid of Microsoft and wp. The bear will rise again with its own super phones with glory halleluja!!!

I also tipped...was expecting my name der T_T :P

Why hasn't Microsoft created a Microsoft store app like Apple has for IOS and Google has Android?!

Anyone else notice that the Nokia Software Recovery tool page now no longer has Download links?

Nokia Mexico (nokia.com/es-mx/telefonos-moviles/) is redirecting to Microsoft Mobile Devies (http://www.windowscentral.com/ext?link=http2F%2Fclkde.tradedoubler.c...)

The GDR2 for windows phone 8.1 where is launched ? ( Sorry for my bad english )

So the "real" Nokia has no website?

All this rebranding and redirecting of websites should have been done on the day of Nokia acquisition. Microsoft doesn't seem to be concerned about Windows phone at all. I hope they have something big coming with Windows 10 on phone.

A Page you like is merging into another Page.
A Page you like on Facebook, Windows Phone Canada, is merging with another Page soon. By 21 octobre, it will be part of Nokia Canada and your like will be transferred to the merged Page. Visit Nokia Canada to learn more about it. See Windows Phone Canada.

Nokia getting swept into the ashbin of history.

Doesn't make sense. Nokia still exists so wtf is going on.

If a particular brand of phone is not selling in UAE, means something is missing in it, Lumia team wakeup. Take a survey in UAE

Time has come for Indian too. When clicked on Phones link it re-directs to https://www.windowscentral.com/e?link=https2F%2Fclick.linksynergy.co... :(
Windows Central Newsletter
Get the best of Windows Central in in your inbox, every day!
Thank you for signing up to Windows Central. You will receive a verification email shortly.
There was a problem. Please refresh the page and try again.