More Sprint Treo Pro Details from Internal Docs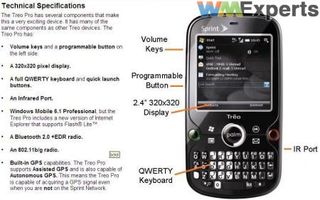 An anonymous tipster has sent in some slides from a Sprint document detailing the specs and functionality on the Treo Pro, including some head-to-head comparisons against Sprint's other smartphone offerings. We do have some new information here too, including the procesor speed and storage. Frankly, we're hoping that the bits about the RAM are wrong, because it's listed as 512 storage, 32mb RAM. That's ....low. While the previous Sprint Treo--the much maligned 800w--only offered 256 MB of user memory, it boasted 128 MB of program memory, four times that of the specifications listed for the Treo Pro.
More details and slides -- including why that RAM shouldn't be taken as gospel just yet, after the break!
[Thanks to the anonymous tipster and to Gabriel for the guest post!]
Now, before you panic, this isn't the first time we've seen a different numbers for the Pro. In a previous WM article by Malatesta, we see the Treo Pro reported with "128MB program memory (DDR) and 256 non-volatile memory (175MB of user store)". In a TreoCentral forum post by Elistone, we see not one but two different sets of numbers reported: "512MB program memory (DDR) 256 non-volatile memory (300MB of user storage)" and "128MB program memory (DDR) and 256 non-volatile memory (175MB of user store)." So now we have a third set of memory numbers offered up that's completely different.
Also of note is the processor speed, an amazing 528 mhz processor. Despite the faster processor there have been some early reports that the Pro still isn't as snappy as it's kid brother, the 800w. On the other hand, the slides make a point that the A-GPS is both "Assisted" and "Autonomous," meaning it will work without connection to Sprint's network -- a situation that's been dicey at best, impossible at worst with the 800w.
IE6 with flash seems to be confirmed. Another interesting add-on is Sprint's Java platform, Titan, which they're touting as a step up compared to your average Windows JVM. Also notable: it looks as though the free version of Kinoma, Kinoma Play, is baked into the ROM out of the box.
So yeah, the Sprint Treo Pro is pretty much nigh. Engadget Mobile has the briefest of unboxings, Sprint employees have the details they need to sell the sucker, and soon you'll be able to have it in your hot little hands.
That slide can't be correct, its shows the Q9h with a gig of ram.....

Sprint has the Q9c (not h) currently. It obviously doesn't have 1 gig of RAM. Given that Moto seems to like keeping the same name, it's possible that's a leak of a new Moto Q9 with a larger amount of memory. Seems doubtful given that all the other stats are the same, but possible.

I can't believe articles like this are being posted. Why would the treo pro be that different from the gsm version? Control the BS!

Well, if you take a look at the Touch Pro, there are 4 distinct versions: - Touch Pro European GSM
- HTC Fuze
- Touch Pro Sprint
- Touch Pro Verizon All are ostensibly the "same" device yet all feature very different specs and even form factors. So whether or not the CDMA is going to be 'identical' to the GSM is definitely an open question.

Well, the OMAP in the 800w is much more powerful than the famous, multimedia-crippled Qualcomm in the Treo Pro.

I cannot views video on youtube with my treo 800
Windows Central Newsletter
Get the best of Windows Central in in your inbox, every day!
Thank you for signing up to Windows Central. You will receive a verification email shortly.
There was a problem. Please refresh the page and try again.