More WP7 Hardware Coming from HTC; Meet the T8788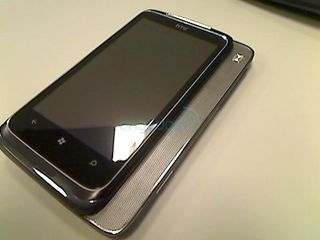 More than a few of us have high expectations for device manufacturers when it comes to hardware for Windows Phone 7. In particular, the manufacturers that are traditional Windows Mobile powerhouses such as Samsung and HTC have a very high bar set for them.
The hardware that we've seen leaked and rumored up to this point has been decent, but not quite up the lofty expectations that some of us have visualized. Other than the two LG devices, everything seems to be very "black slab".
Finally though, HTC gives us some hardware that breaks the mold. The T8788 offers a landscape-slider form factor, though from pictures the only thing sliding is a large speaker. This speaker, in conjunction with the included kickstand, could make this a strong media device. If I were king of the world, I'd love to see the back of the device slide both ways; one to expose the speaker, the other to provide the hardware keyboard.
What do you guys think? Is this too radical of a form factor? Or is this just what the doctor ordered?
An additional picture is after the break.
[via: Engadget]
Windows Central Newsletter
Get the best of Windows Central in in your inbox, every day!
Daniel Rubino is the Editor-in-chief of Windows Central, head reviewer, podcast co-host, and analyst. He has been covering Microsoft since 2007 when this site was called WMExperts (and later Windows Phone Central). His interests include Windows, laptops, next-gen computing, and for some reason, watches. Before all this tech stuff, he worked on a Ph.D. in linguistics, watched people sleep (for medical purposes!), and ran the projectors at movie theaters because it was fun.
For those who want more of a media device, specially for videos, this could be the right phone for them if the specs are there, mostly a good chunk of storage space (16GB or more I'd say).

I don't like hardware keyboards and that speaker slider!!! I like the sharp-cornered Samsung phone with super-amoled. The Asus phone that is also mostly sharp-cornered is my number two. (I don't like iPhone/htc rounded devices) Engadget and Gizmodo said that the on-screen keyboard of WP7 is as good and even better than the iPhone's so I'm not going for this one :)

I like to see a Zune HD like WP7 Device with 4 inch super-amoled and a good camera lens! Who is with me?

I expect a good number of higher-end devices with $"+ screens in time, but it makes sense to start off with mid-range (thus not zomg expensive for the average phone buyer) mass market devices to kick start sales. These first crop of phones we know so far will probably sell for pretty low with a 2 year contract, then you can build from there.

They dont all have to be super-phones, they just have to look decent, and to date that is a quality that is lacking in most of the leaked WP7 handsets - except the Dell Lightning.

That depends on who you ask in the end. There are a number of people who like one of the leaked phones we've seen so far.

I have to disagree a little. It makes sense to have low-end/mid-range devices at launch, but it also makes sense to have at least one powerhouse that can compete with the high-ends from the other phone OSes. I'm worried that, with all the not-so-special devices, sales numbers won't look good and people will label WP7 a failure and just forget it, making OEMs more hesitant to invest on it anymore.

wow engadget and gizmodo complementing wp7? they've been longtime apple fanboys and ms haters.

Hmmm... The censored part on the bottom of the phone seems too long to be covering an AT&T logo finally. The design is definitely different, but I'm not sure how good of an idea it was making it a slider just for speakers.

I think it's stunning! It's a cool and fresh and unique design, so now, no-one can say HTC copied anybody by doing this slide out speaker. It's also very handy, I don't have speakers at work, so this could be my new media device to carry on and bring all the music I love to hear to my office. Nice work HTC! I hope the screen is a 4.3"

The slideout speaker has been done before by a Sony Erisson featurephone IIRC. Personally, i'd rather have a slate or a device like Mal's dreamt of, which is very similar in concept to the Nokia N-series sliders.

"If I were king of the world, I'd love to see the back of the device slide both ways; one to expose the speaker, the other to provide the hardware keyboard." My thoughts exactly!

Not bad, but not mine.
Waiting for the slide-out keyboard.

the only wp7 device that design-wise seems refreshing to me is the dell. everything so far looks like what we've seen before on winmo or android. the iphone4 still looks unique. distinctive design will help set in mind the notion that wp7 is new!! yet, so far the majority of device manufacturers are playing it safe with middle of the road looking devices that look like 2008.

How does the iPhone 4 look unique? It still looks like the other 3 iPhones, boring... :-/

I absolutely agree. iPhone 4 design is meh... nothing stunning at all. The only iPhone I liked was the first one, the following ones were deformations of it.

I like it. It will be a hot seller especially when most devices have low speaker volume. Might be stereo. HTC has come out with the best looking devices in the past few years.

I have to chime in here.
I have been working with a Touch Pro 2 since they were released. I just recently got a phone with a little larger screen, but no harware keyboard. Some people settle for the soft keyboard and lie to themselves about how it works just as well or even better. C'mon now... Soft keyboards take up all the tasty screen realestate that we buy these huge platform devices for... and even with a large screen the sofkeyboard still takes up an awful lot of the screen and you are left with a sliver of useful space to see what you are typing into. Granted.. we do deal with the extra heft that goes along with it... Every "real professional" user platform should be released with both options:
1) hardware keyboard
2) software keyboard only The rest of the device deveopers can deliver lower quality devices for kiddie toys and wanna be pretenders (which is to say generally ok and acceptable for non intensive users)
Windows Central Newsletter
Thank you for signing up to Windows Central. You will receive a verification email shortly.
There was a problem. Please refresh the page and try again.