Movies & TV update for Windows 10 desktop brings interface tweaks and more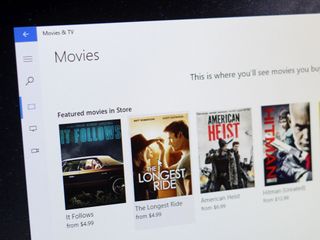 Microsoft is pushing out a new update for the Movies & TV app on Windows 10 desktop, bringing the arrival personalized recommendations in the movie and TV galleries. In addition, users should expect to see some interface tweaks, including sharper thumbnails in parts of the app and a new "Date added" sorting option in the video gallery. Here's the full breakdown:
Sharper thumbnails in the personal video gallery
"Date added" sort added to personal video gallery
Personalized recommendations in the movie and TV galleries
Better download error messages for low disk space
Metadata now fades out when you pause a video
The latest version of the Movies & TV app for desktop clocks in at build number 3.6.1694.0. In the post about the update, Microsoft representative Ellen Kilbourne says that the update was just submitted to the store, so it may be a bit before it shows as available for download on your machine.
Download Movies & TV from the Windows Store (opens in new tab)
Source: Microsoft (opens in new tab)
Windows Central Newsletter
Get the best of Windows Central in in your inbox, every day!
Dan Thorp-Lancaster is the former Editor-in-Chief of Windows Central. He began working with Windows Central, Android Central, and iMore as a news writer in 2014 and is obsessed with tech of all sorts. You can follow Dan on Twitter @DthorpL and Instagram @heyitsdtl.
More codecs/file/container support please!

Is anyone able to cast a video to their TV?

I can't cast to my Samsung "Smart TV" via Wireless or HDMi, even just extending my desktop to the TV videos refuse to play saying something about the TV not supporting protected content which is ridiculous, I'm sharing my screen in my own home to watch movies in HD that I paid for, I can watch anything that way except for Xbox video, what's the point?

If anything its a bug with xbox video, don't suppose you have granular controls for hdcp on your tv?

Still Media player classic uses less resources on my Asus Transformer T100 with atom baytrail CPU.

Depends on codec and GPU capability.

The same PC runs better with other software, it`s just optimisation ! If Media Player Classic runs 1080p movies with subtitles with no issues on Atom BayTrail 1.33 GHz and the Movies & TV app can`t then MS should look at how those guys make code ! This is where Apple is above MS (and i hate Apple) they optimise everything not to need brute force from the hardware to do stuff.

Movies & TV plays back raw Blu-ray backups (25-30mbps AVCHD video + Dolby 5.1 in an MKV container) flawlessly on my 1520 and Surface. Actually does a much better job than desktop VLC or the VLC app, and Media Player classic even stutters. So they're doing a decent job with Movies & TV. I haven't used VLC or Media Player classic in months.

i haven`t tried BR playback, but a simple 1080p mkv file with subitles taken from my main computer to my Atom tablet Media Player Classic does a better job :) I use Movies and TV (in my PC is Film & TV for some reason) to access my presenation movies though.

Still have weird white titlebar even using the Dark theme, I don't why this hasn't been implemented since the Dark Theme option available. The overall layout still barren and feels unfinished. Video playback is starting to get better though but subtitle support is still at a basic level though usable.

They should really fix that annoying white titlebar.

Indeed! I'm still annoyed with it especially when watching videos with that imposing white titlebar at the top. This should be black which is a color that make sense for a video app. I don't think is that even too difficult to implement. I'm still wondering why a video app like this have white theme as a default to begin with? Photos app is black themed app while this isn't.

I echo all your sentiments. At least they eventually brought a dark mode to the app after some months but that ridiculous title bar is still white. It really can't be that hard.

The Photos app has a dark title bar, so they are capable of doing it in the Movies app as well.

And this is why its still a puzzle why they can't do it with Movies and TV app. For me dark theme should be the default for a video player.

Cortana needs the dark theme too!!!

She does have a dark theme, although by a registry hack.

Exactly. There should be an easier way to do this.

I don't get that bar if I go full screen (not maximised, real full screen)

Of course the titlebar is gone on full-screen but it's annoying when you don't. Especially when playing video alongside with other windows or if you just want to have visible taskbar. Taskbar is black already and it would be nice to be paird with at least black titlebar for Movies and & TV app, just like the Photos and Groove Music app already (Groove doesn't even need to be on dark theme but nice to have). It would be great if the titlebar is simply auto-hides when maximized (not full-screen) or even on windowed state as long as the video is playing. More minimalist window would be better.

Agree - did feedback the bright white title bar some time ago, so hopefully fixed soon.

I did make a feedback about this since....early state of Technical Preview and when first Movies and TV app being released. I know they have priorities but I don't why this even difficult to implement. It doesn't make even sense to have video app have default 'white' theme. I'm not even starting to mention actual features needed and bugfix...

I really wish they would fix the cast option in the movies App because I can't cast any movies to my tv. Right clicking the file and press cast to devise works fine with WM Player though so yeh.

Latest win 10 update hiding my volume control. Owh yeah

This reminds me, I whish Microsoft fixed the videos app on Xbox One to enable it at least for DLNA streaming. I can't stream media to my Xbox just because I don't live in the US. Seriously?

What are you talking about? I cast videos from my Lumia to my Xbox 360 and One occasionally.

Again, this app is worthless until it properly handles our own personally owned movies and tv shows. This throwing them into one garbage pile with a mess of organization and fuzzy frame grabs for thumbnails is completely ridiculous and they refuse to acknowledge this all the way back to the beginning of Xbox Video. Fix this already or just throw the app out.

Needs volume up and down keyboard shortcut!

I use this app a lot I'm really trying test Windows as an insider the only thing that really annoys is the scrobble bar circle thingy, it just can't pin point the exact time you want to go to when watching media. It may be a small thing but it REALLY annoys me.

Microsoft photos app has been updated in mobile as well.

Also Wechat will not develop W10 app as well.
All hail Microsoon!

It's the QQ app which is mentioned by the devs, not WeChat, get your facts right.

"China's Tencent, the Developers behind WeChat and QQ have now confirmed that they will be dropping Windows 10 Mobile from development, and they blame Microsoft" Dropping support for W10 Mobile means ALL APPS NOT ONE.

And this does not affect me in any way.

But it does affect the 1 billion Chinese ppl....oh wait....

I wish they'd update the rental prices to something more reasonable, like redbox

Still cannot delete expired rentals or previews. Unbelievable.

The previews and free pilot thing not being deletable is ridiculous and been going on foe six f'n years now. "We are listening"....my a**.

This is a great annoyance to me too. Makes me not want to rent from this service anymore.

Agree - this is really annoying and have done feedback asking for the option to delete.

I was just about to ***** about this same issue

I noticed this after renting for the first time two weeks ago. Very weird.

Why isn't the change log in version notes? Why we have to go Microsoft answers to see this?

Because they don't care about you Windows users.
Only Android and iOS

You'll be able to see the changelog in the app itself once you update.

I'm sick and tired of hearing all the moaning and complaining about Microsoft not caring about apps and not working hard enough and blah blah this and blah blah that but have you guys completely forgot that Microsoft rewrote not 1, not 2 but 3 different OS's (PC, Mobile, Xbox) while also creating a fourth for HOLOGRAPHIC AUGMENTED REALITY. While doing that they also rewrote or wrote around 50 apps for PC, Mobile and Xbox while integrating Skype with the Messaging app and now they're working on texting FROM YOUR PC NATIVELY without need for a third party app. On top of all that, THEY CREATED A DIGITAL ASSISTANT THAT BLOWS SIRI OUT OF THE WATER in LESS TIME than Apple and Google took. So please, understand that Microsoft has moved mountains and everything they've done is certainly no small feat. Quit complaining on every article and find other things to do with your life than complain about miniscule problems with your PC.

And we are tired of people like you making excuses for these clowns. Anyone else wouldn't have gotten rid of Zune only to hand us back two media apps that cant do a 1/10th of that almost a decade later.

Everything I said went in one ear and out the other.

Exactly. Most of us are sick your apologist talk...... Blah, blah, blah, blah, blah.

And there's alot of us that are tired of the ********. We're just fine using the same devices and apps that you're complaining about.

@Chris Turek, don't waste you breath lol. Alot of people are unhappy, to put it mildly.

I don't think they'll ever be happy.

Can we get rid of expired rentals yet...?? My collection is full if them and it's beyond annoying especially now that it bleeds over to the Xbox one...

I get that MIcrososft is trying to this universal app thing. But Windows already has a pretty good media player. It is called Windows Media Player. Why is there two different apps for Music and Video? You are not going to listen to music and watch movies at the same time any way. They could have added the subscription features to WMP and even made it into a UW app using the Windows bridge for Win32 Apps. If Microsoft cannot make their own apps universal don't expect other developers to make Universal apps for them. They could have used that opportunity to demonstrate how to use the bridge but it is a failed opportunity now. But whatever, I guess.

Yes you can watch video and play music at the same time. Have a HIIT workout video (on silent) while playing your own workout music. I do it all the time.

Get your point but I hate WMP. From the layout and design to function, it's horrible (personal taste). I'm happy with the current set being polished and improved. Just adding my view.

Seriously...im tired of waiting for them to make this thing work properly. Who is in charge of the Movies & TV app and that other debacle, Groove Music?

No option to add srt file.. Yet Posted via the Windows Central App for Android
Windows Central Newsletter
Thank you for signing up to Windows Central. You will receive a verification email shortly.
There was a problem. Please refresh the page and try again.