mTranslator aims to help you with nine regional languages in India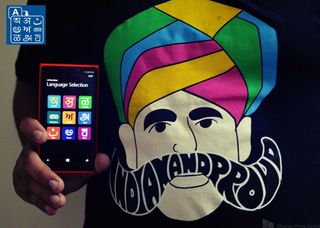 If you think you can carry a pocket Hindi guide on your trip to India and cover everything, you are clearly mistaken. India is home to several regional languages, and even when I travel to other parts of the country, I often struggle with basic communication and instructions. Enter our Windows Phone.
mTranslator is an interactive Windows Phone 8 app that allows you to translate English to nine Indian languages. The app is developed by Centre for Development of Advanced Computing (C-DAC), a premier R&D organization under the Ministry of Communications & Information Technology (MCIT) of Government of India. The app is based on their AnglaMT and Anuvadaksh Machine Translation System.
At the moment, the app supports English to Bengali, Hindi, Punjabi, Malayalam, Telegu, Tamil, Marathi, Oriya, and Urdu. The app works online, so you can't translate if you don't have an active data connection or are on WiFi.
The app has an easy and intuitive user interface, and also allows you to customize the font size. Once you specify the text to translate in English, you also get the transliterated output. The app also includes a sample sentence database which includes common conversation sentences.
While the idea and user experience is neat, the app crashes often. It might have to do with the connection to backend server, because the crashes only happen when the app is looking for a translation. Some translations also returned incomprehensible errors. Also, I'd wish the samples database could be pre-fetched so that those are available offline.
mTranslator is a great app if you are traveling to or within India. I'm hoping an update comes soon to resolve the issues, otherwise it'd be a pain to use it as your go to translation app. Download it free for Windows Phone 8 devices from the Windows Phone Store, and keep your fingers crossed when you fire the app.
Windows Central Newsletter
Get the best of Windows Central in your inbox, every day!
Its good to see many apps coming out on Windows Phone for the Indians. Looks like WP is getting more and more famous day by day which is compeling developers and organizations to develop apps for the region.

Only after Abhishek was hired by WPC about 3 months ago.but he helps us Indians to find quality apps and wp is second here.

This app just crashed when asked for translation!

App doesn't work. Crashes when asked to translate.

Very good at crashing...5 stars

Its crashing on translating from English to bengali... Crashing crashing crashing....

All the "crashing" peeps obviously didn't read the article.

Good Initiative from CDIT.hope it improves.i tried to convert malayalam even single word doesnt got translated it crashes !!

Its not telegu its Telugu ..rectify the mistake

I need help with Gujarati but don't see it listed.

crashing all the time.!!! developer should be noticed.

That tshirt is the shizz :) I want one!

i wanna buy some apps from wp8 store using my debit card here in India but it shows error when i login there......is there any other way to buy an app because i m not having a
credit card. if u know thn plz let me know ....it will be very helpful.