mTranslator is back from the dead, and useful for translating to Indian languages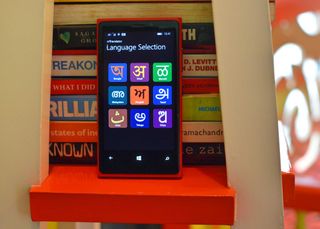 Once upon a time, I wrote about mTranslator, an interactive Windows Phone 8 app that allowed you to translate English to nine Indian languages. It was a fine idea since it wasn't just helpful for tourists and expats in India, but even the citizens of the country like me who often struggle with basic communication and instructions when travelling to another state or region.
The app is developed by Centre for Development of Advanced Computing (C-DAC), a premier R&D organization under the Ministry of Communications & Information Technology (MCIT) of Government of India, and is based on their AnglaMT and Anuvadaksh Machine Translation System. What happened though was the app crashed for most users as soon as it gained some downloads. In the end, it worked for nobody and saw bad reviews on the Store and obvious uninstalls.
After several months, it's back from the dead, and finally updated. It's the lowest point update you can have – v1.0.0.1 – and there's nothing extra added, except the fix for that frequent crashing.
Like before, the app supports English to Bengali, Hindi, Punjabi, Malayalam, Telegu, Tamil, Marathi, Oriya, and Urdu. The app works online, so you can't translate if you don't have an active data connection or are on WiFi.
The app has an easy and intuitive user interface, and also allows you to customize the font size. Once you specify the text to translate in English, you also get the transliterated output. The app also includes a sample sentence database which includes common conversation sentences.
It's not perfect, and there are some misses while translating (I tried English to Hindi), but still is a very useful app. I hope the app updates continue for it to mature into a fine app for Indian languages. Give it a whirl, and let us know how you like it.
Abhishek - allow app to work in offline mode too. - Suggestion

Lol..U do know Abhishek is not the developer rite??

MS translator supports Urdu, too.

IMO, itranslate is the best.

When for India? Really....when?

After US where carriers don't approve of firmware updates even after months.

*its Telugu not telegu. oh my god , why you did it with my mother tongue

What an ugly app! Just like all other GOI user interfaces everywhere.

Why Kannada is missing, while all of her neighbours are supported? Not good cdac.. :(

Hmmm even I needed kannada

Nice app! World love to see it on Windows 8.1 also.

Great. I just started my adventure in kyrat. Maybe this app can help me....

India has 95+ local dialects... Huge List of Upgrades for the App. Hoping new languages come soon
Windows Central Newsletter
Get the best of Windows Central in in your inbox, every day!
Thank you for signing up to Windows Central. You will receive a verification email shortly.
There was a problem. Please refresh the page and try again.