Creepy Halloween movies, TV, music, and books we're into right now
There's no better time to indulge in a horror movie, listen to some creepy tunes, or read a scary novel than Halloween. We rounded up some good ones just for you.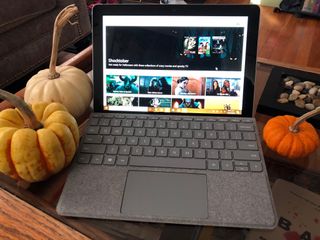 We have Halloween on the brain this week. As such, we put together another roundup of scary movies, music and books we're into right now, to follow up on last week's Halloween-themed Team Windows Central media recommendations. If it's scary entertainment you seek, you've come to the right site.
And if horrors movies and generally spooky stuff isn't your thing, you can hit our full list of weekly recommendations below for some more suggestions.
Happy Halloween!
More media recommendations from Windows Central
Movies
Halloween (1978)
Recommended by Dan Thorp-Lancaster, news writer
Rosemary's Baby
Recommended by Cale Hunt, staff writer
See at Microsoft (opens in new tab) See at Amazon (opens in new tab) See at iTunes (opens in new tab)
The Shining
Recommended by Cale Hunt, staff writer
Lost Highway
Recommended by Rich Edmonds, staff reviewer
Session 9
Recommended by Jez Corden, Xbox editor
See at Amazon (opens in new tab)
The Conjuring
Recommended by Rich Edmonds, staff reviewer
Hellraiser
Recommended by Jez Corden, gaming editor
See at Microsoft (opens in new tab) See at Amazon (opens in new tab) See at iTunes (opens in new tab)
Tim Burton's The Nightmare Before Chrismas
Recommended by Richard Device, reviews editor
TV
American Gods
Music
John Carpenter's 'Halloween' theme song — Trent Reznor and Atticus Ross
Recommended by Al Sacco, managing editor
The Uncanny Valley — Perturbator
Recommended by Rich Edmonds, staff reviewer
Midian — Cradle of Filth
Recommended by Richard Devine, reviews editor
Alice — Tom Waits
Recommended by Al Sacco, managing editor
Books
Baby Teeth — Zoje Stage
Recommended by Al Sacco, managing editor
Disappearance at Devil's Rock — Paul Tremblay
Recommended by Al Sacco, managing editor