MWC 2018: Nokia 8 Sirocco takes the company back to flagship phones, Samsung Galaxy S9, LG V30S, and more
While we wait for whatever Microsoft's "Andromeda" device turns out to be, many of us are making do with Google's Android platform.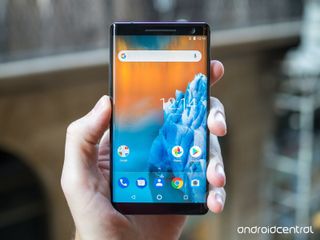 Once upon a time, Mobile World Congress was a place where we might hear about new Lumia devices, or even new mobile-facing peripherals from Microsoft, like that crazy folding Bluetooth keyboard that didn't really catch on. Alas, now it's a sea of Android devices, maybe with the occasional Windows laptop thrown in, but Microsoft's presence there is a long way from what it used to be.
In any case, for those of us who have fled the sinking ship that is Windows 10 Mobile (and those of us waiting, desperately, for whatever Microsoft's Andromeda device might be), Android is the next-best thing for users of the Microsoft ecosystem.
So, what has been happening in the world of Android at MWC 2018 this week? If you're a Nokia fan at least, there might be something of interest in there for you.
Nokia 8 Sirocco revealed (and more)
Nokia revealed its latest flagship, the rather sexy stainless-steel Sirocco, complete with a curved display and Zeiss optics Lumia fans will find familiar. Our pals at Android Central described it thusly.
For €749 (matching Samsung's own recently announced Galaxy S9), you'll get a Snapdragon 835 with 6GB of RAM, powered by Android One. Including 128GB of storage, 3260mAh battery, Quick Charge 4.0, Qi wireless charging and IP67 water resistance. Dual Zeiss-branded cameras rock the back, boasting a primary 12MP 1.4-micron sensor and f/1.75 lens, and a 13MP 1-micron sensor with f/2.6 telephoto lens as the secondary.
Nokia also announced a refreshed mid-range Nokia 7+ device, a low-end Nokia 1 handset powered by Android Go (which doesn't look terribly unlike the colorful Lumia 5xx devices), and a revival of their classic "banana phone," made famous by the Matrix movies.
To find out more, head over to Android Central.
Samesung Samsung Galaxy S9 series revealed
Samsung announced its inevitable Galaxy S9 and S9+ flagship devices at MWC 2018 as well, although the differences between this and last year's model are pretty hard to spot.
As described by Android Central, the biggest changes come in the form of a new placement for the fingerprint sensor, and a tweaked camera experience.
If you're still using the Samsung Galaxy S8, you can most likely give this phone a miss. It's definitively an iterative update, but should go over well with those still hanging on to the S6 or S7.
Android Central has put together a ton of helpful content on the Galaxy S9 series you should definitely check out.
Samsung Galaxy S9 on Android Central
LG unveils the worst-named phone ever
Last year LG unveiled the V30, which is widely regarded as a solid Android flagship in a world of Samsung dominance. Much like Samsung, LG has opted for an iterative update to its V30 flagship this year, while simultaneously giving it a name that only Microsoft could outdo for clumsiness. Say hi to the LG V30S+ ThinQ! Hereon known as the V30S.
The design is largely the same, albeit with a few new color options. The only hardware change of note is an upgrade to 6GB of RAM and boosted internal storage, starting at 128GB. The most interesting aspect of the phone is the "ThinQ" AI technology, which provides an array of unique features. The camera can detect the types of objects and scenery in a shot, and prioritize the settings to produce the best images, or so goes the theory. The camera also comes with improvements for low-light shots. It also comes with voice controls for LG's ThinQ range of home automotive products, via Google Assistant. Android Central's Alex Dobie notes that, like the V30 before it, the V30S will probably get steamrolled by the Galaxy S9 once again. Oh well.
What about Windows?
Welllllllllllll... not a great deal has been happening on the Windows front. We got a hands-on with Huawei's impressive new MateBook X Pro, which comes with ridiculously thin bezels (and an intriguing webcam solution). Beyond that, Microsoft and its partners haven't really shown up to the party.
Hands-on with the MateBook X Pro
That's a wrap! ... so far
So far, that's all the fun stuff from MWC 2018 this year.
Considering one of the most interesting things emerging out of MWC this year is the return of Nokia's 8110 banana phone, I'd say the mobile industry is ripe for something new, dynamic, and interesting to come and shake things up a bit. Like say, I don't know, a folding Surface-branded tablet with telephony! Of course, you, and maybe the rest of the civilized world may feel differently. If you do, sound off in the comments!
Jez Corden is the Managing Editor for Windows Central, focusing primarily on all things Xbox and gaming. Jez is known for breaking exclusive news and analysis as relates to the Microsoft ecosystem while being powered by caffeine. Follow on Twitter @JezCorden and listen to his Xbox Two podcast, all about, you guessed it, Xbox!
Ok looking but not for me for a lot of reasons.

"For €749 (matching Samsung's own recently announced Galaxy S9)" The S9 costs 870€.

everyones copying samsungs design. ugh. mobile needs a shake up.

And remember Samsung started taking off when they started blatantly copying the iPhone. It's a sad thing.

Ikr, especially back of the phone. Samsung thinks it's the next Apple. Idk how Samsung Galaxy X is going to be but I hope Andromeda better be a powerhouse (especially the OS) to compete.

Nokia outed great phones now, shame new samsung, sony,.. will have better camera specs....results when taking shots. This needs n9 with even better camera(low light camera).

The S9 will likely take better shots. The Xperias sure as Hell don't. Sony hasn't done a phone with a good camera since 2014.

To be fair though, the camera on the new Xperia will probably be great! Sony will just break it with software lol.

And how it is related to Windows or WP?

Like he said in the article, those platforms are dead/dying and these are your options now.

People still asking this question. Hilarious....

It isn't. This is basically just an ad for Android Central.

Windows phone is dead, get with the program. Most Windows users are on Android, so yes, this is relevant to our readers. No amount of crying will bring Lumia back from the grave, time to suck it up and move on.

I don't read AC.
I assume Android users use Windows devices.
are there a lot of Windows articles over there?

The difference is right now Microsoft software is on most if not all platforms, Android and their apps are not on windows so yes you're right you don't see a lot of windows related articles on AC because of that.

I think a possible surface mobile device with telephony will be a class of its own and can not be compared to the current smartphone market. I applaud Nokia for their comeback. They seem to be back at their game after the dramatic deal with Microsoft. I would have prefered the Sirocco with windows 10 mobile though, but that will likely never happen again (sigh). The one thing I'm missing in this device experience is support for Dex. It would have been a great all rounder with a great message of a great smartphone with great camera's and a pc in your pocket. I have a feeling it will come in a next itteration. Samsung S9, for me, eerily, hits the mark of what I want my lumia phone with continuum to be. The S9 is that and more. The camera is a an amazing bonus that makes the package almost complete. It's a pitty they won't go for a 20 mpix back camaer's though. A potential of 40 mpix of image data to tap from would be heavenly, in line with the evolution of the Nokia 808 and 1020 benchmark. The icing on the cake would be the next itteration of the Note 9 as I would like to see a more immersive handwriting experience of the pen with the OS. It would be everything, A smartphone, a pc in your pocket with DeX, high end camer's, and a digital journal (potentially getting to the equivalent of the basic idea of an andromeda device or courier device!). If that day comes, scary thought, I would think microsoft would matter less in the midrange to high end consumer space. A missed opportunity on microsoft's behalf. They were very close with continuum, that was clear from the start. The most interesting development of all these phones, to me, is the development of the 83x processors and higher. I think this milestone is an underestimated point in chip history where mobile meets pc. It's amazing that there is a continuation of two worlds, the smartphone world that just seems to plainly think the 83x chips is just another itteratoin. Microsoft in the meanwhile has managed to run full windows on the same chip. But many smartphones running the 835 don't talk about supporting Dex or equivalent. It's mainly only the Galaxy S, Note and 5T to date. It suggests to me that the current devices are not using the full chips potential of what it can really handle in everyday usecase. It's mindboggling to me. I would consider it huge for the average user if they found out their device could potentially be used as a pc in their pocket. I do hope those users still get Dex in the future of their current 835 devices. It feels the same as what microsoft did with continuum. Just stopping potential dead in its tracks. Deja vue? With the prices of these new devices getting ever closer to the 1000 dollar mark, for me, repairability will become a more important factor. That's serious money, a 1000 dollar phone vs a 1000 dollar pc. I'm very worried about the Sirocco, The sotry of vacuuum bonded glass to the phone, makes me think it is going to be a field day at iFixit. So I feel the same with the Samsung devices. Not sure if they are worth that price and investment. At that price I do need the device and battery to work a least 5 years without an issue. If I can not replace the battery after say two years, that's a no-no-no device in my book. I could see the refurbished or second hand market for mid to high end smartphone devices will become more relevant in the coming years. It's inevevitable.

I applaud anyone willing to read this..

I was thinking the same, this guy wrote his own article xD

waht is your view on the devices?

lol, just scrolled, thought the same...

what is your view on the devices?

what is your view on the devices?

@Wevenhuis. The thing is why Dex and Motorola's webtop never really took was because android apps don't lend well at present on a big screen. Unless they are specially made for tablets but even then there are scaling and UX input issues. Google and Apple have the same problem, they are struggling to leverage their mobile app stores to their laptop / desktop (in this case of apple) offerings. PWA will go along way in mitigating that issue. I understand why Microsoft want's throw into that market early but the thing is they need an ecosystem propping up their devices and that is UWP comes in. Without UWP, Microsoft will get floored by both Apple and Google as they both have the mobile device ecosystem and app ecosystem to leverage from, whereas Microsoft does not. In regards to Nokia, we may very well see a true 808 successor but it most likely will run android. The 1020 was pushed though by AT&T as such it was based on a ancient SOC without a dedicated imaging processor. In regards to Andromeda, ZTE already have a dual screen device but although it's has unique aspects. It's still a dual screen phone and nothing more. It remains to be seen if this will be evolved over time.

Maybe an elephant in the room question: but what is preventing iOS and android apps not being able to optimize sooner and faster to support apps for the larger screen. The app market is there. To me it would seem less of a challenge to code a skew of the app optimized for a larger screen or desktop sized environment. Don't android or iOS have a uwp type core scaffolding? It seems like a a step in the right direction with PWA. I agree it is likely a 807/1020 successor will likely be android. But that's fine in a way. Sad off course there won't be a windows 10 mobile equivalent, but maybe it's for the best. Based on what I've seen an read so far on the 2018 Nokia devices, I see a lot of familiar characteristics of nokia lumia and windows phone design en esthetic. Chosing "pure" android (reminds me of Nokia's "pureview" camera technolgy with zeiss; also pure android looks and sounds a lot like windows phone in many ways) is another wink to Nokia's identity and a wink to windows phone. It doens't look an feel all too unfamiliar. And maybe with some Nokia-Zeiss and android secret sauce the camera experience with a 40 mpix camera will be even more amazing!

@wevenhuis, UX design for large screen has to work for various input methods, Windows 8 was a prime example of forcing a touch centric UX on the large screen was not the way to go. Plus Given that on high resolution screens icons are actually smaller, it makes it harder for users to interact with them. Hence why Windows uses display scaling. Icons aside, the app UX needs a hook for it switch between input modes on a large screen. Windows is far along in that regard compared to Google and Apple with tablet mode and cshell. You see you either have multiple apps for different 'sub stores' (each device type is a different sub store) and maintain them - this also has an greater cost in terms of maintainance and mindshare. Or you unify the code and have the app dynamically adjust to various devices and input modes with minimal UX code changes. As you can see neither Apple or Google are even there yet when it comes to unifying the o/s. Here the mobile app store is a hindrance as it's much easier to unify from the ground up. So they have take the approach Microsoft has taken, unify in stages and that takes time. Microsoft could have allowed the transition of apps through each stage but then run into issues with API compatibility. That still exists as there are insane amount Win32 apis that need to be either converted to UWP or a UWP equivalent made whilst increasing efficiency. Whereas for Google and Apple it's the reverse, they need to find a way to leverage their mobile apps into apps that can work on larger screens. For them it's PWA that's more web reliant as opposed to hardware architecture since Apple's mobile devices run on ARM and there are only a handful of android devices using x86 socs. On the face of it, changing the UX to fit largers screens sounds simple but in reality not so much.

1020 used an "ancient" SoC because WP didn't support anything better at the time.

Man, it's so frustrating to think Msft introduced state of the art feature in a device to eventually miss the opportunity of it ever coming down to fruition. But I hope it's all used in some way or the other in Project Andromeda.

You all see that Nokia pro camera app will be on all Nokia with ziess optics. I think the Nokia 7+ will be the most interesting of the bunch. The all glass design of the 8 does not appeal to me for durability reasons. Using a Nokia 6 now and will upgrade when these come out. I'll give my 6 to the wife to replace her W10m idol as Ms keeps breaking things (PDF viewing)...

"In any case, for those of us who have fled the sinking ship that is Windows 10 Mobile (and those of us waiting, desperately, for whatever Microsoft's Andromeda device might be), Android is the next-best thing for users of the Microsoft ecosystem."... No Jez... I'd rather buy an iPhone if I'd need a new phone :P :D

That's your lookout, and you might as well buy a Mac while you're at it. Android is a better option for people who use Windows or want an experience as close as possible to Windows Mobile though.

Everyone i know that switched from Android to IOS says IOS is better

I hear the same thing from people who switched to MacBook.

I am using iphone with my windows devices and they work great together. I can even imessage, answer and make calls directly from my computer. Can't get better than that. I beg to differ on the macbook being better than windows there bleached. I TRIED to switch 3 times. Each time, I sold it all off again and moved back to windows. MacOS is so ass backwards in its operation that it's laughable. No touch is another laughable thing on mac too. The lack of touch is dumb. They are losing customers to windows because productivity goes up for artists and graphics/visual professionals using touch based systems without the need for buying multi thousand dollar touch displays. Mac is just as laughable as windows 10 mobile is.

I'll consider iOS but never a droid.

Nokia has played to its strength again. Design, materials, Zeiss optics, global brand recognition etc. Google had a big part in the presentation as Nokia became an Android One manufacturer, confirmed the monthly security updates to the devices, had no crapware installed. Nokia is already selling millions of phones again. It emphasises the weakest partner in Windowsphone was Microsoft and not Nokia.

Yes, unfortunately you are right on. No matter how good (and sometimes superior) their phones were, people wouldnt buy them. At least now they can sell, then again, its not really Nokia anymore either. This phone sounds Really, really nice though and its good to see it being a contender.

They are not selling millions of Android phones. You made that number up. Even Google barely managed to sell 3 million Pixels and that's with Verizon advertising and it being on google.com.

4.2 million sold in Q4 alone last year. 8.5 million sales in total for 2017. The numbers don't lie

3 million Pixels would be something like 2 billion in revenue. More than double the revenue of the whole Surface line combined and that is with a phone only on Verizon!

Having had access to several Android phones I came across the Nokia 8. What a pleasure to have a phone that was not clogged with bloat ware and it has already been updated to the latest operating system - Android 8.1 Orio. So many of the other phones are still in the dark ages.

A year ago when there would be the occasional Apple or android article, people would complain about them. I would defend them, that it is good to see what else is out there. But Jez is intent on turning this into yet another site devoted to Android. If I wanted to read constant, not the occasional but constant Apple or android news, I would go to iMore or AndroudCentral. But I think it is time to start looking for a new site. Jez will be in here with his usual snarky reply like he doesn't care, but it is time to finally give up on this place. The trolls have won and got their way on trying to bring down another site.

I dunno, he has always came across as a big fan of Windows Phone - He even mentions some people are just 'getting by' with Android for now which implies he probably feels that way too - I'm in a similar boat that I'm using it because it works but it's just a tool to me, I would say I actually cared about and enjoyed using W10M more (Still do use it at times)

@nohone I disagree, most only have a limited amount of patience. Furthermore those of us who still use windows phones are still subject to ridicule because Microsoft once again dropped the ball in the mobile space, many can't sustain taking such ridicule. More over he may be experiencing bugs and issues his windows phones, who knows. In addition apps he uses may no longer be accessible. All of this combined with peer pressure is enough to make most people switch. Thus plenty of users switching platforms. These articles cater to these users and as well serve as a reminder how a total the lack of foresight can play out in corporation like Microsoft. Who had the biggest opportunity when it acquired the D & S division from Nokia.

As you all know mobile is an important space and Microsoft has their software on most platforms, so I think it's completely relevant to have articles like this as they are usually related to Microsoft services on those platforms. Now even with an article like this, while not directly related to Microsoft software, it is still important as windows users who are also mobile users may be looking to see what their next upgrade will be. Obviously if we had a mobile platform right now that's what it would be about instead of Android or even iOS, but we don't and that's the reality right now.

Nohone, fanboy, get over it. THERE IS NO MOBILE WINDOWS DEVICE! If people need new phones, they are giving you information on the choices. If you don't like it DON'T FUCKINGREAD IT. simple. quit ********. thanks.

I use that "crazy Bluetooth keyboard" all the time. It's lightweight and perfect for typing on an airplane food tray (for frequent flyers)

Me too - use it primarily with a mini-pc hooked up to my TV and acting as a media centre. Connects instantly and then folds up and stores away in a drawer when not needed.

Does the Nokia 8 have a headphone jack? It's the only important spec i didnt see in the article.

No the Nokia 8 doesn't have a headphone jack 😏

The Nokia 8 DOES have a headphone jack and I use it on mine! The phone is supplied with headphones in the box!

Apologies, I was referring to the new Nokia 8 Sirocco.

@petjolak I see the confusion. There is the Nokia 8 and Nokia 8 Sirocco. Two different phones, the former has a headphone jack. The latter does not. So to be clear:
Nokia 8: Has headphone jack. (2017) Nokia 8 Sirocco:
Has no headphone jack.(2018) I would say to simplify we will have to call them Nokia 8 (2017) and Nokia 8 (2018) / Nokia 8 Sirocco / Nokia Sirocco (unless Nokia starts numbering other phones like Nokia 8+ Sirocco) lol.

No idea what's wrong with a "9", these naming exceptions are just silly.

Meh, same design, same old incremental blah.

At least it isn't 18:9 - so annoying!!! HP best size.

True. I hate rounded corners screen

I am so bored of this Android's UI. Don't know how people keep using it.

That's mainstream, never liked it.

Because UI just needs to be effective and efficient, which most Androids are. Most look great too and it is easily customizable if you don't like it. You don't spend much time staring at the homescreen and if you do, full widgets are far superior to Microsoft's implementation of square low-function widgets. The Windows Phone UI was really inefficient. The animations were smooth, but they were long and drawn out. The app drawer was frustrating as it only was a single column so you have to scroll forever and it didn't have an "accessible from anywhere" notification center. Terrible UI that failed for very good reasons.

I actually liked the single column app drawer, and have it on my Android (Nokia Z launcher).

I have the V30 in silver, which I absolutely love...but dang, that darker "platinum grey" looks so freaking beautiful. After jumping through hoops for promotions, ended up paying less than $200 for the phone...here's to hoping that there are similar offers for the V30S ;)

The 8110 looks more interesting....Although the 835 is plenty fast enough people will still complain it's got last years specs at this years price. Basically the same specs as the OnePlus 5 but with wireless charging. I think the Nokia Android phones are okay, look like nice phones but only really for die hard Nokia fans when there's better value out there from OnePlus

The Nokia 8 Scirocco looks nice but the screen is horrible in quality...same junk screen like the Pixel 2 XL

Wow not one person whined about the Nokia having a 835 chip. You guys are slipping.

whining about the 835 chip is restricted to MS devices only ;-)

no idea what chip is in my 930..but just upgraded the battery for less than £20..and it has a headphone jack..photo & video are still good enough quality for me too..

@dicko81. It has the snap dragon 800, in 2018 it's a decent phone. Would be better on the creators update as it's stuck on the anniversary update. Still gets some bug fixes and security updates.

I've had mine changed a couple of months ago. I have a feeling that you couldn't make the switch from L930, same goes for me! 😉

At least Nokia innovated and brought some cool designs and ideas to its phones when in Windows. I don't see anything new here that differentiates it from other Android phones.

Doesn't matter Nokia new phones not coming to US anyway.

Microsoft just put some 950, 950XL, 650 and 550 back in the US Microsoft Store.

what is hilarious is that HMD with Nokia rights is selling more devices than Google Pixel, HTC and Oneplus which shows Microsoft made bad choice from changing Nokia brand to Microsoft brand on Lumia devices.Most YouTube reviewers still think they are reviewing real Nokia phones

You should check your facts. They are based on finland across the street of the former heaquarters and people there are ex nokians and ex Microsoft people. Só yes, they are revewing Nokia phones still

Will the S9 come with a fire extinguisher ?

Nope, but MS phones come with them because they are all in the massive windows 10 mobile fire sale. Or, dumpster fire...depending on how you look at it.

waiting on the penta lens Nokia 8 pro (or 9) with snapdragon 845. that'll be enough for me to forget about Windows Phone and whatever folding Surface ambitions Microsoft has!

The Nokia 7 Plus looks awesome to me. Great software support on top of decent hardware and fair price.

Nokia designers copying Samsung. Such is the world we live in now...
Windows Central Newsletter
Thank you for signing up to Windows Central. You will receive a verification email shortly.
There was a problem. Please refresh the page and try again.