myChat messenger app makes its Windows Phone debut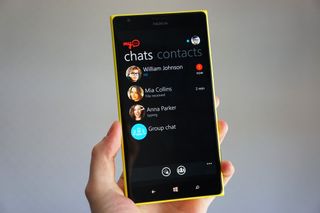 A popular messaging app for iOS and Android, myChat, recently made its Windows Phone debut, allowing users of that platform to access its features for the first time.
The app, which actually was released a few days ago, offers free video and voice chat to other myChat users around the world, along with free messaging. The Windows Phone version also offers support for push notifications, group chats, and smileys for text messages.
While myChat first started in Russia as part of the Mail.Ru Group company, it has since expanded beyond its origins and and in 2013 the company opened up an office in the US in Mountain View, California. It will be interesting to see if myChat can compete with the many other instant messaging clients that are already available for Windows Phone.
You can download myChat right now from the Windows Phone Store.
Thanks to the many people who tipped us!
Using some hair conditioner, maybe?

LOL!!!! Comment of the day!

Lol❕❕❕❕❕ ..... I guess that might attract more developers..

Cool! I'll look into it now...

Seems to have a nice UI, but I hate the fact that in most messaging apps the contact name is so huge, leaving less space for your messages. :/

I hate how touch only devices leave no space for messages and content

I hate how touch devices have no keys, oh wait never mind....

I hate how Microsoft is not able to provide a Operation System that would allow the Production of a Landscape Sliding phone which was rocking the hell out of Windows Mobile 5 and 6

"Landscape sliding phone"! What is this, the year 2000? Tell the Doc to fuel the flux capacitor and bring you back to the future.

Well someone clearly has never used a landscape sliding smartphone here. the saved space on the screen as well as the blind writing with two thumbs is awesome. not alone the copy and paste functionality as well as marking text ... but okay.. writing "Just took a massive crap" does really not need the functionality of a landscape slider

I used to agree with you that physical keyboard were better but the swiping keyboard has changed my mind completely. Amazingly fast and easy.

Clearly I've used a landscape smartphone or my comment wouldn't make sense. The last one I can remember that was popular was the T-Mobile Sidekick way back in the 2000's. Anyway, I'm also aware of the benefits of typing with buttons. I used to use a Samsung Blackjack (Windows Mobile) for four years and love it's buttons way more than any touch screen. Especially while texting on the John ; ) I still own that phone by the way.

Windows Phone allows hardware keyboard to be used. It is simply that the manufaturers aren't making any models with hardware keyboard. In fact under developer guidelines, it is mentioned that every screen which supports text input should support landscape mode for the possibility of a hardware keyboard.

Skype has forgot that they're own by MS now. Lol.

Yeah my daughter tried to send me a pic via Skype yesterday and I received a message saying that it wasn't supported on my device WTF

O yeah that reminds me to open my skype at least.

What kind of file did William Johnson send Mia Collins? Hmmm

I don't know but Anna Parker has got something to say about it.

Skype could be a beast of all beast... Why won't they release the beast????

Skype and GroupMe need to merge...

I just can't understand why Skype continues to be so bad on WP. It works most of the time, but it's slow, missing features, and not overly reliable.

Hey Kik, are you paying attention?

Kik is dead and deserves to be.

Kik and all 5 users of kik should die

Skype it is time to wake up rise and shin!!!

Whatsapp? Hike? Or this? Which one do you prefer?

Whatsapp still #1 for cross platform for my friends.
Hike for private use.
Love it both.

But hike has really awesome stickers (including the troll faces) and individual chat backgrounds which whatsapp dsnt have... So hike wins in this for me, but in case of fluidity whatsapp wins by an inch...

I use Sicher because it's encrypted. Does Hike use encryption because I didn't see it mentioned anyway.

Why compare hike with sicher in case of encryption? Whatsapp is also not encrypted...and neither is 10 other messaging apps out there.

Why compare? Because he asked which is better. I think Sicher is better and I said why. I was also curious about Hike so I asked a question. What I don't understand is your comment calling me out. It's totally unnecessary.

Hike is good because it gives you a lot of free sms ...but only for India

With the barge of numerous messaging apps for which I have lost count and interest as well, I wonder who will switch over from a popular app like WhatsApp to these lesser known ones with limited country specific audience like Line, WeChat... o_O

wouldnt be a problem if they would all feed into the messaging hub in windows phone..

Even though I'm not a fan of messaging apps, is nice to see developers releasing apps for our platform. Great!

Kik actually dropped support for Windows Phone in 2012.

Out of topic. Bing apps are crashing after the recent update..any one else facing this issue??

You are right. And infact the news app initially after updating I though it has now transparent tile but it's not.

this app reminds me off WeChat

That's it. I was thinking of the same one but couldn't remember the name.

Never heard of it, but the more the better

Whatsapp still way ahead!!...

Does anyone know if there is a desktop or browser component to this? The website says something about logging in with your phone number which kind of indicates there is, but it's not clear. That's the main reason I use Skype right now is so when I'm talking to my wife I can type on my computer while I'm at work. Much easier than typing on my phone.

Viber has a desktop component with video, too.

Sign up with mobile number fails...

Mychat, wechat, skype, fb messenger, sms, email, whatsapp, viber, hike, threema, imessage and I still don't know how many I missed... It's not making sense having one million different messenger and even if I only use four including Skype, WhatsApp and facebook I'm thinking to drop WhatsApp already as it's not possible to continue conversations on different devices with it...

I don't understand why whatsapp can only work on one device... I guess part of the problem is that they don't store the message history? I would much rather have multi device access than whatever privacy concern is driving that...

Instead of complaining about what some other app does or doesn't do,why not try this one and see if it works like you want it. I've never understood why people complain endlessly about Skype and WhatsApp when they obviously don't give a tinkerers damn about making their apps work well on WP..screw them..

Never reiseieve the SMS containing the sign in code :(

This app has been here, I have had it on my phone more than a half year
Windows Central Newsletter
Get the best of Windows Central in in your inbox, every day!
Thank you for signing up to Windows Central. You will receive a verification email shortly.
There was a problem. Please refresh the page and try again.