MyTube, one of our favorite Windows 10 YouTube apps, is free through November 2
There's no excuse not to give myTube a try now.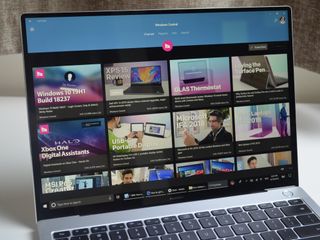 Look: of all the third-party YouTube apps built for Windows, myTube is one of the best you can get your hands on. But it the app's usual $1 price tag has kept you from giving it a shot, there's some good news: it's free for the next six days (opens in new tab).
Developer Ryken Studio is holding a sale, making myTube free through November 2. You'll get the full-featured app, which works across Windows 10, Windows 10 Mobile, HoloLens, and Xbox One, without paying a dime.
MyTube has been around for some time, with Ryken Studio consistently updating the experience over the years to keep up with changes to Windows 10. Most recently, myTube adopted support for Windows Timeline, a full black/white theme built for AMOLED displays, a theatre mode, and "Rooms," which let you watch videos in sync with friends.
Today's promotion also coincides with another update, bringing the app up to version 3.4 with several new features. Here's a rundown:
Pin channels you're susbscribed to on the taskbar. Enabling "Sync subscriptions to contacts" in settings will let you view videos in a small popup windows from the taskbar at any time. [PC]
New option to allow videos to automatically open in fullscreen. [PC]
Clickable URLs an timestamps have been added to comments and video descriptions. [PC & Mobile]
Double tapping/clocking on edges of video will now jump forward or backward by 10 seconds. [PC & Mobile}
Option to enable VP9 format platback; enables 1440p and 4K playback. [PC & Xbox]
New monthly donation options to unlock the ability to create your own color schemes. [All platforms]
There are other solid YouTube apps out there (like Awesome Tube) that are worth considering, but myTube is held up as the standard for many. If you haven't given the app a shot just yet, you can pick it up for free now on the Microsoft Store.
See at Microsoft (opens in new tab)
Windows Central Newsletter
Get the best of Windows Central in your inbox, every day!
Dan Thorp-Lancaster is the former Editor-in-Chief of Windows Central. He began working with Windows Central, Android Central, and iMore as a news writer in 2014 and is obsessed with tech of all sorts. You can follow Dan on Twitter @DthorpL and Instagram @heyitsdtl.
It's really not that great of a YouTube client. Recently it's been randomly closing, too. I suppose it's better than the experience in Edge but not by much.

I will say that sometimes it does crash randomly, which is a shame, but in terms of what a model UWP app should be, I don't think there's a better one on the store in terms of UI and general functionality. The dev is also pretty transparent about changes and stuff which is honestly invaluable.

That must be a pretty new issue (the random closing) because I use it almost everyday. The dev constantly updates it so it'll probably be fixed soon if that's a new problem. Other than that though I haven't encountered any issues with it

Beta is better with the new MediaPlayer (adaptive) option under playback. Give the beta a shot, it's free.

That's odd been using it daily for my go to YouTube player. Haven't experienced crashed since the latest update that failed to load videos which was on Youtube's API than the player, though I guess that happens maybe trying an App reset might work.

I have been using MyTube as my main YouTube client for more than a year now. It's awesome for content consumption and user support.
Great job Ryken.

MyTube is the only app I use as a YouTube alternative, great UI and UX on all my devices

It is not the price that kept me away, it is the fact I do not think it is needed, I use a browser for you tube, so why do I need an App?

Because the app is better designed and easier to use? That's my opinion though.

How is it easier to use? I start up the browser, go to you tube, sign in and that is it

You're missing a lot, mate.

Much faster than loading a website, cleaner look, has many neat features like different histories, etc.

umm, you may be right, but I still see no reason to use an app for something that works ok in a browser. Just another app for an app sake.

For background playback in the browser you have to use desktop mode hacks (at least on Android, not so sure about Windows Phone). This app has that function baked in, so I can start my music on YouTube, go to the start screen, and have the music keep playing. That's a reason to use the app for me. EDIT: It should be noted that I am referring to the experience on phones here, hence referring to desktop mode as a hack. On a PC, using a browser is fine, but not so much mobile.

Since Ms phone have failed, then what is the point in talking about a phone, unless the app is available on other devices? The article is about Windows. while I do not watch You Tube that often on my phone, I do use an app for that, but as i said before, an app to play you Tube videos on a desktop offers little if anything that I can not do in a browser.

The only reason I have to use MyTube instead YouTube on web, is the ability to cast with no issues.
It's the only app that seriously addresses that lack of support from MS when cast is needed.
Edge currently is not an option when cast and Chrome drains my battery.

The only problem is that the app closes randomly, besides that it is the best way to enjoy YouTube.

Have you done an App rest. Haven't experienced any closing.

Then it is not the best way then, my browser do not close randomly while watching a You Tube video.

It now has people contacts/ my people support.👀😏 😁👍

MyTube loses audio sync and the video stutters if you scrub the video. The only way to restore clean playback seems to be to close the app and reopen it.
There is also the YouTube PWA available in the Microsoft Store (search for YouTube PWA) that works very well. I have both, but may just use the YouTube PWA, as it just works.

"There's no excuse not to give myTube a try now." I can think of one - there's no way I'm signing into a third-party app with my Google account.

I'm fairly certain that you can revoke app access from your Google account at any time, should you want to.

Yes, this is true, but one still needs to sign into the app before being able to revoke permissions. It's the signing in part I have an issue with.

@Seeker77. No you don't have to solely use the app, you have options. me2olive was referring to signing into your google account directly using google.com and revoking permissions via settings.

It uses OAuth 2 authorization protocol, so you will never pass your credentials to the application itself. You will type it in Google's authorization service and this service will create access token to access data (specified in scope). So your credentials are safe and also if there is no requirement for accessing your emails or Google drive, your data is safe too and the application will see only data related to your YouTube experience.

Wow, did you actually take notes in school? "of all the third-party YouTube apps build [built] for Windows, myTube is one of the best you can get your hands on. But it [delete "it"] the app's usual $1 price tag has kept you from giving it a shot, there's some good new [news]." That is just the first paragraph. Doesn't this site use editors? Wow. Thanks for the total failure as an example for my students on how NOT to write.

Overreacting much? Username fits

I remember downloading MyTube app for free back in 2015.

It looks like there are some fairly major playback problems with Nvidia GTX 10+ series cards and myTube though, the dev is apparently looking into it but even the beta options don't seem to help.

Mytube is the go to client for me, even more so that metrotube has been pulled from the store.
The developer is a prime example of what an app developer should strive to be - very engaged, active and honest.
Every time Google breaks things, there is always a update to get the app working pretty damn quick. To be honest, it's a bargain at a $1 so being able to get the full app for free is pretty damn good.

Read about the app about a year ago and gave it a shot. I think it is a great app and overall works well. I too have experience the shut down issue but it's generally due to me moving back and forth from several apps/games at the same time. Using SP4 i5 with 16gigs of ram.

It's just not worth it because it down samples the bitrate to 128k AAC even though most content is starting be presented either in 256k AAC or 160k Opus.

It's one of the few standing UWP apps. I hope they still exist once Edge is dead. I'd rather prefer a third party YouTube app on windows 10 than the webversion. I hope Google will play nice now that Windows browser will use the chromium engine.

While I like it the closest ive found in android was newpipe(while its missing a few features its light on resorces).