National Australia Bank to release mobile banking app for Windows Phone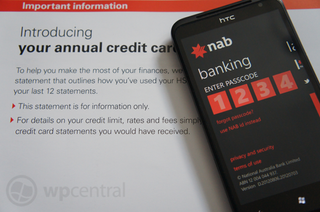 NAB (National Australia Bank) and Microsoft have been collaborating on an official mobile banking app, which is soon to be released to the Windows Phone Marketplace. According to data compiled in a report over at WPDownUnder, NAB customers are into not only mobile banking, but they prefer to use developed apps for supported platforms. 80% of those who use Internet banking while on the move, do so with official apps from the Australian bank.
After calls and cries for an app since late 2010, NAB has officially announced an app is currently working its way through the Windows Phone Marketplace approval process and WPDownUnder expects the app to be available by August 8th. Should you be a customer and own a Windows Phone, be prepared to get highly excited at what's on the horizon regarding features and functionality to enhance your mobile banking experience.
Thankfully, there's information available for us to know what to expect once the NAB app is released. Live Tiles, background updates and more are all integrated into the experience, and to top it all off there's even an ATM locater. The app is developed with Metro in mind, and don't mistake this for a simple banking app, it'll boast a number of features to compete with apps released from other banks.
Chris Smith, General Manager at NAB, had the following to say on the app development,
One of the major factors that made the team look to develop a mobile banking app for Windows Phone was the amount of customer feedback received through social media channels. It's positive to know that there's a number of Australian Windows Phone users, enough to see an app be developed by a major bank anyway.
Once the app is released, users can expect to receive future updates that will introduce features and functionality to bring the app up to par with iOS and Android versions. While not confirmed, a Windows 8 NAB app could well be in the pipeline should enough interest be present for such a solution. We'll fire a quick announcement up once the app is available on the Marketplace.
Source: WPDownUnder
Rich Edmonds is Senior Editor of PC hardware at Windows Central, covering everything related to PC components and NAS. He's been involved in technology for more than a decade and knows a thing or two about the magic inside a PC chassis. You can follow him over on Twitter at @RichEdmonds.
The commonwealth bank has had an app for a while but it not much more than a web browser. I wish they would follow suit...

Yeah, commbank app is lame. I'd consider switching to NAB for this... Although ANZ have amazing customer service (from the last few times I've had to go there)

I wish the ANZ bank would create a WP app. Heck, I would settle for their mobile banking website to display properly on Windows Phone.

YES pls for ANZ bankng app.. or at least make it mobile friendly.. cant do any online banking from my WP..

Citibank would be a welcome addition for me. Their mobile site will suffice for now.

And and nbnz would be awesome BUT most banks work in a really similar way so why not join forces and have one app

Because all bank systems are completely different, and the amount of effort would be enormous to cater for all systems, instead of just making their own

There has to be a business case for any company to even bother putting resources towards app development. I would love to see some kinda smartphone market share numbers for Australia, but I'm guessing something like this would never have happened without Nokia picking up windows phone. Even though the numbers are small, I'm certain that this has only happened due to the number of Lumias out there now.
Personally, the commbank mobile website has had me satisfied from day one. I think a dedicated app would only be a 10% improvement. Just my thoughts.

Word is that NAB is seriously looking at switching all the Blackberry phones to Windows phones 8 when it comes out.

Westpac need to sort themeselves out or hello nab

I'm looking forward to the Chase banking app for sure!

Agreed, because right now I don't even know my account# :-D, its a savings account and direct deposit. If I had this app, I would memorize my account info

Can we get an official comment from ANZ regarding their intentions for a WP app?

Dear Citibank:
Please do this.
Signed,
Your Loyal Customer

Love it. Can we get a nicer app please, BoA?

Will this app cater for uk customers? The yorkshire bank is part of N.A.B.

+1 I bank with the Yorkshire so I'd love to see this app get a release for the NAB's UK based banks (Clydesdale & Yorkshire). I'd imagine that as part of the same group they would use the same underlying tech for the internet banking systems.

Dear NAB, thankyou for listening to my customer survey. You just earned a customer for life.

Have been waiting for this since launch. I emailed them back then lol.

Yes, yes, yes finally! The mobile app works well but this is very awesome :)
Windows Central Newsletter
Thank you for signing up to Windows Central. You will receive a verification email shortly.
There was a problem. Please refresh the page and try again.