Navigon lands in the U.S. and European Marketplaces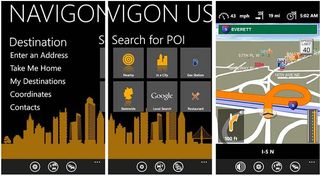 NAVIGON has landed in the Marketplace and boasts to transform your Windows Phone into a fully functional mobile navigation system. A system every bit as good as a personal navigation device.
We'll be taking NAVIGON out for a test drive over the next few days but here's what we know. It's a HUGE download. 1.6GB for the US version and 2.3GB for the Europe version.
When you buy the $29.99 app ($69.99 for Europe) from the Marketplace you only install the shell of the app. When you first launch NAVIGON, you are prompted that additional files are required and due to the size you'll need to connect to a Wifi Network or your computer. Once you hit the download confirmation, sit back, relax, have a snack and watch the progress meter move along ever so slowly.
Hit the break for more information on the latest Windows Phone navigation app and a video short take on NAVIGON.
Once fully installed, NAVIGON is laid out nicely. Some of the features and functions include:
Traffic Live
Reality View Pro
NAVIGON MyRoutes
Lane Assistant Pro
Speed Assistant
Safety Camera
Reality Scanner
Text-to-Speech announcements with voice choices
Pedestrian Navigation options
Google Local Search
Emergency Help
Live Tiles for destinations and Points of Interest
Sending current position via SMS or Email.
Not sure what half that does but give me a few days. The live tile feature is neat and I believe the Reality Scanner uses your camera to identify Points of Interest. Lane Assistant Pro is likely where the map zooms in to show you which lane you should be in on those twenty lane interstates so you won't miss the exit. We'll shake things out and figure out what the other items are.
The HUGE download is map material that covers all of the USA (Europe for the Europe version). This means there's no dependency on data to load maps as you travel. Here are the States covered in the U.S. version.
Alabama, Alaska, Arizona, Arkansas, California, Colorado, Connecticut, Delaware, District of Columbia, Florida, Georgia, Hawaii, Idaho, Illinois, Indiana, Iowa, Kansas, Kentucky, Louisiana, Maine, Maryland, Massachusetts, Michigan, Minnesota, Mississippi, Missouri, Montana, Nebraska, Nevada, New Hampshire, New Jersey, New Mexico, New York, North Carolina, North Dakota, Ohio, Oklahoma, Oregon, Pennsylvania, Rhode Island, South Carolina, South Dakota, Tennessee, Texas, Utah, Vermont, Virginia, Washington, West Virginia, Wisconsin, Wyoming
Across the pond in Europe, these Countries are covered.
Albania, Andorra, Austria, Belarus, Belgium, Bosnia and Herzegovina, Bulgaria, Croatia, Czech Republic, Denmark, Estonia, Finland, France, Germany, Gibraltar, Great Britain, Greece, Hungary, Iceland, Ireland, Isle of Man, Italy, Kosovo, Latvia, Liechtenstein, Lithuania, Luxembourg, Macedonia, Malta, Moldova, Monaco, Montenegro, Netherlands, Norway, Poland, Portugal, Romania, San Marino, Serbia, Slovakia, Slovenia, Spain, Sweden, Switzerland, Ukraine, Vatican City.
Again, we'll be taking NAVIGON out for a test drive over the next few days and have a follow up post on how the latest Windows Phone navigation app performs. First impressions are good and NAVIGON is clearly feature rich. I'm not sure about the map colors (a little on the drab side) and I couldn't help but think the map view needed a little more contrast. I like the live tile support and the installed maps should noticeably help with performance on the road.
If you want to go ahead and take the plunge you can find the NAVIGON U.S. version ($29.99) here (opens in new tab) at the Windows Phone Marketplace. The $69.99 European version of NAVIGON can be found here (opens in new tab). Sorry guys and gals, there isn't a trial version of NAVIGON available for either version.
Windows Central Newsletter
Get the best of Windows Central in in your inbox, every day!
George is the Reviews Editor at Windows Central, concentrating on Windows 10 PC and Mobile apps. He's been a supporter of the platform since the days of Windows CE and uses his current Windows 10 Mobile phone daily to keep up with life and enjoy a game during down time.
i went to the Navigon website and checked out the WP7 version and under maps, Canada is included but doesn't say so in the marketplace description. I don't which is more accurate.

The US version's maps stop at the Canadian border. My guess is that a third version will be released to cover Canada.

Thanks George. I wondered if maybe the USA version included Canadian maps....thanks for the info.

Why the heck isn't there an option to use Bing?

Can you select which maps you want to download? Like you were able to in Navigon 3 installation.

Any word on availability for Australia too??

Not thanks...I don't have 1.6 GB to spare.

George,Can you please do a side by side comparison with Garmin's app, also? Thank you!

aussiedog... I had that in mind and will definitely do a side by side with Garmin.Strixan... nope. You've gotta download the full map set. It would be a nice feature. Maybe group States or Countries as regional downloads.And no word on Australia or Canada.

Ridiculous. Navigon Europe forces the user to download 2.3 Gb of maps!!!I just want to download 1 country, not Europe. I have no storage to waste (and no money to waste: the price of Navigon Europe is a joke).

Can the app be launched from the "apps" section of the phone's native place search?

I'm curious to know if it's Mango featured, and how well it works when it's running in the background.

you're seriously telling me people would pay that kind of £££ for an APP!?! I had trouble clicking the "buy" for the £5 GPS Voice Nav app since that didn't do roundabouts and tells you to exit right off the motorway when it's left lol!

I still think Turn by Turn is better and you can download maps.

£51 in the UK, WTF!!! I'm really pleased that we have a big name SatNav Brand supporting WP7 now in Europe, but the US version is only £22, why the **** is the European version over twice the price?!?! I would have purchased this without a second thought if the price had been the same, but 51 quid is ridiculous, especially as I only want the UK map!!! This would sell MUCH better if they charged on a per country map basis, which is what most users want. Say £10 with 1 map of your choice, or £15-20 with 3-5 maps of your choice. Can you make some noise at Navigon please WPC.

Interesting! I had a Navigon standalone GPS and liked it quite a bit. They're they only GPS service, that I know of, that offers subscription-free traffic as an add-on to its units. If WP7 can't get turn-by-turn nav right by Apollo, I'll probably spring for this

Way better than Turn By Turn, has built in POI's, reads street names, and includes traffic. And Garmin's release is poor and more expensive. Very happy with it.

I still have Navigon on my HD2, will be interesting to see how much better this version is. If it indeed is better. :)Have to wait to see what Nokia has to offer first though, hopefully using Bing as their search provider.

No try -No buyAs owner of a standalone TomTom GPS device I alreday have maps for Europe. But the maps in my TomTom are a couple of years old and I need to refresh them. Now the price for fresh maps of Europe costs about 700 SEK (thats about $100 US). So the price for the Europe version of Navigon doesn't actually scare me off.But what does scare me is the lack of a try-out version. Is this app so bad, that If I would try it I would not buy it? You GPS companies must wake upp and watch the new world out there. On a smartphone I demand to be able to try out an app at least for a couple of days before before I spend my money.Lets se how Nokia handles this...

I totally understand your position, but for what it's worth I went ahead and bought it (stupidly, perhaps :P) but I'm pleased to report that despite the MASSIVE download, it's very nice software.

I'm so buying this for my next holiday :-)

WTF all i want is the U.K maps for a maximum of 19.99 please. why would i buy EU when i only travel in Birmingham. come on guys fix this plus maybe UK alone will only be 512mb, i need the extra 2gb for my music collection thanks.

Exactly.I don't need 44 countries. That's insane.I just need France. And 20€ would we a reasonable and fair price that I would pay.But 60€, no way.And waste 2.5Gb of storage, no way

Anyone know how to contact Navigon about getting Australia on board? Not really keen on dialing their support number.. prefer email.

It's actually good software. I bought and downloaded it. I just wish they'd give you the option of choosing which maps to have on your device. 2.3GB is waaaay too much to expect somebody with an 8GB phone to install. However, as I said, the actual navigation software is quite nice to use and runs very smoothly compared to the Tomtom and CoPilot options we might have been used to from WM6.x

If they decided to sell a shell app, and then make you download maps...each country should be sold separately! Why the **** would i want to keep Lithuanian maps on my phone ( no offense, just an example ) and pay for them if i won't ever use them ? They should already know that - "Europe" package is a no deal. Sell each country separately and it will be great. The app allows that, so...

Hey, I'm from Lithuania!** What's wrong with Lithuania?!?!? Quit bad-mouthing us! ** disclaimer: not really from Lithuania **

Just wait on Ovi Maps, it will be better, and free.

But only on Nokia phones right?
Windows Central Newsletter
Thank you for signing up to Windows Central. You will receive a verification email shortly.
There was a problem. Please refresh the page and try again.