NCAA March Madness Live advances our Windows Phones to the Sweet 16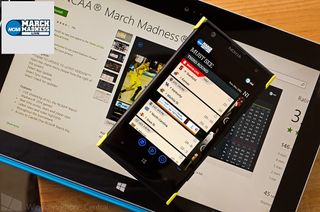 We have mentioned the Windows Phone app NCAA March Madness Live before. It is the official Windows Phone app for the NCAA Men's Basketball Championship Tournament that delivers stats, news, scores and live streaming of all the tournament games to your Windows Phone.
This past week we were finally able to put the Windows Phone app to the test. Tournament games began last Thursday and we have been very pleased so far with the March Madness Live's performance.
While other sports apps for our Windows Phone will deliver similar stats, news and scoring information where NCAA March Madness Live stands out from the crowd is with the live streaming of all the tournament games.
It was such a joy to continue watching games in progress while waiting in carpool line Thursday and Friday afternoon. I suspect this feature came in handy for many who were stuck in the office on Thursday and Friday as well. It was also nice to check in on the games during dinner over the weekend. That is until my wife caught me and gave me that look that threatens a life of celibacy.
Streaming was smooth and while I did have a few pauses in the feed, this could have easily been the result of poor data reception in my area and not an indictment against the app. I liked how a link appeared in the bottom corner of the screen during ads to let you go the products webpage.
It was also a plus to be able to view all the half-time and in-between game commentary from the CBS Studios.
All in all, I was rather pleased with NCAA March Madness Live and hope it becomes a staple app in the Windows Phone Store. I just wish my brackets fared as well (the Duke loss ruined it for me).
NCAA March Madness Live is a free app that is available for both Windows Phone 8 and Windows 8 devices (including low memory Windows Phones). You can find the Windows Phone 8 version of NCAA March Madness Live here in the Windows Phone Store. You can find the Windows 8 version here in the Windows Store. (opens in new tab)
Windows Central Newsletter
Get the best of Windows Central in in your inbox, every day!
George is the Reviews Editor at Windows Central, concentrating on Windows 10 PC and Mobile apps. He's been a supporter of the platform since the days of Windows CE and uses his current Windows 10 Mobile phone daily to keep up with life and enjoy a game during down time.
FYI this app sucks bad on WP. Go check the reviews, they are correct.

Its been updated a few times.
Other than my bracket not working originally, the app has performed well for me.

Where do you see "My Bracket". I can't locate it in the app.

Its was removed in an update, it was only a link to their website and the website works horribly with IE10 on WP.

I understand now; but i agree. Overall the app works really well. I have not tried to stream but I use it often to view the bracket and check scores / news. Other platforms have the ability to see "My Bracket" in the native app. But i am still glad to have a WP app

I used it nonstop all weekend and had zero problems with it. I was impressed. Very good app.

Wow...lucky. I tried to use it this weekend and it just crashed continuously no matter what I would do. I think the most time the app would stay open was 5 minutes with it crashing immediately sometimes even with the update!

I've used it since the first game. I have not any problems. I've streamed multiple times on Wi-Fi without any problems as well. I'm using it on a Nokia 1520.

Cuse, Kansas, UNC, duke, UMASS, and Wichita state are out. Not surprised by cuse and Wichita state being out before the 3rd round.

Yep, what happened to the people claiming Wichita was underrated? Lots of sorrows drowned in Kansas this weekend I'm sure.

Wichita State is still a very good team. They lost to another good team in a classic game.

Worked well for me. Go Cyclones!

Love, love love this app! Watched games during the weekend while my kids occupied the TV. Looks beautiful on my ICON!!!

Oh yeah GO Michigan State.....and U of M!

Yes!! Go State & UM!! Go Green! Go Blue!

Yes, Minnesota is continuing their success in the NIT ;)

I think UM/MSU would meet in the championship game, which would be awesome. Go Blue!

Is there any explanation other than purposive oversight that the NCAA and Hotels.com, as examples, don't advertise that they have WP8 apps at the end of their commercials? When I say advertise, I mean with the little rectangular logo at the bottom of the screen.

I agree that this is really frustrating. WP finally gets an offical app and they aren't included on advertising.

I agree 100% and is sick of it..

I have used this app quite a bit this past weekend and I must say, what a terrific app. It was great to watch "my Team" while at work for the opening 2nd round play that happened during work hours. No need to avoid people's chatting at the water cooler so I could watch the DVR at home. Push notifications of the teams I chose were great and the added notifications of close games, or potential upsets were well appreciated. Other Sports apps could take a strong look at this app and see how to correctly build an app that plays well with the end user....me.

I've enjoyed this app. Live streaming is a great feature. I got to see my Cardinal take down Kansas. I look forward to using this more. #FearTheTree

I love this app. Haven't missed a game

I downloaded this app for "emergency" situations when I had to leave the house/office and didn't want to miss any last second action. I ended up using it a lot more than I thought I would and it worked perfectly. A couple of minor pauses but I figure that that was due to my data connection and not the app itself. Always nice to have official, feature rich and well performing apps. Go WP!

Love the app... hate my bracket. DAMNIT, SYRACUSE!!

One if the best things to happen to our phones. How sweet it is!

My friends Android (on the same wifi connection) was consistantly about 30 seconds ahead of my WP on the same live video feed. Very frustrating.

Yeah, it was annoying that while watching the end of a tight game, I get a notification of the final score.

Used it and the Win8 app on my DVPro8 all weekend and while streaming stuttered more on my L1020 it was still very handy. I love the app on my tablet because of the extra real estate and being able to see stats at same time as video but when I had to run out my phone did fine and I kept up nicely.
Windows Central Newsletter
Thank you for signing up to Windows Central. You will receive a verification email shortly.
There was a problem. Please refresh the page and try again.