NDTV introduces an all-new app for Windows Phone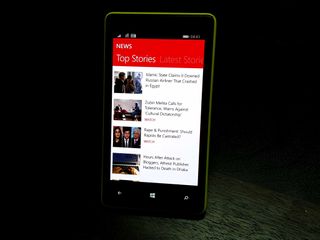 NDTV is one of the top broadcasting television networks in India. Founded in 1988, the broadcaster has three national news channels - NDTV 24x7 (English), NDTV India (Hindi) and NDTV Profit (Business news), along with several online properties.
While NDTV has had an official Windows Phone app since long, it wasn't the best they could do. It was packed with comprehensive features of course, but an overall rating of 3.4 on Windows Store is a validation that it wasn't received well by Windows Phone users.
The latest update to the Windows Phone app completely revamps user experience. At first, I thought, the new version takes away almost all the features making it vanilla simple, however, I realized that only the navigation to the primary screen with categories and all multimedia features has changed. For some bizarre reason, the app starts to the news features, and you need to hit the back button on the home screen – which would mean closing the app for any other Windows Phone app – to get to the mail screen.
However, once you're here, the app offers live streaming of network's television channels, videos on demand, photo galleries and slideshows, text stories, and more. There's also live updates from the stock markets, ball-by-ball scores from all cricket matches and weather updates.
While the UI refresh is pretty good, offering a neater, more organized browsing experience, there's no way to share a story you're reading – that's an abominable miss, really. Also, a complete refresh targeted for Windows Phone 8.1 at this point is awkward, and a Universal Windows app for Windows 10 would've been a better choice.
I'm a big fan of the MSN News app and check it several times through a day to get all my news fix. What do you think of this all-new NDTV app? Tell us in your comments.
Download NDTV from Windows Store (Free)
Note: A previous version of this article incorrectly stated that all the multimedia and interactive features went away and the app was dumbed down. While the new navigation does not conform to standard Windows Phone UI practices, and hence the miss, those features were not removed. We regret the error.
Least they care to do it. They are probably going to add new features soon.

All the features are there. Abhishek should have done more research. Sloppy article. Just hit back from the home screen, videos, live tv everything there. Not intuitive, but it's there. Maybe an update in pipeline which will fix it.

can;t make up for their crappy journalism though...

Why not just release a universal app

They aren't aware I guess.

Too dad I don't live in India.

All the features you talking are still there.. You have just shown screenshots of news pages. Click on back you will be shown all settings, live streaming and everything. This is highly incomplete review . Please do a complete review if you do a review.

Not Indian, but downloaded the app and you are right! Not sure that it's really down to the articles author, having to press back is very counter intuitive. Under WP app guidelines back from the first page should exit the app.

Now I think this is also fixed. Launching the app is taking us to the home page..

It has all features, just press back button from home page.
In first go, user will not discover it, but any user who close app via back button will immediately discover it.
I like the new apo other than this design choice.

Yes the app has all features and in fact is better than before, only that it shows news when you open the app. Hope you checkout all the features before reporting.

I am from India but now I am studying in Canada. And I am stunned att the condition of apps here in Canada. :O In India, I had all my apps on WP TOI, NDTV, SBI, Flipkart, Jabong. Here it is very hard to find even basic apps and apps of big newspapers on WP. Why is such condition here in North America?

Lack of market share. Most developers can't be bothered to create apps that a small amount of people will be able to use. It's still amusing how Microsoft really doesn't give India the credit it deserves in propping up Windows Phone. I'd be going full throttle if I were them.

Well. Seriously I am tired of hearing this argument. Everyone knows that thing. But, same was the case with India, still Indian companies and developers more genrally develop for Windows Phone. Problem in North America is more peculiar. Believe me, MS is doing fair enough in India (ofcourse there is room for improvement), they have pulled lot of companies and developers in developing for them (see IRCTC for example) but I don't know what they are doing in North America. The basic apps such as Scotia Bank, CTV, CBC, City Transit even such basic apps are not available. When I Compare the apps from the apps I had in India, I feel they haven't even tried getting apps here. In the beginning they were fighting but feels like now they are not even trying break the duopoly.

Not really. India, thanks to Nokia's influence, has many more WP users than either the States or Canada. It's pretty obvious. If companies see a demand for their products, they'll make them. I get it that it's a tiring argument but it is the truth. It's not like Canadian companies are incapable of making good apps (I would know, I live here).

Well. Yes. I know. But whose fault is it? Microsoft's ofcourse. They didn't try enough as simple as that. Of course I am not saying that developers here are incompetent or something. It's not the fault of developers. Microsoft didn't push them enough to build. Of course, the marketshare in India is in a better state and that is because of many factors; Nokia, open market and even apps. Most desirable apps in India are all on WP. Here you see, they are now gone from virtually all the carriers. They launched just Lumia 830 here in Canada while India has array of devices. They are not trying to partner with any carrier, they are not running any campaign, they are not pitching students. Hell, they are not even launching devices. Even, in the home county of US the state is pretty pathetic. I have been using WP in India for so long. Lumia 710, 720 and 625 and I was pretty happy. As soon as I got here, I had plan to get the flagship because of all carrier contract thing. What I got was 830 (no 930 or 1520). Ok, the device is pretty impressive on its own but now among peers I feel alienated, sidelined. And you know, what worse is, even Microsoft's apps are in a better state on their devices than mine.

It's all there if you were to press the back button from the launched home page... I love the new UI, much cleaner and easy to read with better font spacing. It's non intuitive to see all the options if the user does not press the back button, should have followed WP UI with the ellipsis at page bottom.

Has all the features
Please do a complete review
Seems like written in a jiffy. The earlier app used to take too much time to load the latest news. Its better now.

TOI gives a good UI, comments, news as that of MSN.

Abhishek is right in the review, where the hell is share option?

He is right about having no share option but other features like categories and Live TV are all there. Press back button after you start the app.

Wow, good for India. I appreciate their support. It makes me think...
I think, we all (Microsoft Phone people) need to find ways to prop up and encourage developers, apart from Microsoft. We need to step up and take a determining role in the future of this great and underserved platform, currently known as Windows Mobile. Let's pay our own way and put our money with our convictions. Let's take action, invest money, to achieve our goals.
Let's start the conversation.
Best Wishes.
Kevin Rush.

The allegations made by the writer are all incorrect except one, that is, there is no share option. Other than that its this article that is useless and not the app! I think the writer just opened the app, swiped left & right and closed it before writing this crappy article. May be he even got paid to write the b*llsh*t that we see here. And the best part is that he thought no one is gonna notice what crap he wrote, lol! First of all the app now throws many more news articles of interest without tedious clicks. There is now clarity in the app on how to go to videos, photos, criclet, live streaming sections without having to swipe 5-6 times to reach the settings page. Although it may be unintuitive for the user to guess that after 1st launch he can see this sections page only after he presses back button, but come on 99% of users would press back button at least once after launching the app for the first time so they would discover how the app works. 5 stars to the app, 5 middle finger emojis to the writer. Don't write such dumb reviews in the future!

Go easy man, happens more often than you think. It's odd they would place categories section there, weird design choice imo. It's difficult to notice, not everyone uses back button to exit. I'm sure he'll redact his statement and emend the article. Give him time, they are human after all :P

Uff. Take it easy man. It is a silly mistake from the author. Also, even I don't use back button all the time. Just long press it and swipe it down. Poor UI choice by the developer IMO

It's not the writers fault at all. The developers most have thought it through before they implemented such a poor navigation structure.

Its good but I gave feedback for transparent tile.

Their journalism sucks though. One of the top biased media houses in India. And yeah, their CEO who co-hosts the Gadgets show on weekends, is an Apple fan who cannot think anything beyond an iPhone and iPad.

Ha! That guy is a joker who knows nothing about gadgets. Just reads stuff on the boxes, and parrots it as features!

All option are available dude, just press back button u will get category option.. U can check video , photo, live stream

One of the most biased news channels in India. Ndtv is just an extension of congress party.

Just like IndiaTV is of BJP..

Big deal, every party has one or two supporters but Congress has almost 90% news channels in their pockets. 60 years of near non-stop rule does get you such money and power.

IndiaTV is no where near the shittiness of NDTV, CNN-IBN, Headlines Today and most importantly Times Now and their allied channels. You should read the Mediacrooks site for more info. IndiaTV is good at predicting doomsday however :)

What a crap news chaneel... Nehru dynasty television . NDTV

time to switch to#ios for better apps

NDTV always have been great for delivering notifications for any headlines, but when I opened the app by clicking on the notification there would be nothing. They do not update the articles regularly. I first thought they have created a universal app but no, they disappointed me.

All categories are available; but no option to share an article you like makes this app quite useless.

Which is the best news app in the store?
#justasking

Right now its only msn news

"we don't support.....बिकाऊ मीडिया."

better than the times of india
Windows Central Newsletter
Get the best of Windows Central in in your inbox, every day!
Thank you for signing up to Windows Central. You will receive a verification email shortly.
There was a problem. Please refresh the page and try again.