Netflix CEO to leave post on Microsoft board of directors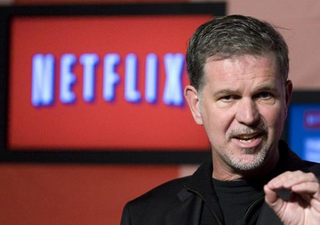 After serving on Microsoft's board of directors for five years, Netflix CEO Reed Hastings has decided to give up his post . Earlier in the week, Hastings said that he will not seek re-election to the position of lead independent director, as he wants to cut down on the number of boards that he serves on. Instead, he will focus more on his primary job as CEO of Netflix, as well as his work in the field of Education.
Microsoft's Steve Ballmer said in a statement that Hastings' "insights and experiences have really helped guide us through a critical period of transformation for both Microsoft and the industry." Hastings will stay on until Microsoft's annual shareholders meeting in November, at which time the board will determine his replacement. There has been no indication that Hastings will step down from any of the other boards he currently serves on, which include Netflix, Microsoft, Dreambox Learning, the Knowledge Is Power Program, the California Charter Schools Association, and Facebook.
Microsoft, in the meantime, has nominated nine of its other board members for re-election. That group includes such names as Bill Gates, Steve Ballmer, former JPMorgan Chase CFO Dina Dublon, Harvey Mudd College President Maria Klawe, former vice chairman of Bank of America Charles Noski, Virtual Instruments CEO John Thompson.
Hastings departure is not likely to have much effect on Microsoft's short-term success or failure. Windows 8 and Windows Phone 8 are well on their way and it's not clear how much of a role Hastings played in any of those endeavors anyhow.
Source: ITProPortal
Get the Windows Central Newsletter
All the latest news, reviews, and guides for Windows and Xbox diehards.