Netflix CEO to leave post on Microsoft board of directors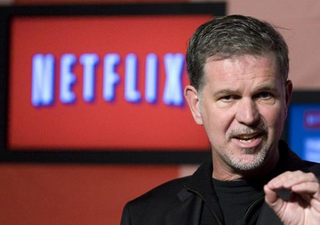 After serving on Microsoft's board of directors for five years, Netflix CEO Reed Hastings has decided to give up his post . Earlier in the week, Hastings said that he will not seek re-election to the position of lead independent director, as he wants to cut down on the number of boards that he serves on. Instead, he will focus more on his primary job as CEO of Netflix, as well as his work in the field of Education.
Microsoft's Steve Ballmer said in a statement that Hastings' "insights and experiences have really helped guide us through a critical period of transformation for both Microsoft and the industry." Hastings will stay on until Microsoft's annual shareholders meeting in November, at which time the board will determine his replacement. There has been no indication that Hastings will step down from any of the other boards he currently serves on, which include Netflix, Microsoft, Dreambox Learning, the Knowledge Is Power Program, the California Charter Schools Association, and Facebook.
Microsoft, in the meantime, has nominated nine of its other board members for re-election. That group includes such names as Bill Gates, Steve Ballmer, former JPMorgan Chase CFO Dina Dublon, Harvey Mudd College President Maria Klawe, former vice chairman of Bank of America Charles Noski, Virtual Instruments CEO John Thompson.
Hastings departure is not likely to have much effect on Microsoft's short-term success or failure. Windows 8 and Windows Phone 8 are well on their way and it's not clear how much of a role Hastings played in any of those endeavors anyhow.
Source: ITProPortal
Windows Central Newsletter
Get the best of Windows Central in in your inbox, every day!
Oh no! Its over! Microsoft is so done!!! Sorry, couldn't help myself, wanted to beat the doomsday fanatics, so they can read how stupid they look...

I wonder if it has to do with Netflix members getting double charged when trying to use the service on their xbox360?

Come on, man. Of course not. Hastings has been onboard 5 years so you know that hasn't been an issue for him.

Oh look, they picked only rich people.

Bank of America, Chase JP Morgan...they are all software developers... LOL

For the love of God, let it be Bill Gates. All others sound very turdish.

Gates is ON the board already; just being nominated for re-election.

While I do enjoy having the Netflix app on my Xbox 360, I don't enjoy any of the following (which was introduced during the last major netflix app update)

1) Having to start a movie/episode just to rate it
2) Having to start an episode just to choose a different episode
3) When highlighting a movie/tv show, it shows a random image from one of the episodes, sometimes these images give away spoilers to the plot of the next episode (like seeing an image of a dead main character, etc). This happens more often than not.
4) The description autoscroll, if you don't read the description at the bottom fast enough, it autoscrolls down, so you have to then scroll back up to read it, then scroll down to finish it.
5) The disappearing instant queue view. This is getting progressively worse and actually, as of 2 days ago the instant queue view always disappears within about 15 seconds of starting netflix. Luckily my Wife and I both have smartphones (Samsung Focus/WP7), so we just look up our instant queue on our phone, then do a search for the title in the netflix app.
6)Missing audio when changing episodes about 75% of the time, requring us to restart each episode in order to get the audio to work (i.e. if you finish an episode and choose 'next episode', you then have to exit the episode and restart it for the audio to work). Albeit, this has been getting better recently.
7) When highlight a movie/tv show the random image makes the display of that title get much larger. If you use the Kinect to choose titles via your voice, you get the options of "Play 1" through "Play 6". However, once that image gets enlarged, the "Play 6" gets pushed off the screen and is no longer an option. If you aren't fast enough you'll have to scroll right to find it again. Kind of a small annoyance, but still not a good user experience.


Hmm, I suppose I could continue, but I'll stop there.



YEAH REED! *searches for Reed on the site* oh wait. . . .

Don't stop. They also killed the ability to watch a movie with your friends. Not sure if you ever used it but your avatar and your friends could sit in a movie theater and watch a movie together. You could make your avatar laugh or yawn. It was kinda cool but they killed that feature.

There is speculation Hastings is leaving the Microsoft board so he appears impartial, the gist of it is that Microsoft intends to buy out Netflix and if Hastings is also on the board of MS and Netflix it looks like he would be partial to the takeover/purchase with his own Netflix board members; so by leaving the Netflix board can decide on their own if they should sell to Microsoft. Hastings would of course then be the president of the Netflix subsidary at Microsoft. Microsoft is looking to aquire rdio for their xbox live music free/ad streaming service; adding on Netflix and maybe making it free for xbox live gold members would be another incentive to get onto xbox live gold. Then they own Skype for communication. All of these are consumer related services that are widely used; MS intends to control the service layer of the internet if they cannot directly control the OS that people use on their mobile devices they certainly will rely on the services MS offers.

You're probably not too far off... but the other possibility is that Microsoft is going to announce a more competetive service as part of Xbox Videos and it would create a conflict of interest for Hastings. Either way, I feel certain that Microsoft is on the verge of a strong video offering.

I think the buy Netflix boat has come and gone...when their stock was in the toilet, that's the time to buy...
Windows Central Newsletter
Thank you for signing up to Windows Central. You will receive a verification email shortly.
There was a problem. Please refresh the page and try again.