Netgear Orbi RBK50 vs. Linksys Velop: Which should you buy?
We're a virtual company made up of tech experts from across the globe. We live and breathe routers and satellites that improve your W-Fi experience. Here's a look into two great routers in a side-by-side comparison.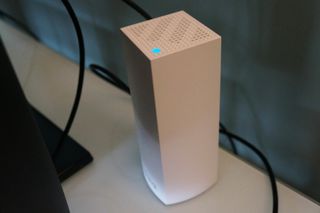 Our Pick

If you're looking for the full set-up to make your home smarter, Orbi is the one for you. With expansions to give you some speakers and voice commands, it's quite the catch. Prices are a bit high, but worth it if all the perks are what you're looking for.
For
More square footage per satellite than Google Wifi (1,000 extra square feet).
Three radios for more support.
USB Port.
More LAN ethernet ports.
Against
Much more expensive packages.
Requires more hands-on maintenance.
Wi-Fi made simple

Despite the price and comparison of features, Linksys is a device that makes Wi-Fi easy to set up and then forget about. If you're looking to upgrade to Mesh Wi-Fi, and then never have to worry again, this is the router for you.
For
Auto-fix abilities.
Set it and forget it.
Perfect for smaller homes.
Against
Set up requires mobile devices with Android 4.4 or iOS 8 and higher.
No USB port.
4,000 square feet of coverage.
Orbi RBK50 vs Linksys Velop tech specs
To most of us, specs are very important factors when it comes to buying routers. If you care more about what the router is capable of, and less about how easy it is to use, it's time to take a look under the hood.
Swipe to scroll horizontally
Header Cell - Column 0

Orbi RBK50
Linksys Velop
Coverage
5,000 sq ft
4,000 sq ft
Performance
AC3000
(1733 + 867 + 400Mbps)
AC2200
(867 + 867 + 400 Mbps)
Frequency
2.4 GHz, 5 GHz
2.4 GHz, 5 GHz
Wireless standards
Radio 1: 802.11b/g/n 2.4GHz, 256QAM support

Radio 2: 802.11a/n/ac 5GHz, 256QAM support

Radio 3: 802.11a/n/ac 5GHz, 256QAM support
Radio 1: 802.11b/g/n
Processor
Qualcomm IPQ4019
716 MHz Quad Core
MU-MIMO
Yes
Yes
Memory
4GB Flash
512MB RAM
4 GB Flash and 512 MB RAM
Ports
USB 2.0
No USB ports
Ethernet
Router: 1 WAN, 3 LAN

Satellite: 4 LAN
2 WAN/LAN ethernet ports per unit
Beamforming
Yes
Yes
Performance
As you can see from our spec chart above, Orbi is trumping the Linksys when it comes to performance with three radios, 1,000 extra feet of square footage, and USB ports. The one and only radio in the Linksys covers 802.11b/g/n, which matches the first radio in the Orbi, but, the second and third radio in the Orbi covers 802.11a/n/ac, which helps it handle a larger amount of data. The square footage might be upsetting to some, but if you're working out of a dorm or an apartment, then you're not missing out on much.
It's the same deal with the USB ports as well: if you don't need them, then you're not missing out. The USB port on the Orbi is only officially compatible with ReadyShare printing, which is the ability to print directly from your phone, laptop, or computer as long as they're all connected through the same Wi-Fi network. There are users who've reported how there were specific types of external hard drives that were working with their Orbi USB port, but that isn't officially supported. Linksys, on the other hand, doesn't have a USB port at all. If plugging in your printer or having a little bit more memory doesn't bother you, you're not at a loss — just plug your external hard drive into your computer.
Features
One thing Orbi is great for is the expansions. There's an Orbi expansion, called the Orbi Voice, which is a speaker satellite that you can find on Amazon for $300. You can also skip the standard package and go right for the router and Orbi Voice for $429 (which is $200 cheaper than purchasing it as an add-on for more than double the price since it's only $100 more than the standard package). There is an indoor expansion for $250 that comes with a satellite offering up to 2,500 extra square feet of coverage. Then there's an outdoor expansion for $290 that comes with a satellite that's safe to install outdoors, also adding up to another 2,500 square feet of coverage.
One thing that Linksys does, that Orbi doesn't, are the auto-fix abilities they have on their routers. This is the ability to automatically select the best channel for your device and eliminate congestion with the push of a button. This eliminates your need to turn off the router and turn it back on whenever you experience a problem — like you would with other routers.
Other than that, both the Orbi and the Linksys routers are pretty similar. They're sleek and stylish, and between their sizes and their shapes, you should have no problem incorporating these devices in your home's style.
Netgear Orbi RBK50 for upgrading not just your internet, but your home
Orbi has the expansion ability to not only improve your Wi-Fi but make your home compatible with more Smart devices. There are endless opportunities when it comes to upgrades, so you'll never be missing out.
Our pick for Smart Home users
Mesh Tri-band for performance

With this mesh system, you get 5,000 square feet of coverage and up to 3.0Gbps on your internet speed. There are eight total Ethernet ports between the router and satellites, and even the ability to take it a step further with the indoor and outdoor expansions.
Linksys Velop for easier internet
Whether you're running out of a dorm room or an apartment, Linksys covers the space you need with great connection speeds. Set it up once, forget it exists, and then enjoy your internet!
Perfect for the average home
A simple Tri-Brand Mesh router

With 4,000 square feet of coverage and 867 + 867 + 400 Mbps, internet speeds are easy to see why Linksys is a great device. Although set up is more of a hassle than usual, you'll never have to do it again. Plus, the Auto-Fix options makes your life so much easier (rather than having to constantly reset). You can even find a single pack for $200.
Get the Windows Central Newsletter
All the latest news, reviews, and guides for Windows and Xbox diehards.
Essa Kidwell is an expert in all things VR and mobile devices who can always be found with an Oculus Go, a Pixel 2, and an iPhone 7+. They've been taking things apart just to put them back together for quite some time. If you've got a troubleshooting issue with any of your tech, they're the one you want to go to! Find them on Twitter @OriginalSluggo or Instagram @CosmeticChronus.