New AdDuplex report shows Windows 10 Mobile on the rise, Lumia 535 most popular phone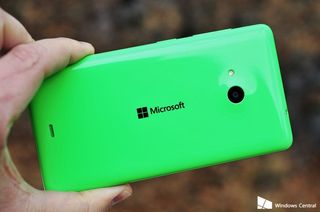 AdDuplex has released its report for the month of April showcasing statistics of the Windows mobile platform. What's notable in the latest findings is how the Lumia 535 has become the most popular Windows-based smartphone. As well as the switch of most popular phone, Windows 10 Mobile continues to be on the rise, almost hitting 10% of all surveyed devices.
Contrary to growth of Microsoft's latest version of its mobile OS, Windows Phone 8.1 experienced a sharp decline but maintains a comfortable 79% hold of the market. An interesting tidbit is how Windows Phone 7.x and 8.0 still appear in the charts at 4.2% and 7.5%, respectively. Back to phones and we're sad to see the Lumia 520 dethroned by the Lumia 535 by losing 0.8% of its share of the Windows Phone pie.
Looking at the UK, we can see that the country is the only one in this month's report to feature a Windows 10 Mobile handset in the top 10. The Lumia 550 has entered the chart at number 7 with 5.4% of the market. Should you wish to learn more about marketshare in different countries, be sure to head to AdDuplex tomorrow to read through the full report.
Rich Edmonds is Senior Editor of PC hardware at Windows Central, covering everything related to PC components and NAS. He's been involved in technology for more than a decade and knows a thing or two about the magic inside a PC chassis. You can follow him over on Twitter at @RichEdmonds.
Misleading article to say the least!

Misleading headline you mean? Agreed.

Only if you guys can't read properly...

Higher percentage of a smaller market does not mean that win10 mobile is being used more... *sigh* Really hope MS puts in a real effort next year.

Mobile 10 is taking the world by storm.

Don't think so, a lot of WP8.1 users are not aware of the update path to Windows 10M.

Ignorance is bliss. WP8.1 is far and away superior to 10M

Except for all the missing and left for dead apps? Twitter on 8.1 is still that awful old app that hasnt been updated in years and lots of new apps are "built for windows 10" and not available at all on 8.1 If 8.1 was still getting the new apps and updates, I would agree with you 100%

I agree with this. If/when I go back to Windows Mobile, it can't be 8.1. A lot of the updates that I really want aren't there. What makes this worse for 8.1 users is that sometimes the difference is like night and day.

After a year of using w10m I shudder every time I go back to 8.1 even for a brief moment

I thought I'd never say this but yes I agree wholeheartedly. I was very much against what I saw w10m beginning and now its grown on me. 8/8.1 are fun but man are they lacking. There only thing I really desire from it now are speed, fluidity, hubs and pivots. I feel like speed and fluidity are inevitable, and pivots are here sorta.

Category: smartphones
The latest Mobile RedStone is superior to ANYTHING (but Ubuntu)


Not necessarily. It may depend on each users needs but for me 10 is a million times better. Edge is better than mobile IE with respect to the sites I visit. The email app is better than the 8.1 native app and the store apps I used to use (especially speed wise with the store apps). Better interface (subjective). Better apps being released for the services I use. And a while lot more things that make life a while lot easier than with 8.1.

Also, Windows 10 has 100% more potential Sent from my Toaster Oven (Lumia Icon)

100% of 0 is 0. Posted via the Windows Central App for Android

In 3-4 months when all/most apps have ends support for 8.1 so they can go to 10, I think you may change your mind ;) especially when by then more features would have been added to both public (hopefully) and definitely insider rings. +640 on Windows10Mobile

Many of those users might switch to Android or iOS too. Posted via the Windows Central App for Android

And most of those that do know the update path cannot upgrade. /s

Storm in a teacup maybe.....

Yep. Yesterdays IDC report indicated hefty 0.6% market share for all windows phones during Q1. W10M must have had at least 0.2% !

No Lumia 830 in the list
:(

Yeah, I have the most popular Windows phone :D Posted with the Windows Central app for Windows 10 on Lumia 535

So is the 535 that good to dethrone the 520?! I thought it had a lot of touch issues, unless those are actually fixed now?

I think they're fixed. Or at least touch is working on mine perfectly, as it always did. But mine says it's made in July 2015, so it's not one of the first 535s (I purchased it in October last year). I think the touch issue was only there on the first 535s, but who knows :D Posted with the Windows Central app for Windows 10 on Lumia 535

My touch sensor is still erratic. On both the latest 8.1 and 10 firmware. I think the quality control went awful for 535 for the early batch and since it's a hardware problem it's unlikely repairable through software. I think you're lucky that you're not having the bad one.

Yeah maybe. I think the conclusion here is "never buy a phone at launch" :D Posted with the Windows Central app for Windows 10 on Lumia 535

Yeah, my sister's phone has touch issues as well, though the phone was bought only this year. How can I know the manufacturing date?

Head to the settings app, extras and than extras+info. It should be there. Posted with the Windows Central app for Windows 10 on HP 250 G1 notebook. It is a scary old monster, I think :D

I have 535 as my secondary device (used to be primary device before I got 640) and I didn't experience touch issues? Maybe it's what @Random DS said, and it was just an issue with the first ever 535's at launch had suffered from :) +640 on Windows10Mobile

Those people on WP 8.1, if they still buy a new windows device instead of switching then W10M maybe salvageable. If they switch, which i think most of the people will, may give Win10M a hard time gaining market share.

WP has been losing market share for years now. That won't change. Those people on WP8.1 will join the others who already jumped from the Titanic.
If may be glamorous to go down with the ship but it's smarter to at least try to reach a lifeboat instead. Posted via the Windows Central App for Android

Welcome back to the comments! We really missed your insightful thoughts on WP & MS for a few days.

Lol Posted via the Windows Central App for Android (from my 5x or V10)

Sorry that you missed me Pallav. I also missed your completely deluded and blind fanboy vision of the state and future of WP ;)

LOL. I've asked him multiple times why he's even here. I've just learned to accept DJCBS's presence. He's like the relative no one likes, but has to tolerate.

I don't miss boring trolls...

You are an idiot. Why do you keep coming around here to talk bad about WP? Everyone already knows that you hate it. Maybe you could take a break and go visit a national park or something for a change? Take some cool pictures and then post them for everyone to see something productive from you?

Hey has been banned from all national parks... keeps saying how all the trees are going to die and that the animals there "suck".

I may be an idiot but I wasn't the one who allowed you to be born.

If Windows on phones will be officially shooted down (what I think won't happen in a while), than I could switch after it too. So this whole "go down with the ship" thing is pointless.
But till that, let me love the **** out of the OS please :P :D Posted with the Windows Central app for Windows 10 on Lumia 535

If in a year Win10M actually gains more market share (which you undoubtfully will deny the chance of. Ik ik, you're becoming that predictable. Sad isn't it?) I'd love to read back in all your comments on every article to see how much of a close minded idiot you've been :) +640 on Windows10Mobile

In a year I'll make a note to throw in your face the fact that it won't. Just for the pleasure of being right, yet again ;)

If you say so. Not like me saying anything will change what you think. I'd just be wasting my time trying

Umm...this needs to be said. These are just phones. A lump of glass, metal, plastic and silicon that becomes obsolete after a few years. An OS is a tool, in effect no different to a hammer or screwdriver; it's a means of getting things done. It is not a religion, lifestyle choice or life-sustaining medical apparatus. There's no life or death, there's just simply 'what product do you enjoy and want to buy?'. Like, do I buy normal coffee or decaf.? Do I buy iOS or W10M? It's a trivial thing, really, and to be so absolutely hung over phone marketshare is not a good thing. Abandoning W10M will not change my life expectancy. Therefore, I am happy to continue using it on my very nice 950XL.

+920/5+1320+830+735+640/35+521/20 * former WP user. Posted via the Windows Central App for Android (from my 5x or V10)

Ever heard of metaphors? You should look them up, they're great ;)

But a metaphor should represent the actual situation. It's like a painting of a woman for example. If you paint a penis on that woman, than it's not a woman anymore :D Just like in your metaphor. If you "go down with a ship", you're dead. But if the OS, that you use is shooted down, you can still use another one. So holding on till it's possible doesn't equal "going down with a ship" :D Posted with the Windows Central app for Windows 10 on HP 250 G1 notebook. It is a scary old monster, I think :D

Posted on android?? Did you find a lifeboat then?

Yup. I was smart enough to get into one as soon as the ship hit the iceberg. Now I get to see all the silly WP-fanboys drowning and freezing to death in the sea ;D

Do you ever read your comments back and cringe?

This is a fair point but also, some of these users really don't have anything switch to, because it's either flagship device or low end.

it's not exactly a flood of people rushing to get to 10

Lumia 535 is a great phone for what it is. Had only minor issues that comes with win10 insider builds, but it handles all pretty well. A phone I use allot next to the lumia 950XL and 640 XL :)

Didn't Joe Belfiore state that an upgrade to W10 mobile will still happen to users with older phones but with limited features? If so, it would have really helped W10mobile gain its much needed market share.

Where did he say that? I doubt that will happen (why should they anyway?).

https://twitter.com/joebelfiore/status/564537267776020480?ref_src=twsrc%...

That Twitter post was from February 2015. Quite a bit has changed since then. That first wave was the only wave. If you haven't received W10 yet, then you likely not getting it. Posted via the Windows Central App for Android

It was more that not every phone would get the full features of Windows 10 because they didn't have the specialist hardware to perform it - like Continuum and Windows Hello, no phone pre-950 has an iris scanner, USB C or suitable processor to allow it to use that feature.

They could upgrade to the 10586 insider build and by not getting Redstone it means they will have limited features

Use "Windows Insider" app and select "Insider Release Preview"
Update twice
Voila! - Your non-supported phone now has the official Windows 10 Mobile!

I would switch to W10M if I could. Posted from my 822 stuck on VZW.

My 535 touch is responsive because I had buy it in early 2016

Obligatory comment to point out that these stats are skewed to 'normobs' and low end users. Most high end users and enthusiasts don't use apps and games that still have ads in and so don't get counted at all! So take all with a pinch of salt... 8-)

Does it app have to be displaying apps during usage or does it just have to have the ad API to be able to collect these stats.

It's based on having at least one ad impression per device in the sampled period, I believe.

Well that makes these stats highly inaccurate now doesn't it?

I'd have thought so. But few others ever seem to question AdDuplex, so....

*the app. Displaying ads*

I also have this as Primary Mobile.

I never saw L830 in such reports =(

That device was DOA. Posted via the Windows Central App for Android (from my 5x or V10)

Iam using Lumia 540 good phone

One interesting fact wasn't mentioned in the article: Compared to the last results Windows Phone 7 is gaining market share again. That's probably because more people that used to have a Windows Phone 8.1 are abandoning the platform while people using a WP7 continue using their old devices. So the number of active Windows Mobile users is actually going back quite a bit.

I believe that is correct. Posted via the Windows Central App for Android

Google is developing apps for iOS
Apple is developing apps for android
TO MUCH FUN!!
Microsoft is developing apps for iOS & android,Sadly Google & Apple don't.
NO FUN AT ALL!!
Leaving EARTH going to settle on MARS!!

oh great ...before the most popular was the worthless 520 now its the 535.....why?

The masses like cheap. As long as they are willing to deal with what "cheap" brings to the table, both good and bad, I don't see a problem with people preferring cheap phones.

The other day the biggest online seller had the 550 on sale for just 110$ here. So the owners of low range windows smartphones have new affordable devices with W10M

I'd never change my 535 to a 550! :D But to be honest, I'm thinking about getting a 650 when my contract expires :D Posted with the Windows Central app for Windows 10 on HP 250 G1 notebook. It is a scary old monster, I think :D

people just leave windows phones and go to android or ios windows 10 mobile on the rise!!!

Anyone on lumia 535 with official w10m noticed a black bar and unresponsive touch screen when playing non uwp games? Asphalt 8 for example, when I need to press that button, I need to touch right side of it. I noticed this since early insider build, but they still didn't fix this in official build

If the 535 is most popular how come the pie chart shows the 635 with a higher percentage. Ok nevermind.

As with most of these reports, a pinch of salt is required as percentages can be manipulated to represent what the publisher of the article wants. If actual device numbers were used, you would see a massive difference. These types of post are very inflammatory for those who seem to think they occupy the higher ground with their twisted take on smugness. Whether windows mobile dies or not, as mentioned above, no one is going to die with it. Until, or if, that time comes, I'll happily carry on using my lovely 950xl. Having used all the other OS's, this one works for me, so I'll take my chances that the SS windows mobile will avoid the icebergs.

The 735 has been a wonderful experience with W10M so far. Just a tip..... Reset your phone after a few updates. I know it's kinda a pain but it makes the phone work like it's supposed to. I think after several updates, things can get a little convoluted. Sent from my Microsoft Lumia 735 running Windows 10
Windows Central Newsletter
Get the best of Windows Central in in your inbox, every day!
Thank you for signing up to Windows Central. You will receive a verification email shortly.
There was a problem. Please refresh the page and try again.