A new app could bring iMessage to Windows, but there's a catch
The workaround could involve Beeper sending you a jailbroken iPhone...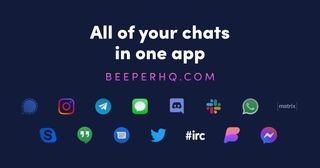 (Image credit: Beeper)
What you need to know
A new subscription-based app called Beeper could bring iMessage to Windows.
The app is designed to bring all of your messaging platforms under one roof.
To get iMessage to work on Android or Windows, you'll need an always-online Mac or a jailbroken phone sent to you by the company.
A new app by the name of Beeper could bring iMessage to Windows users thanks to a very strange workaround.
Reported by The Verge:
The app works with all of the most popular messaging platforms like WhatsApp, Signal, Telegram, Slack, Twitter, Discord, Instagram, and Facebook Messenger, as well as iMessage.
So how on earth can you use iMessage on Windows? From Beeper:
If you don't have an always-online Mac, Beeper will send you an upcycled iPhone 4S that's jailbroken to act as a bridge.
Founder Eric Migicovsky literally has a box under his desk...
Yes! That is EXACTLY what we're doing. I have 50 iPhone 4s sitting here at my desk.Yes! That is EXACTLY what we're doing. I have 50 iPhone 4s sitting here at my desk.— Eric Migicovsky (@ericmigi) January 20, 2021January 20, 2021
The full list of supported messaging platforms is as follows:
Whatsapp
Facebook Messenger
iMessage
Android Messages (SMS)
Telegram
Twitter
Slack
Hangouts
Instagram
Skype
IRC
Matrix
Discord
Signal
Beeper network
You can find out more and sign up at Beeper's website.
Recently I moved from Android to iPhone and I miss Your Phone so badly. I got used to not looking at my phone when on my desk. Also, no way I would use this.

dell mobile connect might help if you don't mind not having group messaging or mms support. (basically no media sending or receiving)

I tried but it says my XPS 8930 is not supported. f´-

i've dealt with that before: 1. open this link then click get https://www.windowscentral.com/e?link=https2F%2Fclick.linksynergy.co...
2. open microsoft store
3. click on the three dots and click my library
4. scroll down til you find mobile connect
5. click install

WhatsApp, Facebook Messenger, Signal, Telegram all have decent Windows apps. Thanks for the knowledg but you'd really have to love iMessage to go through all this.

I don't understand the hype around iMessage. Any app can do this. No need to lock yourself inside Apple's wall garden.

Elitism and arrogance. That's it.

No jealous barbs of elitism please. Apple
Products are good. But yeah outside of the US we don't understand why they love iMesage so much. Even grannies use WhatsApp here :)

WhatsApp everywhere. Europe, Asia, Africa and South America, even Australia.

Well done on the creativity part. This is the strangest cool thing I've read in a while. The $10 subscription killed it for me as I'm subscriptioned out at this point, but kudos for creativity.

Soo, this is like the free services that used to allow you to login to multiple services such as WLM messenger, Yahoo Messenger etc. Credit where Credit is due:
1)They are upcycling old iphone 4s devices as opposed to these phones ending up in landfil 👍🏽
2)that the code base is on open source code 👍🏽
3)You can run the service off your own server using the info on Gitlab👍🏽 Personally, the sub cost is too high at 10 dollars a month given the current climat.... if they halved that and lowered the barrier for entry they would get alot more subscribers. They could do a time exclusive sale or something? 🤔

Android Messages (SMS)… that means no RCS support? That and $10/month kills it for me. They should reserve the $10 price for iPhone users and make it $2/month for Android since we can get most if not all these messaging apps on Windows and simply group them using Tidy Tabs or Groupy.
Windows Central Newsletter
Thank you for signing up to Windows Central. You will receive a verification email shortly.
There was a problem. Please refresh the page and try again.