New Battlefield 1 trailer showcases its wide variety of weapons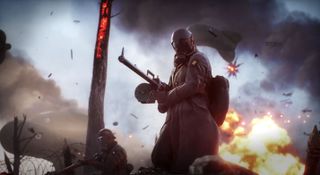 Electronic Arts has posted a new trailer promoting the upcoming World War 1 shooter, Battlefield 1, for the PC, Xbox One and PlayStation 4. The clip showcases the various types of weapons that can be used in the game.
The new video clip not only shows gameplay but also interviews with DICE team members, as they talk about the heavy amount of historical research that was conducted to help create the in-game weapons. The team members point out that World War I's time period in the early part of the 20th century saw a huge mix of both old and new (for the time) weapons technology on the war front. Everything from hand-held clubs all the way to fast firing submachine guns were used, and Battlefield 1 will feature that wide range of weapons in the game.
Battlefield 1 is scheduled for release on October 21, and Xbox One owners with EA Access will get to play a free trial version a few days beforehand.
See at Microsoft Store (opens in new tab)
Windows Central Newsletter
Get the best of Windows Central in in your inbox, every day!
Love the Battlefield franchise. Anyone want to buy me an Xbox One so I can play this?

Get a PC. Don't waste your money on a console.

This time looks so fun to me. May pull me away from halo 5 finally

Xbox One: Check!
EA Access: Check!
Battlefield 1 : Bring it on!!! Make me switch from Star Wars Battlefront for some time :)

Were these guns even used during WW 1? BF is known for their guns but I don't ever remember hearing a 2mph tank going through houses. I probably will buy this game but cant see it taking me away from Arma 3 for longer than a month. Arma 3 is just too bad as*

They did say they did "extensive" research into the historical accuracy, so I'm assuming yes.

Probably but chances are you'll still need to unload an entire clip into some leveled up with mag rounds and body armor ;P

Checkout the Battle of Cambrai in 1917. It was the first time tanks were used on mass, in a battle.

If it's as fun as Codename Eagle then I'm in. Haven't been a Battlefield fan since 1942 (with desert combat mod :))

Simply cannot wait for this. Finally a game that really puts modern graphics/sound cards to use. The realisticity of the environments in the BF series is always unbelievable.

That looks awesome!!!!!!!!!
Windows Central Newsletter
Thank you for signing up to Windows Central. You will receive a verification email shortly.
There was a problem. Please refresh the page and try again.