New BBM update for Windows Phone adds improvements in notifications and more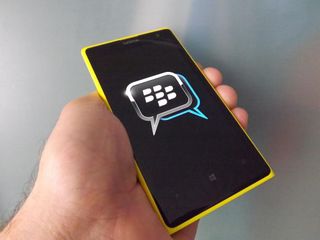 BlackBerry has updated the Windows Phone version of its BBM messenger app, adding improvements to its notifications. a new invite screen and more additions and changes.
Here's the full changelog of what's new in the 1.2.0.12 version
Improved notifications: View a message preview outside of BBM including the sender and chat content.
New emoticons: 16 new emoticons have been added to bring more personality to your chats
A simplified PIN barcode screen where you can display and scan barcodes in one place
A new invite screen that includes suggested BBM contacts along with invites you've received and sent
BBM Group enhancements: Invite contacts to join your BBM Group through email and SMS
Bug fixes and performance improvements
What's your current impressions of the BBM Windows Phone app and is BlackBerry doing a good job with its updates? Thanks to everyone who tipped us!
Too late BBM, too late...

Yep, its too damn late, use LINE ,WHATSAPP instead

I would have agreed two years ago. But after using line and whatsapp and after the numerous vulnerabilities and the lack of accountability by both Whatsapp and line I've come to understand and know that BBM and some other few unpopular messaging apps are the way to go. As a matter of fact I think there's a much better app than line or whatsapp and its Telegram.

Nah, if they do it right, its never too late

I would love to use BBM again rather than WhatsApp but... There's no one there

yup, I signed up then reached out to all my friends and nobody bother to accept friend adds or did so after days or weeks. everyone in my group just uses WhatsApp

Yes I do agree. I am a beta tester for BBM for Windows Phone and I've seen the app actually improve. I get the feeling that Blackberry is trying to do it right with BBM... Lots of good features expected for BBM soon.

Same here, BBM seems to have improved drastically since it was first released, but it needs the missing features like Stickers and Channels.

Except a fair bit of people still use BBM. Oops.

People say it's too late for WP... We don't care. Why should blackberry?

Maybe, but everyone use whatsapp and almost no one BBM

not here in my country, so many people use bbm here. and I hate it, because the notification on WP version is sucks!

WhatsApp feels like a security risk to me and we'r not far from the day when we read "WhatsApp servers hacked" just like we took a hit with snapchat.

Does anyone even use this? Props at least for updating...

I do. Although I just talk to one person on it because she refuses to use whatsapp and is a die hard blackberry fan.

None of my friends use BBM. Those who used BBM in the past abandoned it for Whatsapp.

I do and I've got a lot of contacts on BBM!

Who cares... Too late... Using hike instead.. Better than any other messaging app

I've tried hike and in my opinion its a poor rip off of WhatsApp.

You probably be living out of India... Hike is India centric messenger. Have you tried to contact developers... If not it is going to be better in your country in near future anyway..

Already dropped BBM, whatsapp and FB messenger...

Many of my colleagues still use BBM. So I'm forced to use it also. I'm glad to see the improvement in this update

I'm glad to see this updated as well.... At least one app is getting updated while getting frustrated over not so up to date apps...

Hope they figured out the wifi bug on nokia handsets or ill be switching back to running it on my ativ s lte(tethering off my icon)

Runs fine on wifi and cellular. What bug are you refering to?

I hardly know anyone who uses this app

Just updated mines but it says version 1.2.0.10

me too. can anyone helps?

Good
Been expecting it.. Thumbs up to the development team

No one to BBM I uninstalled it.

I use watsapp and kik now

Instead of bringing such improvements...bring voice call facility like andro and ios to WP too.....

In the works.. & lots more...

Gone are those days when bbm was a phenomenon......now its too late.....plus nothing new that attracts mass.....RIM pls so not waste your time, money and energy in worthless things.

Its still taking a lot of time to start the app....not at all happy with performance....needs to be quicker. It takes at least 30 secs to start the app

You need to uninstall BBM and then reinstall it. Ps. The Beta app of the one your running starts up in under 20 Seconds. What phone do you use?

I'm amused with how many people on wpcentral were calling out for BBM needing to be on Windows Phone before we received it. Now, all the comments on this article reflect the sad reality of how few people use BBM anymore. For myself, unlimited sms does the job just fine, and now with Facebook messenger for the occasional contact with those who I do not contact via phone, there isn't really a need for BBM and it's pin system anymore. I suppose that for those wanting the peace of feeling encypted during communication, BBM is still the way to go.

I have a BBM app but I'm all alone there. #useless

Nice update. I have almost all messenger apps installed for the few people who do not use Whatsapp. Would like to use BBM more but indeed so few contacts in there.

I just updated and I've not been able to load the application. It just hangs on setting up BBM. Any help Lumia 1020....

I'm using BBM just like a boss, here In Saudi Arabia (and the middle east) people are crazy about BBM.
Although BBM on WP takes more than 30s to launch, and it hangs+crashes on my Nokia Lumia 1520.
Until now, it's still doesn't fully support WP8.1 with 1080p screens

Way too late for BBM..It's so late that even if it pulls out its app very few of us will notice..

Can those who aren't using bbm not comment on this. There are people who need it and you're basically asking for them to stop supporting the app.

well bbm is till better than whatsapp for sure ,i need to ask something here when is whatsapp going to be updated we cant still move the app to sdcard.

Indonesia is BBM Country almost smartphone users use bbm

perfect for nokia lumia 925 , but not users in the list !!!!

My bbm won't open after update

This app is broken.... It remains stuck at setting up after the recent update. Using a Lumia 930

After updating, I get a white screen when i open the application. I tried chatting myself from a friend's phone. The chat came in, but after reading I tried returning to the contacts list and the white screen returns. I don't want to uninstall and re-install as it clears my chats and unlike what the chat backup they promised, all chats are lost after uninstalling. I use a Lumia 920.

The best beta in WP Store.

Whats wrong? My BBM version is 1.2.0.10? So after update version BBM is 1.2.0.10 or 1.2.0.12???

BBM has evolved a lot but there are still things that need fixing. For instance, the notification volume usage while inside the app.. When you receive messages while inside the app, the volume the application uses is the MEDIA volume instead of the notification volume unlike other applications like whatsapp which does this. The expected behavior in BBM is not as expected. The MEDIA volume should only be used for viewing videos. Other than that, BBM is more secure in terms of security. You do not have to share your phone number unlike whatsapp. Telegram is OK but no one that I know uses it. Most of the people I know are from North America and South America. Most of them use Whatsapp.. A few use BBM. That being said, I ended up on this messenger called THREEMA which I think deserves attention. Currently there is no application for windows phone but it is coming. You can check it out here : https://threema.ch/en

Smh the app broke after the update, it freezes at start up for like forever. Even BBM beta too

Why befor update not run bbm???

keeps showing setting up bbm after updating on my 520 ...uninstalled and installed again...still won't load past 'setting up bbm'...pls fix this asap!!!

After updating, it keeps showing setting up BBM. Using Lumia 822.

Can someone please get in touch with BBM?, the last update broke the app

It seem everybody commenting from Nigeria has the same broken BBM app problem

I think its been ignored since its not general

I may use WP 8.1 if BBM audio calling option is available on my stupid phone, lumia. Calling option is also not available on FB messanger for lumia users

What's the use commenting here though, I actually thought the editors will try to help. oh well

Not as good as on BlackBerry, yet top IM anyway. LINE is also good and then go others far behind.

This update get error it's stuck on setting up bbm screen

Don't install to your sd card it wou

Even when directly installed to the phone.

For my Lumia 520 the app after updating just hangs at "setting up bbm" forever. Really need a fix for this issue. Please

But this update doesn't allow one to sign in or sign up. The entry page (setting up BBM) keeps loading for ever. I use a Lumia 730. But it seems to open quickly on Lumia 530s.

For my Nigerian BBM users that have been stuck on setting up screen since the last update, I have found a way to resolve the issue... Remove your sim card from ur phone and uninstall the app... Restart ur phone without the SIM card, connect to a wireless network with very good reception., download and install the app and run it... That did the trick for me.. Hope it works for u guys too

it works perfectly all i neede to do was remove my sim nd reinstall using a wifi network.....thank you

Just realized that after putting back the SIM card the problem returns

Why is that I use a Lumia 520 and my bbm works perfectly fine, but those with high-end Lumias have countless problems?

One would expect that for an app that many are finding alternatives to, that when it updates that it would do so for all 3 OSes and not just IOS and Android. Don't know why these devs always see it fit to bypass WP knowing that when the apps are made for WP that they're always 10X btter than that found on both IOS and Android. Before any clown speaks ignorance, compare any app found on all 3 OSes that every feature it has is found on all 3 and then answer. Don't answer if you're going to compare an app that's has 10 features and the one for WP has 4!!

stil new to WP, BUT I CAN TELL you app developers rush to update android and ios them after experiments they will do the best on WP KKK
Windows Central Newsletter
Thank you for signing up to Windows Central. You will receive a verification email shortly.
There was a problem. Please refresh the page and try again.