New Halo Wars 2 video featurette previews its story and main characters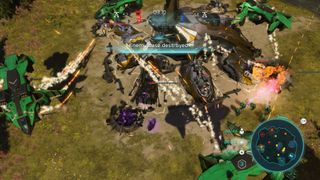 Microsoft has released a new video featurette for the upcoming RTS game Halo Wars 2 for the Xbox One and Windows 10. It takes a behind-the-scenes look at the game's main plot and some of its major characters.
The video shows that the game takes place 28 years after the end of the first Halo Wars title. The crew of the ship Spirit of Fire are awakened from cryo-sleep to discover they are over a massive Forerunner structure that is, in fact, the place where all of the Halos in the galaxy were made. The video also offers quick looks at characters like the ship's AI Isabel, its leader Captain James Cutter, and the game's main villain, an intelligent Brute called Atriox that can take out a group of Spartans with little effort.
Developed by 343 Industries and The Creative Assembly, Halo Wars 2 is due for release on Feb. 21, 2017
Check out our hands-on impressions of Halo Wars 2
See at Microsoft Store (opens in new tab)
Windows Central Newsletter
Get the best of Windows Central in your inbox, every day!
Can't wait for this to come out.

Agreed. I really enjoyed the beta, although I'm much more excited about the single player campaign. Hoping to hear more about Sgt. Forge.

I will have to admit, as an rts fan I did enjoy the game, but they need to make sure they have a good match making system and player base. Evenly matched games will make it fun. I bumped into some people who have played 'more' than myself and it wasn't quite as fun. I do have a complaint which is that its hard to see the projectiles and know if you're actually hitting the person you want.