New leaked screenshot suggests "Cortana" is not just limited to voice interactions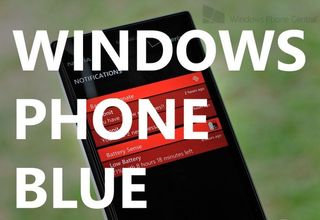 It's no secret that Microsoft has been working on a voice-recognition-based assistant to rival Apple's Siri and Google Now that will be included in Windows Phone 8.1 (aka, Blue). What is somewhat surprising, according to a newly leaked screenshot, is that the assistant, which goes by the moniker "Cortana," does not appear to be limited simply to voice interactions.
Windows Phone Central first revealed the existence of 'Cortana' as a Siri competitor yesterday, though most major new outlets overlooked it.
ZDNet's Mary Jo Foley wrote a detailed article today going into depth about Cortana. In it she details what you can expect in the upcoming digital assistant on your phone. The service will be powered by a concoction of services within in Microsoft. It will be part "Satori" knowledge repository powered by Bing, part Tellme, and other services within Microsoft to create your digital Cortana.
Mary Jo Foley goes on to explain that Cortana is just the beginning of a makeover to the entire "shell". That shell consists of the core services and experiences that will be powering the next generation of Microsoft's products from Windows Phone, to Windows 8, to Xbox One. But Cortana is going to be core to that shell and she'll follow you wherever you go in the Microsoft ecosystem.
But don't think for a moment that the shell is just the Metro interface you see in front of you when using Microsoft's products. Instead here's Steve Ballmer explaining it:
We might just get our first glimpse of Cortana in early 2014 when Windows Phone 8.1 launches. Until then, the leaks will keep coming. Speaking of leaks...
Later, the Verge's Tom Warren tweeted out a picture showing the Cortana settings page, which included some non-voice related options. The first is the ability to add weather alerts to your alarms. It's a handy way to prepare for you day first thing in the morning.
Next is the option to sync your calendar at a certain time every night. Presumably, this is for non-Exchange calendars.
And lastly, the screenshot shows the option to prompt you to add your spouse or significant other to your start screen. This option could be related to Facebook or other social media outlets that allow users to fill out such personal information.
Also of note in the screenshot is a notifications section, which will likely be part of the Notification Center that we caught a glimpse of yesterday, along with multi-tile select.
Cortana first turned up by name on a Nokia Lumia 920 that purchased on eBay and was running Blue. It was initially thought that it would just be a voice-controlled personal assistant, much like Siri, but it appears that it will be much more than that, deeply embedded into the core of Windows Phone.
So why hasn't Windows Phone had a personal assistant like Siri or Google Now yet? Mostly because Microsoft is waiting to do something revolutionary, instead of evolutionary in that space. From what we've seen of Cortana, she is very much going to be revolutionary.
From what we've seen and know at Windows Phone Central. Cortana is going to be revolutionary. Bing search on Windows Phone won't be the same as it's been. Instead, hitting the hardware Search key will bring up Cortana, from there you can automatically begin speaking or type your request. But Cortana won't be isolated to the hardware key, she'll be throughout the entire Windows Phone 8.1 operating system. Give her the option and she'll be able to read your text messages to help you add calendar reminders and more (there will be limitations, as the not everything could be acted on by the OS).
Cortana will leave popular Siri in the dust. We have already seen what Microsoft has done with voice functionality on Xbox and Kinect, and what they do with Windows Phone will be incredible.
Clarification: We should also note that those screenshots posted of 'Cortana' are from the zApp for internal testing. The actual UI for end-users will not look like that and is currently in flux for final layout.
Get the Windows Central Newsletter
All the latest news, reviews, and guides for Windows and Xbox diehards.