New Microsoft Edge to start rolling out to education, business devices after July 30
The new Edge is slowly making its way to even more PCs.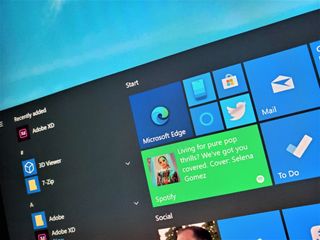 (Image credit: Windows Central)
What you need to know
Microsoft outlined its plans to bring the new Edge browser to more devices.
Education and business PCs will begin receiving the new Edge starting after July 30.
These will join the general Edge rollout that recently began for consumer PCs via Windows Update.
Microsoft today revealed when it plans to start rolling out the new Microsoft Edge browser for education and business PCs. Starting after July 30, these devices will begin to see the legacy Edge browser replaced by the newer, Chromium-based version. The transition will start with education PCs with a timeline for business PCs to come later.
"Beginning no earlier than July 30, 2020, Microsoft will update Microsoft Edge Legacy to the new Microsoft Edge browser by Windows Update on Windows 10 devices in education and business," Microsoft said in a blog post (opens in new tab) announcing its plans. "This update will not impact devices in education and business updated by Windows Update for Business (WUfB) or by Windows Server Update Services (WSUS). Updates will target education devices first to accommodate back-to-school timing. We will share a business timeline at a later date."
If you want to block the update, Microsoft provides instructions (opens in new tab) on how organizations can do so. K-12 educational institutions will also have to ensure they are configured to receive the proper updates.
Microsoft recently began bringing the new Edge to PCs via Windows Update, in-line with a plan the company outlined in January. Business and education users were left out of this rollout initially.
Anyone can manually download the new Edge (opens in new tab) from the official website. This rollout refers to Edge Legacy being automatically replaced on PCs via Windows Update. For those who want to test new features before they're widely available, Microsoft also has testing channels available via Edge Insider builds.
Windows Central Newsletter
Get the best of Windows Central in in your inbox, every day!
Dan Thorp-Lancaster is the former Editor-in-Chief of Windows Central. He began working with Windows Central, Android Central, and iMore as a news writer in 2014 and is obsessed with tech of all sorts. You can follow Dan on Twitter @DthorpL and Instagram @heyitsdtl.
I have to admit, this MS Edge is really good.

I liked the original one better. It had way more unique and interesting features, like Set Tabs Aside, inking, Ask Cortana, epub reader, etc. I used Microsoft's blocker toolkit so I can keep using original Edge.

Have you tried Collections? It's way better than Set Aside Tabs which I was always accidentally clicking in Edge I. Cortana is dead. Move on. epub reader. I feel your pain. I "liked" that feature too. But I didn't "love" it. Not enough to protest Edge II at least. Inking. Yeah, I used that like two times. And honestly don't miss it. It didn't do what I really wanted to do anyway, which was use a hi-liter like experience on text. Was basically just drawing on an image of an html page. Maybe why I only used two times. Bottom line, you're postponing the inevitable dontcha think? How long can you keep this up?

I don't think collections is better than set tabs aside. You can't right-click on a tab to put it in a collection, nor put a group of tabs in a colection at once. It's a hassle. And everything you listed comes down to preference.

I do like collections better. I miss inking but that will come soon enough, so I'm not worried about that. Didn't use epub reader at all. Cortana was nice, but worth cortana going away now it would've had the same effect on old edge too.

"this MS Edge is really good." Agree emphatically... Collections! Install this site as an app! Streamlined settings! Immersive reader! Send Feedback! Minimalist, non-bloated, featureset! Chrome-like manage history! Chrome extensions! Integration with my Microsoft Account instead of a Google Account! Priceless.

It can be blocked on any Windows 10 machines, not just organisations, I have blocked it

My question is why? Seriously. You're just postponing the inevitable. I've been using Edge II since the day it came out on the Developer channel and it's a great browser. Plus... no matter how long we hold out Microsoft is not changing their mind. Better to just accept it and move on. That aside... it really is a great browser.

I've already rolled it out to the 3500 computers in my organisation. Knew would probably have to at some point, was fine with that, but was pushed by the implementation of a new system which required Google Chrome. Was more than happy to install new Edge instead of Chrome.

So I just got the new Edge through Windows Update on my Surface Go 1. Was using the Kindle web app and tried to highlight some text with the Surface pen. Didn't work. Completely pissed. This was one of my most enjoyed workflows and benefits of the Surface Go form factor. Microsoft has completely innovated pen input well beyond any other operating system. How could they forget about this with the new Edge? Is this going to be fixed?

Yes they are working on the pen/touch input for the new edge. It's not there yet but will be.

If you are talking about adding inking support for the new Edge, this is not what the problem is. Highlighting is a behavior of the Kindle web app. You can highlight in the new Edge using a mouse down, mouse drag, and mouse up. Its that the pen is not getting interpreted as these events when you pen down, pen drag, and pen up. I do have "Let me use my pen as a mouse in some desktop apps" checked in Settings->Devices->Pen & Windows Ink. As a solution, I installed the Win32 Kindle for PC app. That neglected app most likely does not have specific implementation for pen support, but I can highlight on the Kindle for PC using the mouse and pen. I'm assuming the pen on the Kindle for PC is just acting like a mouse.
Windows Central Newsletter
Thank you for signing up to Windows Central. You will receive a verification email shortly.
There was a problem. Please refresh the page and try again.