New Microsoft Lumia RM-1109 spotted in regulatory agency filings (Updated)
Update: New information has come forward to suggest that this is really the unannounced Lumia 640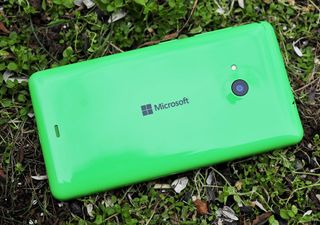 Mobile World Congress is just a few short weeks away, and Microsoft is expected to unveil some new additions to the Lumia line. No flagships are on the horizon to our knowledge, not at least until later this summer. However, an expected replacement for the aging Lumia 1320 is certainly plausible, bringing the affordable phablet series up to par with the '30 series of Lumias.
The site Janela Tech has found a filing with Anatel, the regulatory agency in Brazil similar to the FCC that jives with a new Lumia model they may be for a Lumia 1330. The model number RM-1109 is tossed around the documents, but the only piece of real information about the device is its battery model and size: BV-T5C model and 2500mAh of power.
A 2500mAh battery is rather on the large size for a smartphone (Lumia 930 is 2420 mAh, while the Lumia 1520 is a massive 3400 mAh), suggesting that indeed this could be for a phablet-sized device.
Rumored specifications for the 'Lumia 1330' include a 5.7-inch 720p display, 1.2 GHz Snapdragon 400 processor, 14 MP PureView rear camera, 5 MP front-facing camera, and 32 GB of internal storage. However, none of this information has been confirmed or substantiated.
The rest of the filing is confidential under an embargo expiring on March 13, just days after Mobile World Congress.
All in all, it just adds fuel to the fire that a new Lumia (or Lumias) are getting ready to be announced by Microsoft. Of course, the devil is in the details. Until we get some hard numbers and facts about what is coming, such evidence as Anatel's filing is anecdotal.
Windows Central will be at Mobile World Congress covering the Microsoft announcements, so make sure to tune in March 2 through the 5th!
Source: Anatel; via Janela Tech; Thanks, Carla S., for the tip!
Windows Central Newsletter
Get the best of Windows Central in in your inbox, every day!
Daniel Rubino is the Editor-in-chief of Windows Central, head reviewer, podcast co-host, and analyst. He has been covering Microsoft since 2007 when this site was called WMExperts (and later Windows Phone Central). His interests include Windows, laptops, next-gen computing, and for some reason, watches. Before all this tech stuff, he worked on a Ph.D. in linguistics, watched people sleep (for medical purposes!), and ran the projectors at movie theaters because it was fun.
Snapdragon 400 in a 2015 device is just stupid. They really, really need to move to an A53 based device.

That's why it will be on the affordable side. Cheaper hardware means cheaper phone.

Can You make sure that this phone will be touchscreen bug free as that in Microsoft's first Lumia 535 which is not yet resolved globally. I'm pretty much doubtful about Microsoft regarding the quality if compared to Nokia Lumias. I not only own 1320 but also 535, but the feeling I get while operating my 1320 is matchless if compared to 535. Hope Microsoft will fix the issue for free.

Hey Saurabh, Even I am owing both....If touch screen prob solved Lumia 535 will be a great device...

Well sure. That's why the A53 is the 2015 replacement for the A7. Cheap doesn't mean it needs to be last gen. That would have been like pretending a snapdragon 600 would have been acceptable last year, or an A9 device. The A53 should be a drop in for the A7, so it should be the same price, similar to how Intels new CPUs launch at pretty much the same price as their current gen. Hence, using it nowadays would be dumb.

Come on is a good smartphone

First of all it's an affordable device and is not meant to have the highest specs. Microsoft still releases low end phones with the snapdragon 200 remember.
The second thing is that windows phone is so slick that that is quite a decent processor for it. My Lumia 920 has a snapdragon s4, the older version of the 400, and it does most things as fast as a nexus 5, which has a snapdragon 800

This will not happen until windows 10. WP8.1 does not support 64 bit computing. And I don't think they are going to add that support before windows 10.

Yeah, well, no new hardware support until Windows 10.

i don't see anything great, same display, more or less same speed... I think hardware should be more like 1520. Same thing that happened to 830 that's closer to 920 than to 820...

I WANT THAT
1330 vs lumia 1320 which i own
14 mp purewiev back vs 5mp
0,3 mp Front vs 5 mp
3400 mah vs 2500 (bad)
8gb vs 32gb internal Storage (YAY!)
Dual core 1,7 ghz (3,4 ghz total) vs quad core 1,2 (4,8 in total)
I like The idea that 1520 is big 930 and 1330 is big 830. I always wanted to get 830 and saved a lot money for it. But screen size was too small. İm definetly buying this one

Processor is better on 1320. What is 3.4 GHz total?

I think he is making a joke. Typical joke of people asking "how I can have 64bit windows 7? Should I install a 32bit one twice?" and you get Windows 14 as well.

Processor is the same for both so I'd wait to see the cycle speed be finalized before passing judgement. The way a multi core processor is rated is a little different than described by the above poster. If the processor and software are set up to accept multithreading, each core would be able to accept more instructions per cycle, so in a perfect set up you can think of it as the speed of a cycle times the amount of cores. In that case it would be 1.7 X 2 = 3.4 it's not exactly how it works, but there's a lot that can be explained when it comes to processors.

Single thread performance is WAAAAAY more important. Hence the S4 in 1320 is better.

At time 1320 announced.., it had better processor than 920 925 1020. 1.5dual vs 1.7 dual

Calculations of processor clock speed don't really work like that. Dual core 2.5Ghz (5Ghz overall as you'd say) could perform worse than quad core 1.2Ghz (4.8Ghz) it all depends on multithreaded performance.

That is how layman think thinks, ignore it ... But anyways 1330 will surely rock. Edit - any info about RAM ?? 2gb or 1gb ???

I'm not sure where you're getting the quad core from. Both phones have a Snapdragon 400, which out of the box is a dual core 1.7ghz. Whether they over or underclock the 1330 is yet to be seen, but neither phone is a quadcore.

There are dual and quad-core Snapdragon 400 processors. So far, most lumia's with the 400 have been quad-core such as the Lumia 630/635, 730/735, 830 and so forth. The quad-core Snapdragon 400 usually runs at about 1.2GHz.

Why the smaller battery in the 1330 tho smh

Actually I think its about affordable Lumia 830 has 2500Mah battery.... 5.7inch nowadays has to get at least 3000Mah battery Who knows.? Microsoft will surprise us like they did with Lumia 435 & 532 , while only 435 was in rumours

Fingers crossed they sneak a flagship phone at the mobile world congress

99% sure they won't. I would love to be wrong, but I'm fairly confident. It's just too early and they'll likely wait for the Windows 10 launch, otherwise too many questions. Plus, what will the story be for Windows 10? No new phones, just updates? Zzzz...

Hopefully they at least announce a flagship for Windows 10 at Mwc. Give is something to look forward to! I haven't pinned after Wp hardware since the 930 and it never got launched on a US carrier

I would think Build just a month later would be the appropriate venue for that...

That would be nice, I am very excited to see what //BUILD/ has to offer this year. After seeing the various UI changes in some apps on Windows 10, I am intrigued to see what's going to happen :)

I think they better had no later than that. MS can lose a lot of customers between now and 4th quarter. If they are smart, they will announce something fairly solid by Build to retain customers. Having questions is better than losing more customers.

"930 and it never got launched on a US carrier" Again this? The 930 was available on a US carrier - Verizon - 6 months before it was available worldwide. The only difference is that Verizon called it "Icon".

That variant of the 930 was launched on ONE US carrier. I'm sure you can imagine why the majority of people say the 930 wasn't launched in the US (since more people are on ATT, and T-Mobile than Verizon). The point being that it wasn't widely available and even on Verizon it was available only for a relatively short period of time.

But that's a problem with the American market, not OEMs. Nowhere else in the World are people dependent on carriers to have the phones. The phone IS (or was) available in the US. If only one carrier has it, that's not the OEMs fault. Can't you buy the phone, unlocked, at a Microsoft Store? I believe you can...

You can if you can live without LTE, and I would guess for anyone wanting a flagship device that would be a deal breaker.

The Canadian market has the same problem.

The Icon was the abortion that lived. Verizon clearly does not care about it, never marketed it, and does not support it at all. Limited to 1 spectrum of the braudband (Verizon) and limited to 1 carrier. The 930 would of found a home in AT&T, TMO, and Sprint since it didnt limit its spectrum.

Hate to agree with you Daniel! You can be so right about all this! *sigh*

TOO EARLY?? My 920 begs to differ on that.

Well, that's a separate issue. There was a new flagship due in the fall aka 'McLaren', but it was cancelled for a variety of reasons. So they did plan to have something, but with the Nokia mobile takeover, things changed.

I'm not worried so much on the specific flagship as I am in hoping that it'll be released on ALL carriers at the same time. And sooner the better. Wishful thinking I know..

That is what exactly needs to happen. The exclusivity shit needs to stop.

Daniel, a person states that they have no high end device to upgrade to from their 920. Your response is that is a different issue because they actually had a plan bit failed to execute it? That seems to equal NOT HAVING A HIGH END DEVICE to upgrade to. How does "we planned to but didn't" change anything about their reality??? I love your work Daniel but you are dangerously close to being a MS apologist.

Dafuq? You are so misconstruing what I said (and think). I am not disagree with them about not having a 920 replacement. I am saying 'too early' for a Windows 10 flagship, not a 920 replacement. Those ARE separate problems. Case in point: say they did release a 920 replacement/flagship in the fall, they still need to release a Windows 10 flagship for that launch too. So they would need TWO devices, not one. If they released a flagship now to appease 920 users, then they would have to release another flagship phone in just 4 months. How do you think THOSE people will feel then about their "flagship", which is no longer the top? If Microsoft released a flagship now to appease 920 users, and skipped it for Windows 10, all eyes would be on "When is the W10 update coming for this phone" and it would distract from their new story. Also, what carrier would pick up an 8.1 flagship months before Windows 10? Why would they bother or care to take on that burden? I mean, you are aware that Windows 10 unlocks NEW hardware options for phones, right? That a 8.1 flagship will likely pale in features to a Windows 10 one? (See Qualcomm Snapdragon 810 as to why). Has nothing to do with being apologist, just the reality of the situation. The fact is Nokia did have a flagship ready for the fall, Microsoft cancelled it. It's not like they weren't planning on offering something, but hey, shit happens. It sucks and it is damaging, but I am sure they knew that when they decided to can that device.

McLaren was, though, probably a very close collaboration between MS and Nokia. I.e. not so sure that Nokia takeover really sealed the faith of McLaren.


I think Nadella's level head, and realizing that 3D displays are a shitty gimmic, are what sealed McLaren's fate.

It did not have a 3D screen as such. It had "hover you finger above the screen" "3D" interactions - those were almost certainly a close cooperation between Nokia and MS. Afaik MS is still working on such and may intro them later. I do agree it all sounded gimmicky (there were other rumored interaction/features that sounded more useful).

Dont forget Nokia's (now Microsoft's) history of announcing phones months in advance of their availability though. For that reason, I don't see "waiting for Windows 10" to be an impediment to them announcing some new handsets at MWC. They could quite easily get an early build of Windows 10 onto them for demonstration purposes. p.s. Great job with Windows Weekly on Wedesday Daniel, I enjoyed you doing it just as much as when Paul does it :)

As far as flagships go, have you seen any traction on the whole Lytra camera idea?

They can always announce one, then launch it with win10

I hope it's a follow up to the 1020 if so

We are reaching that point. 4,5,6,7,8,9,10,13,15xx series are already available.

Can't wait to see the full specs!
But did the 1320 sell well? I don't think so, except in Asia where phablets are popular, maybe. IMO Microsoft shouldn't refresh a phone just because it's ageing, there should be a market for it as well. I could be wrong, though.

"trust me" says the faceless commenter, with no sources ;)

Well there are 5 people i know which using 1320 and i dont know very much people

That proves that you can't know how well it sells. If you knew 1500 people and all of them had one, I'd be more inclined to believe you knew what you were talking about.

See them everywhere in Orlando. I kind of get offended(I know,petty) because some of them come up to me when they see my 1520 and say they have the same device as me.

Bs, I never see a 1320 in Orlando. Most come up to me and ask if my red 1520 is an iPhone plus. I just want to spit in their mouth for speaking such blasphemy.

HAHAH!!! Someone asked me if my Red 1520 was an iPhone 6 Plus!!!! I have had my 1520 since December 2013 and all of a sudden.....it is mistaken for for an iPhone. I had this look on my face: :\

I don't care if it sold well or not. Nokia's release timetable was so hap-hazard that you never knew what was happening or when. MS needs to make clear yearly refreshes for device lineups that they want to support. It sends a good message of consistancy and support to the public that is sorely missing in the WP arena. Every year you have a rough idea of what companies like HTC, Sammy, and Apple will do, and so people can plan accordingly for their upgrades. In the WP ecosystem you never know what you are going to get, and once you buy something you never know if the refresh for that lineup is in 6 months or 3 years; very annoying. That being said, I am pretty sure that the 1320 not only sold decently, but also offered a pretty good profit margin compared to some of the dirt cheap devices that they put out there. It is a good affordable large screen device, and there is certainly a market for that. It has almost been exactly 1 year since the 1320 launch. Perfect time for a minor refresh.

Yes..! Windowsphone needs a successor every 6 months ..... Like there is no successor for Lumia 1520 , 1320 , 1020 , 925 which are almost 1.5 years older now .... But looks at HTC . Their desire 816 breaks covers along with Xperia T2 ultra , after the announcement of Lumia 1320 . A budget phablets statred ..... But Sony has T3 and C3 as successors . And Htc has 816G with mediatek , 820 with snapdragon615 , 820q with snapdragon 410 , 820 mediatek version phone . And 826 with Snapdragon 615 , budget 826 with mediatek soc . And when we consider. 1520 ..... It was comparing with Note 3 in YouTube videos at its beginning. . Now its still comparing with Note 4 and edge and probably with Note 5 or something. This says Windowsphone has much need of Flagship phablet . If we consider 1020 , it was best camera phone for 2013 and 2014 and may be also 2015 ..... While its compared with phones with 1440p viewfinders but 1020 still has 720p mid range viewfinder

Microsoft's gonna conquer mobile world congress!!

LOL By announcing low to mid-range phones? Yup. They ought to dethrone the HTC One M9 and the Galaxy S6.

It'd be foolish trying to compete for coverage with the S6. Better to wait.

Yeah. A flagship on Android (like the M9) would have dificulties getting the media attention against the S6, let alone a WP flagship. And of course, even less a low-mid range one. I think the best place to announce Windows Phones is still Microsoft's //build/. It's an all-Microsoft event anyway so the media there won't be looking for anything else. IF HTC actually releases a M9 for Windows, I'd talk to MIcrosoft and have the announcement at //build/ too. They're Android M9 will have enough competition at MWC.

And we can forget that M9 it's an US phone right? Or it will be international? S6 will get more attention than ever.

I disagree. Their new flagship should be strong enough to blow away the new galaxy.. If it isn't, why even try at build? They are confident in their product or are not. If this is the reason they do not announce a flagship at this event I have no confidence that the flagship will be anything special. This could also be a chance to dethrone the galaxy if they really have a good phone. So there are two ways to look at it the way I see it.

S6 announcement has nothing to do with the non-announcement of a Windows Phone high-end.

720p on such a large screen is not enough for a phone in 2015. This thing better be cheap to justify that! Waiting for a flagship damn it!!

720p is enough for a budget phablet. But more wants more. We'd all like 8k on all phones yesterday

720p on 6inch 1320 is not that bad. And in smaller screen it will be better

We all had 720p on 40inch HDTVs for a few years so what's wrong with it on a 6inch phone where your eyes can't really tell the difference under normal circumstances

because you sit some 5-15' away from a TV, and 1-2' away from your phone display. Plus on a TV you are primarily watching video where resolution does not matter as much, where as on a phone you spend a considerable amount of time reading text which makes resolution matter a lot more. 720p is fine for a budget device, and certainly OK for the 1320 market, but to say that on a 5-6" device you cannot tell the difference between 720p and 1080p is silly; there is a huge difference.

1280x720 on a 5.7" screen is around 270 ppi. 1920x1080 on that same screen is around 400 ppi. That may sound like a big difference but it's almost imperceptible to the naked eye. Any differences you've seen in the past compared 1920 to 1280 screens probably had more to do with screen quality than ppi (more expensive phones have high pixel counts and higher quality screens).

I suggest you buy glasses. The difference is huge.

I truly hope they dont downsize the next 1520 to 5.7!!! I want it at 6" or BIGGER!!!

Personally I wouldn't mind if they did. While I love the screen size and the attention it gets (mostly), texting isn't always convenient with 2 hands. I still try my best from time to time to one hand text but my thumb only reaches the "S" comfortably. If I stretch I can just reach the "Q" but with a higher chance of dropping my phone. I feel 5.7" or 5.8" would be that sweet spot.

I have pretty big hands and can't text one-handed either even on the much smaller L920. The thing is that once your fingers are long enough to reach across the screen, then they are fat enough where it is hard to hit the letter you think you are aiming for.

I'm cool with it staying 6 inches if they get the digitzer flexing issue under control, otherwise slightly less than 6" will be fine. The keyboard on Windows 10 can be moved for giant screen phones like the 1520 series of phones and the 1320.

What I mean is the phantom taps and swipes for those not familar with this frustrating digitizer

I think it perfect the way it is

Agreed. I think they have it right at the moment with 4" entry devices, 5" mainstream, and 6" phablets. Those sizes are just about right. If they want to really make phones smaller then they need to focus on making bezels smaller. Maybe they could hire the designer at dell that worked on the XPS13.

A T-Mobile rep tools me the 1330 would be out last November. Sure is taking its sweet time

You lost me at 'A T-Mobile rep...'

1330 will be better in terms of processor and camera but wonder why they decreased the screen size and the Battery! Battery life is one of the best features of my 1320!

Yes i will miss the 3 days batery life

How could 1.2 SD400 handle 14mb camera????

What in the hell is a 14 megabyte camera?

1320 has a better processor.

Nope, SD400 is better than S4. 1.2ghz quad vs. 1.2 dual..

S4 in 1330 is clocked at 1.7

nope, S4 is faster for 1-2 threaded tasks which is pretty much everything but games. In games the SD400 beats the S4, but just barely. The big difference between the two is that the S4 was a high end chip 3 years ago that could roast a turkey and drain a battery, while the SD400 is a midrange chip that is much more power conservative and is less effective to use as a hand warmer.

The SD400 is very power efficient. I bet battery life will be really good still. Also it's probably to make it substantially thinner.

Damn, I really really hope this doesn't mean that the 1530 will be bumbed down to 5,7" as well... Please stick to 6" on both phones MS. That's a real phablet!

I doubt they are gonna release a flagship, well not until windows 10 for phone is ready

Snapdragon 400 is just old it should have 410 or 615

Windows phone has no support for that proccessors yet
Supported processors as now: 800,400,200 and old s4.
But maybe the gdr can add support to 410 and 6xx lines

Yes, because we all know how crap Windows Phone and its app run on the old, limited 400. /sarcasm

More low ends, when's it gonna end?!

This summer... and by summer it probably means October because they are Microsoft.

End comes right after the word "low".

I want a phablet for my next Windows Phone. Got a 930 now which I love, but want something a little bigger. I think I'll wait for the rumoured 1520 replacement, the 1530 though.

Good grief, yet another cheap, low-end device. WHERE IS THE FLAGSHIP!!!!????

Cancelled. No plan B. Waiting. I.e. in the original plan McLaren would have been out for months now, and all the recent low end devices would have come after that. Would have looked a lot nicer but such is life.

I switched from Android but disappointed in WP

What was your disappointment?

No flagships or no apps I guess?

I can't installed all my games on a 32gb phone.

It will probably have a microSD slot...

the newer versions of WP allow app installs on SD card. Get a phone with SD support, join Developer Preview if your carrier has not updated to the latest OS release, go to data sense and assign app installs to the SD card, and enjoy. Instant 128GB of free space for whatever you want.

That's all? You don't want a tank in it? :O it'll have have upto 128gb microSD support buddy.

Processor seems a little low for a mid-level phone nowadays, no? I would expect a 1080p display and Snapdragon 600 series, with all else remaining as mentioned.

Is the 13xx series midrange? I thought it was a large screen entry-level device. Great for the price (1320 goes for ~$200US), but it is sort of like the Lumia 830... offers a lot of features, but they are the lowest possible end of those features.

Better Lumia gettin updates for there CPU's up to 410, 610 and 810 64bit snapdragon! with the graphics of Windows 10 for phones this could be next Gen Mobile gaming.

Can't wait for the 1520 flagship upgrade

Yup, that's the only news I'm eagerly waiting for.

Android to Android share it app work without wifi and data

There are apps for that in Windows Phone, too.

Use easy transfer app for WP. Works with any Wi-Fi device, unlike Android, which only supports Android.

I bet is piece of plastic shit

why low 720p? 14mp ? 2500mah? i want more 1080p + 30mp + 3500mah + 2gb

But it would be expensive. You might as well just get at 1520

That would be a flagship. We are talkin about a mid range phablet

Any phone with 720p display and SD400 is not midrange, that's god damned low end. Look at the rest of the phone world, SD6xx is midrange. you guys call iPhone owners sheep for thinking their phone is flagship, Microsoft is doing the same to you with lower tier products. They have somehow gotten all of you to believe that SD400 is an exceptable SOC, and it is not even close

That is the difference between a $3-400 device and a $7-1,000 device. This is not the device you are looking for. Take a nap until we get closer to the Win10 release.

3500 mAh is a bit too much for Windows Phone. Only if it has a QHD display or something similar.

Only device I'm truly excited for and anticipating is a successor to my beloved 1020...

Ugh screw the low end crap why not just leave low end to every one else and go to,the high end to show off the windows phone os just like they did with the pcs

PCs dominate the market. WP does not. MS needs to create the market for its platform.

Which I believe should be the high and mid range end

Well, MS has mid-range devices. High end was coming (note: before some of the most recent low end releases), got cancelled, no plan B, now we are waiting. But volume is what WP really needs and has relatively succcesfully gained in the lower end of the spectrum.

There are multiple graphs available that break down which Windows Phones sell, and which ones don't. The only WP devices that sell good are absolute cheap ones, so your thinking that MS thould dump those and sell high end only is preposterous.

Why is nothing coming out to replace the 1520? That phone is still on top a year and a half later..

I'll take it as a flagship!

For me 5" would be largest resolution I can buy on a Phone, not saying more is bad. It's still welcome for the Large's family.

5" is screen size, not resolution.

Daniel, I don't see the word "Lumia" on there. I know that all Microsoft Mobiles phones have been branded Lumia so far, but there's a still a possibility they'll bring the Surface brand over to phones, so why the assumption that this won't be a Surface phone?

Do you even know how aweful you sound?

Fully support by Windows 10 and the price is important if this wouldn't a flagship

Hoping a flagship appears MWC , It will be the right moment and surprise from MS ;)

No video player like mx player Android

we have http://www.windowsphone.com/en-in/store/app/moliplayer-pro/19ea6d3e-e3d9...

no flagship in sight this is ridiculous

Why?? The low and mid end devices sell better.

But aren't profitable that's the difference. Might be good to expand market share but they'll be a loss. Posted via the Windows Central App for Android

I didn't read anything about that btw. So any sources?

No lock and hide apps like Android

http://www.windowsphone.com/en-in/store/app/unit-converter/1cbe0125-cd52... yes there is, it is disguised under a fully functional unit converter

This is just for hiding photos. Can you please tell me for videos.

So far in this thread, youve done nothing but bring up apps that Android has and WP doesn't. You should probably shove off.

It's best not to reveal a flagship unless you intend to sell or open for preorder the following day, and on multiple carriers. Remember the Icon? A fucking disaster! The older 1520 outlives the young. Lolzzz!

How can a SD400 support a 14 mpxl camera ? The SD 400 supports up to 13.5 and not above that ? I guess(and I really hope) that the 1330 have 410 , or 6xx line

Just rumors. Then again, show the S4 silicon from 2 years ago that supports 41 MP ;) Just saying, hardware limitations can be broken.

1530 :
Snapdragon 805 quadcore 2.5 Ghz
3 Gb ram
6' QHD 2560*1440p
41MP pureview cam with xenon flash
5MP FFC
64Gb + Double sd-card slot (up to 320gb total size : 2*128gb +64 gb internal )
Double Front facing speakers + subwoofer on the back
Coming ...

I think the dream phone is one with x86 architecture, running full Windows 10 desktop applications.

Agree that would kill everyone.

They really need to announce a universal flagship soon. People are bailing, especially people on Verizon who cannot even buy a Lumia on contract, even if they want to. Ridiculous, Microsoft. What'd you spend $7+ billion on for if you're not going to do anything with it?

Hope it is for cricket. I have the 1320 and love it but the camera is just not good enough for me.

So pureview 14mp? Good very good. But still wont get most of denim features cus of the processor. Seriously MS? What are you guys thinking? -__-

Looks cool........I think about 5% of smartphone owners only care about"Specs" its real time use that's matters.

Why battery size reduced that much amount, Lumia 1320 has 3400 mah,but new lumia 1330 with 2500 mah, at least could have provide 3000 mah

Battery is one of the main strong point of Lumia 1320

I thought the 13xx series was a low end phablet. Those specs are pretty high end to me. Well, at least mid-range. Who knows, maybe there'll be a low end 11xx series, mid range 13xx series and a high end 15xx range.

They need to stop with the S400 cpu's.

Jibe not jive. Just trying to help.

Should have at least the 600 chip

Microsoft needs a flagship phone on all carriers at all times, and at least one budget phone on all no contract carriers.

Currently as exciting as a new sort of cake flour. Even the numbers.
...

I'd rather see the Denim update for my 1520.

Other than camera, this sound like a downgrade to me. Puny battery comapred to 1320.

Why no 1337? Missed opportunity :(

Can I just say that the 1320 has a 3400mAh battery, so this is a down grade, not an upgrade

Depends on the chipset and other optimizations they have done with the hardware. Battery size isn't always relative.

Same s400 chipset as in the l1320.

What's what with the horrible battery difference? The battery should remain the same or even go up not decrease nearly 1000 mAh Posted via the Windows Central App for Android

Or is it the lumia 830 successor? lumia 1330 is rm-1062 I guess. Is a lumia 830 successor in sights? I was planning to get one but changed my mind after reading this! Which will be the second phone to be unveiled alongside the lumia 1330?

Same processor as the L1320 with a higher ppi (6inch at 720p vs 5.7) and more space (32gb instead of 8). Not an upgrade, really. I don't see present 1320 owners upgrading. Maybe people new to smart phones or those on smaller; lower end lumias who felt 6in was too big.

Yup... Good job, Stephen Elop. Just add yet another model number to the already ridiculous amount of model numbers the Lumia series has. Juuuust add even mooooore confusion to the mix and sit there and wonder why the phones aren't selling as well as Apple and Samsung.

Problem snapdragon, snapdragon, snapdragon what about other SOCs? Flexibility zero MS wake up!

The successor to the snap dragon 400 is coming soon. Once again, Microsoft is a year behind in specs.

The design is same ... Its looking like 625 and 1320.. Microsoft please give us a new device with new model.. Still you are sticking to old phones and only altering the configuration.

is this like a unit bettrr than 535 specs? i think this new lumia line is an overhaul to the previous nokia lumia series...

That's pretty mid end.
I think this will be somewhat like the 830 in terms of pricing.

I hope that Microsoft will give us something to replace our Lumia 920 and not just low and mid end.
I'm feeling like they are everytime one step behind.

These budget phones are slowly getting better then current flagships and mid rangers.

Surprise! Another cheap confusing derivative device.
Windows Central Newsletter
Thank you for signing up to Windows Central. You will receive a verification email shortly.
There was a problem. Please refresh the page and try again.