New Need For Speed will get free updates but no paid DLC or microtransactions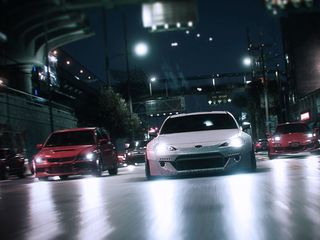 Need For Speed fans got some good news from Electronic Arts this week. The publisher said the upcoming reboot of the popular racing game franchise for the Xbox One and PlayStation 4 consoles will get some post-release content updates but it won't have any paid DLC packs or microtransactions.
In a new FAQ page about the game, EA says:
In an era where major games get post-release DLC packs, either paid on their own or via "Season Passes", it's good to hear that the new Need For Speed game won't be following that formula. The console versions will be out on November 3, with the PC version delayed until sometime in the spring of 2016.
Source: Need For Speed
Windows Central Newsletter
Get the best of Windows Central in your inbox, every day!
I came to comments to write the same exact thing. Word by word. Hahaha!

I refuse to believe this until I see it happen.

Surprising coming from EA. A step in the right direction. Really happy.

I know, right? EA is one of the last publishers I'd have expected this from. I'm cautiously optimistic that they are finally listening to their customers. Time will tell...

Best news I have ever heard! I'm so getting this game now! When it comes out of course! I loved the Need For Speed series and I still do!

I like it up through Carbon, then ProStreet happened. This new one, I don't like how the drift camera tries to copy Asphalt or something, it looks weird.

Black box for the win F**k Criterion games. I'd not be surprised if too many people would be disappointed by this Nfs made by Ghost games.

I loved pro street, the driving was more realistic for me

Most wanted... The original on the original Xbox... Was fun

That was really good. I liked Carbon a lot as well. ProStreet was OK, but that was the last one I tocuhed. It went downhill so hard from there, and Forzareally hit its stride.

That's the action camera and it can be disabled.

Hope this starts a new trend but maybe I have rose-colored glasses.

CdProjekt Red has been doing it this way for a while. One can only hope though.

Lies. They CURRENTLY have no plans, but they're coming. That, OR they have no faith in this game to deem it worth extra resources.

Don't post release updates count as resources?

They've already delayed the PC port into next spring. I just assume the post-launch support is acknowledging that they're about to release a broken/unfinished game that will need the free support to be halfway decent.

That's a nice gesture there and hopefully other companies will follow, resulting in paid DLC and microtransactions to disappear (especially that last one is the worst mistake in gaming history). Not too hyped before I see EA only publish this game once it is actually polished though.

Black box why you don't make nfs Mw 2.
Btw nfs Mw 2010 was not even close to saying Mw2

Lol I was a little disappointed by the track design for hp(2010) not as nice as the sequel was & yeah mw wasn't as amazing as id hope it'd be either but somehow selling these games at a loss hasn't convinced them to take a longer break

I wonder how Jim Sterling will react to this.
EA and no paid DLC/micro-transaction. Doesn't make sense.

Respect they seem to be a company moving in a positive direction

Fingers crossed...please don't dissapoint us this time...recent games of the franchise were pathetic...

Nopes, it's EA and I don't believe them.

Wow, I usually don't buy racing games, but if this pans out to be true, I'll definitely be buying it just to support this model!

Now let's please see this become the norm. I'm looking at you Call of Duty. Paying 60$, 70$ bucks for a new game is enough to provide us with all the content.

New game ancient engine(wow style) glad they dont take PC seriously while dice seems to have

I would like to see an NFS Underground 3..

Some idiot will still complain. Anyway what a refreshing change of pace...

I bet they lied. If you have ever read any law-text jargon, the "We currently have no plans for any paid DLC" means they can wake up any morning, and decide they are in the mood for doing paid DLC, and nobody on the planet can sue their dirty money, because that fkin word "currently" allows them to change their mind any time. Life sucks guys, current days economy is built the way it is thanks to all those greedy MF lawyers living on this planet.

Lol for PC we've always had to wait for patch A patch B just to get the same stuff console users have to pay for

Man, these games are awesome. The NFS Hot Pursuit on the PS3 always has full games still. Don't know how many are still playing it, but there is never a wait for an online game. I play just about every day, same name as here!

Can't believe EA is the one actually doing this but I love it. I'm hoping I get into the beta. This news may help me buy the game now that I know everyone will be on a level playing field because nobody can buy whatever they want. Posted via the Windows Central App for Android

I'll believe it when I see it, things can change last minute and that's presuming they aren't shipping a unfinished game given that the PC port is delayed for a fair amount of months.

Probably because no one would be buying this money grab of a series of they put that crap in

The pessimistic side of me hopes they did not make a lousy game and are doing this just for increasing sales. The optimistic side of me wants to get back into the franchise just because of this though.

HOW is this a good thing. i bought the standard version of need for speed and now i cant buy any dlc. is this a good thing. I DONT THINK SO.