New report sheds light on future of Microsoft's AR strategy now that HoloLens 3 is 'canceled'
The future of Windows in AR isn't looking so good.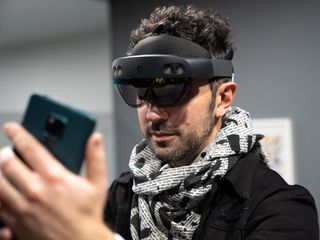 (Image credit: Windows Central)
What you need to know
A new report has revealed more about Microsoft's canceled HoloLens 3.
Futher details about Microsoft and Samsung's AR partnership have been revealed too.
It's not looking good for future HoloLens products running Windows.
Business Insider has today published a follow-up report with more details about Microsoft's canceled HoloLens 3 augmented reality (AR) headset. According to the report, which outright refutes Technical Fellow Alex Kipman's recent comments suggesting HoloLens 3 was not canceled, the device was codenamed Calypso and was canceled during the last year. Furthermore, everyone working on the project has since been reassigned to other projects or has outright left the company.
This new info comes after Business Insider reported earlier this week that Microsoft's mixed reality division was in shambles. "In no uncertain terms, Calypso was canceled," says a source familiar with the matter. The device was going to feature a more robust design with longer battery life, and was able to be used in outdoor settings. The device was canceled as the company wanted to put engineering resources behind other projects, including Samsung's AR device, codenamed Bondi.
The new report says Microsoft is no longer actively working on a HoloLens 2 successor that would be powered by Windows for either business or consumer use. The company is still working on a custom HoloLens for the US military, but that device, codenamed Atlas, is not something that Microsoft's regular customers will be able to buy or develop for.
Business Insider's report does shed light on what the future may hold for Microsoft's augmented reality strategy now that its next flagship product is no longer coming. The partnership with Samsung is said to include a headset with a set of screens inside, powered by a Samsung phone in your pocket. This likely means the headset will be powered by Android, and not Windows, which throws the future of Windows' role in AR into serious doubt.
The report doesn't mention what exactly Microsoft's role is in this Samsung-Microsoft AR partnership. A report from last year was the first to claim that Microsoft and Samsung were working together on an AR partnership, yet that report also failed to mention Microsoft's role.
Finally, Business Insider mentions that Microsoft is looking into the idea of an edge-computing headset, where the OS and data are streamed from the cloud directly onto the device. Business Insider's source claims this idea is still in early planning stages, and could change significantly (or get canceled) before it's announced. It's unclear if this device would utilize Windows 365, or another cloud-based solution.
Overall, if this report is accurate, it's looking like any future AR device from Microsoft won't be running Windows. With no immediate follow-up to the HoloLens 2 on the cards, it's unlikely we're ever going to see another self-contained Windows-powered HoloLens device before Apple and Google debut their own offerings. Whatever comes next from Microsoft and Samsung will likely be powered by an Android phone.
Get the Windows Central Newsletter
All the latest news, reviews, and guides for Windows and Xbox diehards.