New videos of 'Project Louise' reveal how Cortana could work in Windows 8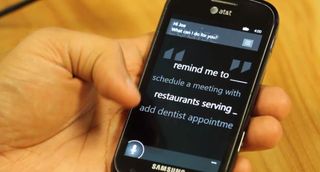 While Cortana is relatively new to Windows Phone for those who have official access and support, newly released videos show how the company has been working on the virtual assistant for some time. Project Louise kicked off back in 2010, the same year Windows Phone 7 originally launched, and displays similar functionality presently available in Cortana today. What's more is one of the videos shows how the assistant can also work on Windows 8.
Checking out the video above shows a restaurant booking demo on a Windows 8 tablet. It's clearly an old video, but one that shows a working personal assistant. We'll also show you Project Louise running on Windows Phone below.
Microsoft will work to bring Cortana to Windows 8 and Xbox One and complete the ecosystem (as well as competing platforms), but before (or while) that occurs we'll need to see expanded support for Cortana on Windows Phone. Did you know Cortana was almost called Alyx?
Source: Microsoft Research (1 (opens in new tab)) (2 (opens in new tab)), via: The Verge
Windows Central Newsletter
Get the best of Windows Central in your inbox, every day!
Rich Edmonds was formerly a Senior Editor of PC hardware at Windows Central, covering everything related to PC components and NAS. He's been involved in technology for more than a decade and knows a thing or two about the magic inside a PC chassis. You can follow him on Twitter at @RichEdmonds.
2010? Really?
They've been working on Cortana for FOUR YEARS its still not ready for the world???

yeah but she now able to predict world cup result :v even still in beta maybe she will able to predict my test result when she already complete

How's your own personal assistant project is doing? Is it launched worldwide already? Oh wait...

Hmm, Cortana took only 4 years to be released? I believe this is already fast. Comparing to SIRI, it has a foundation of decades of research by the SRI International, specifically CALO Project, which was funded by DARPA. I saw an article saying this:

Siri is a technology that has a foundation in decades of research conducted and supported by DARPA and SRI International's Artificial Intelligence Center through two programs: DARPA's Personalized Assistant that Learns (PAL), and SRI's Cognitive Agent that Learns and Organizes (CALO). SRI funded the initial Siri research conducted by Dag Kittlaus and his team of engineers. - http://inventors.about.com/od/sstartinventions/a/Siri.htm

I don't think Microsoft started from scratch 4 years ago either. Their work also has a foundation in decades of research.

You obviously have zero understanding of how developing anything, even an idea apparently, works in this world. Four years for something so complex (aided by an actual voice) is relatively quick.

So if the article said 8 years, would you be saying the same thing? I wonder... Hmmm

Slow or Quick is irrelevant. Microsoft had 'assistant' and 'voice' technology in the 1990s. What makes 'Cortana' different is that she is not just a static set of engineered intelligence and is built from a new paradigm that uses new type of machine learning. There are several aspects of Cortana from the NUI to how it works with information structures from Bing that unlike previous technologies will continue to grow without having to be rebuilt. Right now you see bits of 'canned' responses much like Siri, but Cortana also has its own created 'canned' responses that come from Bing and are not human engineered. This is one way it starts to be very unique.

Okay, so lets say I do have zero understanding; you tell me genius - how long do you think this should take in your opinion...5 years? 10?

Come on, don't make a dick of yourself.

My wife made a baby in nine months.

Please, please, PLEASE!! Save the "Why isn't it in other countries?" arguments. Development takes years...not days, not weeks, sometimes not even months. It will happen; Microsoft has heard you loud and clear. (*cough*and so have we*cough*) just be patient; it will happen!

you are an idiot, creating a personal assistant required lots of years, and making it more humanizing, you need more than 1 year, the first year are implement AI, second year implement self-reconize how user say, third year improve AI (find the main point of a sentence), forth year tesing plus minimizing its size, and more

Microsoft should have waited to release Cortana until it was ready for a worldwide release, simple as that. Instead they have it available on one of their smallest markets so obviously the multitude of other users are going to be pissed off.

Voice dictation and using voice to do things isn't something new for MS. What I believe is new for them is delivering this feature effectively and not take up enormous space on consumer devices. The next best thing, a service that is based on cloud. The other aspect to consider is how long it takes to get all the vocal samples into the software and have it implement properly, she people ask questions. So, four years means that they were able to get the project started and completed enough to distribute, AND still be just as capable as SIRI. I expect them to continue to add and modify to make Cortona better over time, hence Beta. It's not a bad word.

Alyx ? Thank God they changed it

Alyx (presumably Vance), is a good name. And considering the source, is almost as apropos a name as Cortana.

Microsoft please concentrate on releasing WP 8.1 globally before doing anything else.

+++++++.............. No news of WP 8.1 & cortana for India......

Alyx .....eeeeewwww.....sheesh.......blaaaah.....blooh......yuck.....

Alyx from Half-Life? Anyone?

Alyx doesn't sound bad. As long as they'd give it Alyx Vance's voice, I would be OK :D

Cortana support in all English speaking markets and other languages who represent a significant global presences should come out as soon as possible if Windows Phone wants to be competitive. Local Scout for example always left me annoyed as someone outside the US.

I don't think Microsoft should shoulder the entire blame for this. Other markets make it difficult to release things like that. I'm not saying this is true for your market, but it is for several.

Yep, knew that it could be Alyx. That would be lame though, Cortana seems sexier :D

Surface rt with Cortana?! Mhmmm

Any W8 device would be great. I want her on my Xbox, though. Having Kinect sign me in to that sexy voice would be fantastic (for me, not my wife lol).

I could see this happening: I walk into my house. Cortana on my Xbox One greets me and asks how was my drive home from work on Interstate 465 that took 24 minutes????. XB1 Cortana received the data from WP Cortana about my trip. The same in the morning before I leave. XB1 Cortana tells me to be safe and that I shouldn't take I465, I should take Shadeland Ave, to go around the accident that happened 5 minutes ago. And then she tells me that she will forward the best route to my WP Cortana....phone nav app.

If one day Cortana is that smart, she will ask me how my life is everyday and will give me two suggestions: Play Halo 5 on XBox one, or connect me to the Samaritan hotline.

Lol that was hilarious
Duuude, you should get a girl in your life ASAP. having Cortana with you all the time is not going to make you feel less lonely.
I wouldn't want her to greet me when I come home that's my loving wife's job. But I would very much like to talk to my Xbox and have Cortana talk to me through my trips on the road. Love the idea. But it sounds kinda lonely though. :P

they have been working on it since windows phone 7 yet its beta and its still limited to US :(

Change you're region -__-

Changing your region can leave as many disadvantages as you would be solving... For example when I change my region to US, I can't buy apps/games bcus I use my Vodafone credit to buy things... And I'm connected to Vodafone UK. It's not always as simple as just changing your region and everyone's happy. :)

Ooooh I didn't know that :( sorry

I hope when Cortana enters the iOS and Android markets, she will keep on asking why the owner isn't using the awesome WP, any insufficient answer will cause her to have a little tantrum and play with your alarm settings.

Noone said MS are defiantly gunna give IOS and Android Cortana, they was just considering it at the point... Although if the do give other platforms Cortana I think they should make Cortana troll them all the time non stop xD that would be so funny to watch them have to turn off their alarm every two seconds... Lol xD

Yep, I know its not "definitely", but I like a trolling Cortana on those platforms. Or she can only speak Klingon, elvish, or some other awesome language.

I worry when rampancy will begin to affect all our devices tho...

MS = Betas and Developer Previews

Does that mean android phones and IOS will get Cortana ????? If its true , ill get the iPhone 6 cuz its no use of WP

No. They alraedy defended themselves and said NO Cortana on other platforms... at least not until well after she's perfect in the Microsoft ecosystem.

I hope Cortana doesn't go to ios and android , I don't know why they care about other platforms when they don't care !!!! Even OneDrive is available for them , but we don't have anything from them , I don't know why microsoft is doing this !!!!!!!

My opinion is: MS is a huge company and their main customer is always enterprise. And enterprise customers don't always use MS products. That's why they have Office and some other products on other platforms.

Yeah wait, did you just confirm that they will be bringing Cortana to iOS and Android? I know there was discussion about it but are confirming that it is definitely happening?

No. Cortana won't be going to IOS or Android in the foreseeable future. Microsoft already spoke about this.

I want Cortana in Serbian language....

four years of development. so we finaly have a digital secretary for everyone with a phone. When will we be able to travel throght space? Or teleportation at least?

I for one don't miss that thinking tune on WP after submitting a request. Hated it after listening to it forever and then having the voice tell me that it could not complete my request and to try again later. Much better now.