New Windows Phone 8 OS update Portico brings SMS drafts and call reject with it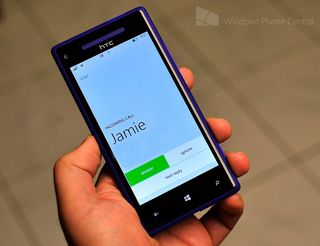 We're still digging through the first official OS update to Windows Phone 8 tonight and we have found some new, undocumented features of high interest.
One area that seems to have been a focus for Microsoft for this update is in regards to text messaging. We can now confirm at least three new significant features to that aspect of the OS with this rollout...
Three new undocumented features for Windows Phone 8 (10211) Portico:
SMS Drafts
Select all (for mass deletion)
SMS Call reject
The first addition we have actually known about for sometime, as it was rumored to be coming with the HTC 8S. The ability to create drafts of SMS messages is a small but important feature for those who text a lot. When typing a messaging and backing out, an unsent message is added to the drafts area, which can then later be accessed.
The 'select all' feature with delete is also new. Previously users could mass select test messages but you had to manually select them one by one before they could be deleted. Now, users can check all at once and then delete with just two-steps. Once again, a significant improvement.
Mass select for text and Call reject via Text
The third is the most interesting though: users can finally reject phone calls with a text message. When a call comes in and the user slides up to either answer or ignore, a third option is now present to use Text. Once selected, the user is brought to a new screen where they can tap-to-send a pre-written SMS to the recipient. The two messages are "I'll call you back" or "Please Text me" with a third option letting the user enter in a text directly.
[Update: You can manually enter two of your own SMS messages for text-call reject under the Phone settings.]
Although these are by no means huge changes, they are little things that irritate people when they are missing. It's nice to see Microsoft is paying attention to small details to help improve the Windows Phone experience.
Daniel Rubino is the Executive Editor of Windows Central, head reviewer, podcast co-host, and analyst. He has been covering Microsoft here since 2007, back when this site was called WMExperts (and later Windows Phone Central). His interests include Windows, Microsoft Surface, laptops, next-gen computing, and arguing with people on the internet.
Give me moar! Update still not on Verizon as of 7:30 Central time. I know this east just pushed, but is there a change log or anything I can reference in the wait for my update?

Please fix this battery issue asap!

Leaving NFC constantly on will drain your battery in like 8-10 hours with light-moderate use. I turned it off and my battery lasts at least twice as long

Guys deleting messages that way is in original build as is I have it right now on my Lumia 920

No, it's not on our other 8X. We confirmed it.

My bad, I thought you were talking about deleting in general

...but the "Select all" option at the bottom is not there. We still have to manually select each message thread in order to delete them.

Bullshit. Lumia 920 from launch day, and in text messages, I can multi-select but not multi-dot menu, Select All (which is the new feature).

Still missing the selection of multiple single messages... this would be a great features. Each time I have to delete messages one by one... crazy...

You can check mark multiple messages (email) by pressing on the left edge of the screen. That will cause the check mark boxes to appear.

If you press on the left edge of the screen, check mark boxes will appear that let you select multiple emails for deletion.

I wonder if we can now sync and watch the videos or movies purchased on Xbox video.

Doubtful. Has MS even given a response on that? I think they owe an explanation on how that could be allowed to happen and if they plan to fix it

MS has said squat. Even worse, they actually deleted a section on a website which referenced WP8 being part of the "3 screen experience."

Jcagga. Do u have Skype installed? I find that's the culprit. Nothing to do with tap to send or NFC.

It's not Skype either. It's entirely based on radios not going to sleep properly... not sure of more details than that, but I've been working on these types of issues for a LONG time on a lot of phones. It's most likely the same cause as the reboots. Reboot is probably the result of a radio locking up and OS not handling it, and radio locking due to not sleeping in certain conditions.

In any case, it's interesting... I'm in Youngstown, Ohio, and I keep ALL radios on and Skype and Facebook running 24/7. No battery drain... ever, except when I go to an LTE area (Cleveland or Pittsburgh for me) and then return to a non-LTE area (Youngstown).

Youngstown eh? I grew up in Austintown

Wow, didn't realize there was such a strong WP base in NE Ohio. I'm from Austintown myself.

I'm from Warren. '78 YSU BE in EE. Now in Pataskala. First Gen Focus - personal. L822 - work.

Sad thing is Verizon won't let me switch off lte radio..... Its like lte way, no highway option. Good thing is my phone doesn't reboot itself.

Nice to see other local Ohioan's. From Canton here.

Toledo here. NEO and NWO unite

I've lived in Toledo my whole life, but I've recently moved to a small town near Springfield.

Youngstown here too. Apparently MS needs to put store here.

Ah, wow, love seeing some Ohioans here! :) Are you guys new to WP and/or WPCentral?

Yeah, I'd love the Beachwood (Cleveland area) or Ross Park (Pittsburgh area) stores to stick around after the holidays... make sure you visit one if you can.

I've been on WP since the beginning and my LG Quantum, and before that I was on WM 6.5 custom Roms. I've never actually been to a MS store though. Would be fun to check out the surface.

My history of smartphones is: HTC Wizard (Cingular 8125), Touch Pro 2 (AT&T Tilt 2), Samsung Focus, cyan Lumia 900, red Lumia 920. I am relatively new to WP Central, though. I mean, I've played with Android and iOS (I have an iPad 2, which I would happily trade for a Surface Pro and I've installed Android on things and played with BlueStacks), but I don't think I could use either as my daily phone. Maybe Android now that Jellybean has made it so much better.

Originally from Cleveland, now Columbus.
ME: LG Quantum -> L920
WIFE: HTC Surround -> L900

Oh, and before WP I had
Philips Velo 500 -> Compaq iPaq 3600 -> Samsung i730

Hmm I do have Skype installed but that shouldn't be the fast battery drowning issue because my wp7 venue pro had no issue with that app. If that is the issue, then Microsoft better act fast!

Columbus (Powell) checking in as well.

Very, very nice!! :D Way to go Microsoft on some GREAT (and much requested) features. This is EXACTLY the type of update that needs to be released on a monthly basis. Release bug fixes and small features on a smaller, but more frequent basis, and your customers will love you for it.

Now just get this update out to ALL phones, and tell carriers to suck it!

That's my thoughts as well. Frequent updates. Much better than 6 months to a year or more for a bigger update

oh there is going to be some sucking all right, but it won't be the carriers doing it.

Is there something positive you can contribute to this site or conversation? Because if you can, it would be greatly appreciated. If you can't, then I'm curious to know what joy or happiness keeps you here.

Oh no! Lumia 920 on att... Will att let us have the update, or is MS/Nokia in charge of this one?

I don't think well be getting it any time soon. In a world where common sense ruled, wed all be getting this update right now.

I think HTC got the update first because of the reboot issue. While the battery drain sucks on Nokia, at least it is useable for a couple of hours. From reports I read in the forums, the reboot issue can happen a couple of times an hour even when on a call. It renders the phone totally useless. So I'm not surprised HTC got it first.

Turn off NFC it helped my battery big time

Got the update on my unbranded HTC 8X (France).

Mass deletion is on already on my Lumia 920

It's a Select All option for Mass Deletion

No, I can select multiple SMS, but there is no "Select all" option

How about a call BLOCK feature! But these are all great additions hope to get this update. (920 AT&T)

Glad to have "ignore with text" back. For someone on the phone for many hours of the day, this is something I really wanted back on Windows mobile/phone platform

Looking for the "opt in" that Belfiore talked about. Where do we go for that?

Yep, I'd go for that too. Hell, I'd sign my warranty away to be a perpetual beta tester for WP.

They haven't even posted about the release of the update yet. You impatient, ungrateful jackass... post about promises being broken AFTER they actually are.

Yeah, what happened with that??

Probably gonna be announced with the first major update

draft does not needed bcz. unsend msg always save in that thread...

What'chu talkin bout Willis?

not if u press the back button

This is true if you home button out. Only. If you back button out it does not work.

Exactly. It's not that big a deal. I always just home out

Im liking it... More more before I pay extra 10 bucks

Any luck on the filtering individual contacts front? I only need some of my Facebook friends in my phone. Alleviating the problem with groups is not a bad work around, but having these folks clogging up my people hub is starting to grate somewhat.

How would you filter them. I can't see how that would work if groups aren't working for you. I'm not trying to be a jerk just curious as to what you are proposing.

Basically I want some if not most of my Facebook friends to be as invisible on my 810 as they are in my Facebook. Some of these folks have to be kept as friends for various reasons, I just NEVER need to call them.

I realize I am being nit picky. I am very happy with WP 8, only the ability to filter contacts and to have multiple volume sliders separates it from perfection!

filtering contacts is already available and has been since almost 2 years ago.

people hub--> settings ---> filter contacts

Sounds like you'd be better off just adding this few friends as regular contacts to your Live account then filtering out your Facebook contacts completely.

Now that is a serviceable idea. Thanks!

I was also hoping for this feature coming from android when logging in to the Facebook app you have the option of syncing all your facebook contacts to your phone's contact list or syncing only your FB contacts who also have a matching entry in your phonebook, is this possible?


Wait, WP8 doesn't do what WP7 does?
In WP7.5, I can:
go into the people hub
hit the elipses (...) at the bottom
go into settings
select "filter my contact list"
uncheck Facebook, hit checkmark
You could then only show posts from people visible in contact list. As long as you have an entry for the FB people you want to still see in your main contacts, their FB stuff will still show up IIRC (don't recall if you have to link them first).
If this is a known issue with WP8, my apologies as I've not heard of it until now.

Its the exact same in WP8. You still require the contact to already be in your list to have FB info attached to it otherwise filtering FB contacts will hide all of them. Which is what Magenta was trying to work around.

Someone may have already helped, otherwise.. If you want to filter out fb contacts, just create a contact for them, even just their name, then link the two and go into people and filter out fb entirely. Then u just get your proper contacts but they'll have the fb details populated.. Sweet as

Already have mass deletion on my Nokia 920

I just checked my text message area on my 920 and I still have to put a check next to each contact, I see no Select All, which is what the update actually includes. Maybe you thought being able to delete multiple threads at a time was what they were referring to?

Read much? The article even includes pictures... it's the SELECT ALL part that's new.

Oh I sooooo hope we get customizable txt alerts!!!! I work an on-call "pager" and really need to be able to set a (custom) alert loud enough to wake me when a text comes in...plus it would just be nice to have something personal so my friends and I did't all reach for our phones when one of us got a text. Seriously Microsoft, why wasn't this in WP8 from day one, let alone WP7x??

I'm in a similar situation as IT for a hospital, but I have no problem with the existing alert choices on volume 30 with vibrate enabled. Try Alert 1 or Alert 7... they're particularly long and distinctive.

I've been wanting to add the old facebook chat sound( you know the bubbly popping sound that we all miss) for custom text sound..... wishful thinking.

Hey Daniel... I noticed a few issues with Xbox Music on my Lumia 920 whereby the screen would take a little while to load between selecting a song and the song's page coming up. The app would also crash time to time. Did you notice any of these problems with your 920 or 8X? And if so, have they been fixed with this update?

I've noticed this recently too on my 920. Xbox music (the app on the phone and especially on the PC end) is SO poorly executed it's embarrassing. They need to sort this out sooner rather than later. I got my dad an 8x and it was so complicated explaining to him how to get his music on the phone.

They should just grant us access to use Zune until they figure out XBox Music. Zune worked great.

i agree, the sync software worked so much better, i just don't understand how they've taken SO MANY steps back when essentially all they did was rebrand the exact same service they already had working extremely well.

and don't even get me started on how crappy the cloud sync is working so far. one of the biggest reasons i fell in love with windows phone in the first place was the great music service they offered, and now i still really like windows phone, and my 920, but xbox music has really let me down.

*sigh* I so wish they'd update and rename the Zune player as Xbox Media and call it a day. I really miss being able to use it.

you can sync with WMP fine. Zune was always syncing playlists I made in WMP before

I think some of you are expecting a little more than what we're going to get for this first update. I'll be fine with that, only if they keep updates frequent.
There is alot to fix, improve, etc. While I don't expect it all at once, I hope we get many small updates frequently instead waiting forever for one big update.
However, it remains to be seen how long we'll have to wait for even small updates like this based on carrier/device. Not going to be happy if it ends up being just like before, where the carriers screwed us.

if this is true cant wait for the update

BTW, I'm loving these comment reply email notifications.

Oh man I do to...sorry this wasn't a better comment to bother your email with. I just wanted to express my +1 with this.

That's ok. That's what it's for!!!

I just feel robbed that Nokia isn't the first OEM pushing an updated...

if robbed is the only feeling you are having you are doing great. You obviously never owned a 7.x device on ATT.

at least we had option to force update on wp7! good old times.

Inteller, I have got to ask you this since nothing seems to please you. Did MS steal and/or kick your puppy or something? We spend our time talking about the perks and foibles of technology here and it's like someone made you swallow rocks, kicked you in the junk, and forced you to throw the whole lot up because you didn't get an update.

Still waiting on more updates and fixes. But if this is all that Microsoft managed to fix for this update, than it's really pathetic.

Your attitude is pathetic.

Your FACE is pathetic! No wait, just like this update, it's not. Why not consider that it's been 32 days since these phones launched and it's a good thing they're releasing updates so quickly. I much prefer rapid, small updates than rare, big ones.

Hey Daniel, do you know if, for the people who got the phone through a carrier, if we are still bound to having them approve and send out the update or is it controlled by Microsoft/the phone manufacturer.

Hmm, not available yet on my Verizon 8x

Is this confirmed for only the HTC 8x? Or is this for the Lumia 920 also?
Oh please be for the lumia also... |:

Haven't we always have call rejection? Also, the text reply was on IOS 6 and other phones, right?

Phones have had text ignore long before iOS 6.

Nokia phones before Lumias (eg. Symbian) have had text reply since 2006 or so.

Nokia starts all the cool stuff. Text reply, front cameras on phones, NFC, and more.

just front camera? it shud be phone cameras :)

How about call duration feature? Pretty basic missing feature.

I would LOVE this. Although Verizon usually blocks this even when it is supported by the os. But I'm on at&t now. This is something those of us who bill by the hour really miss...

When you're in a call it'll tell you the hours and minutes in the upper right

Nice loved SMS call reject and wifi keep alive the most


group messaging on Verizon would be nice

I'm on Vz and received a couple of group texts last night. Never tried to send one though

JEALOUS
-Nokia RM-820_nam_att_100 user

Isn't the wifi keep alive part of this OS update? Or is it an HTC thing? Coz I don't see that in the list of features in the article...

Nope, it's part of the OS update.

Hmm...then the article should be updated..but thanks!

They've talked about keep WiFi alive before. Thus article was about things not spoken of before. That's why it wasn't mentioned.

Trust me, they're not undocumented, lol.

My guess that the HTC already got this update is, is that MS is waiting for Nokia to include some bugfixes and perhaps other improvements.
But are you guys sure this is the Portico update and not just some smaller in-between-update?I thought Portico came in Q1 2013? Also why didn't MS tell us that an update was coming and with what changelog?

On the people tile, the facebook icon does not show up anymore on my phone, as I wished for without an account.

2AM and no update for my Verizon 8x.

i have a feeling the unbranded 8x is the only handset that's getting this right now.

hopefully you don't have to wait too long for the verizon variant, but with how terrible verizon is, i wouldn't hold my breath.

Apparently this update also fixes timestamp issues with SMS in countries like New Zealand.
Currently responses from other people are 13 hours ahead

Really? So you live in NZ and already got the Portico update? Which branding do you have? Which provider do you have?
Thx for your answer!

WiFi keep alive finally available as setting

have got the WiFI and sms update but unbale to see the rerject with SMS here in India. Has any one else haveing the same issue ?

Make sure the person calling you is saved in your phone as a Mobile number.

No update yet for Lumia 920 here in Mumbai, India (Vodafone)! Has anyone got the update for Lumia 920?

From where did you get your 920 seeing as it's not released officially in India?

when it is coming for Lumia 920 any info?