New YouTube Live app for Windows Phone gets the job done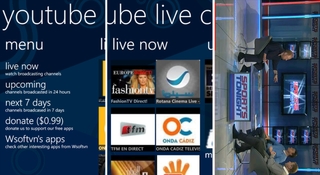 We'll be honest, we had no idea there is a live YouTube section on their site (https://www.youtube.com/live) but indeed there is, so it only makes sense that some of you would want to watch it on your phones. The app YouTube Live by wsoftvn (devs of the excellent easyTube, easyWallpaper and easyHeartRate) has just been released and it is currently free and ad-free to all. Last we checked, free is a good deal and there's not guarantees that it will last. In other words, you may want to grab it now.
Although the selection of "live" shows on YouTube is a little niche (lots of gaming and Arab channels) when you find something you want to watch, YouTube Live works extremely well. We just streamed a news conference over T-Mobile's "4G" HSPA+ pipes (admittedly a much better network than AT&Ts for raw speed) and it went without a hiccup--in fact it looked great. Here are some of the live channels:
News: CBC Live, MNT, NTV, TOLOnews
Fashion: Fashion TV, Fashion One, NY Fashion Week
Sport: Sport Tonight (soccer), Davis Cup (Tennis), WSB (boxing), Wrestling
Music, Gaming, Chatting, Talk Shows, etc.
It also has a nice layout, showing what is live now, what is coming up soon and what is coming up in the next 7 days. While we wish YouTube's live selection was better, the app itself works great (we just wish the English Al Jazeera as able to stream). So with that, we have to give it a thumbs up for you to try. Even if you don't use it all that often, it's worth the price.
Pick up YouTube Live here in the Marketplace.
Daniel Rubino is the Executive Editor of Windows Central, head reviewer, podcast co-host, and analyst. He has been covering Microsoft here since 2007, back when this site was called WMExperts (and later Windows Phone Central). His interests include Windows, Microsoft Surface, laptops, next-gen computing, and arguing with people on the internet.
well that was quick, 'cause...Ugh...its not free. It's 99 cents. The description says it's free but it's not. It does have a "try" option though.

Try again. It's free for me. There are 2 versions though. The ad-supported (the free one currently offered without ads) and a paid ad-free
version.

Weird, works for me. Maybe it's a regioinal thing? http://i.imgur.com/gwCq8.png

It's free actually, if you see the trial option, just use that, there is no limitation or ads even if you update the app in the future. We deployed one paid version, just for anyone who is willing to donate.

Yes, I used the trial version and it works. Was a bit confused because the article didn't elaborate.

Just picked it up. The sane Dev that had easyTube for free as well. You guys should do the Live streams over YT. What with Ustream not in the marketplace anymore. . . Just throwing it out there.

Wait, does this mean that if it's ever uninstalled (or updated?) we will lose the ad-freeness when we reinstall?

No, just the opposite. Once you have a license (free) it's eternal. That's why we always post these temp "free" apps on here because once you lock it in, it's yours forever--even if you install it on another device or a new version (update) comes out. Now the dev may choose to add ads to this in the future, that's his right, in which case you can buy the $0.99 version later on it you want it.

Don't worry about that, I have implement my own registration mechanism besides the built-in Microsoft one. So if you install this free version, you are freely to update to the next one without any limitation or ads as well.

Al Jazeera (English) :( ... Sure wish that was there, would really make my day.

Just installed it. Thanks, Daniel and dev!

Nice app! Now, if only someone would make a justin/twitch.tv app...

Just installed and used it for awhile. I have enjoyed using it so far..seems like there enough content...app is solid . Thanx for the nice work & for the app tip Daniel.

Crashes almost instantly on my Omnia 7 (8107, KK2) after i get a quick glimpse at the main menu.

What region was the phone on I can't download it

Hi, take a look at this one, live streaming for youtube - https://yatko.com/goLive
Windows Central Newsletter
Get the best of Windows Central in in your inbox, every day!
Thank you for signing up to Windows Central. You will receive a verification email shortly.
There was a problem. Please refresh the page and try again.