Hands-on with NexDock and Continuum with Windows 10 Mobile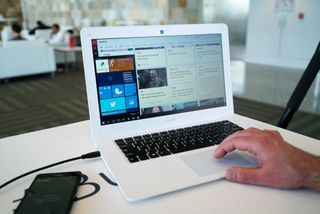 One of the benefits of being at Build is you get to run into all sorts of people and companies. We happened to get in touch with NexDock, who let us grab an early look at their upcoming Continuum-inspired 'laptop'.
If you recall, NexDock is an Indiegogo project that costs $99 and acts a dummy terminal for Continuum with Windows 10 Mobile, PC on a stick (USB), and Raspberry Pi devices. You should think of NexDock as a low-cost laptop that is missing a processor but sports a bigger battery.
Thoughts on using NexDock
NexDock and Continuum is a lot like HoloLens: new ideas and new concepts in the early stages. Keep in mind that NexDock only costs $99 and if you keep your expectations in line with that it is not a bad experience.
NexDock works with Continuum-enabled devices like the Lumia 950 and Lumia 950 XL through an HDMI connection. Users will need an off-the-shelf USB Type-C to HDMI converter to make the connection. If you want to use the trackpad on the NexDock (optional) you pair it using the phone's Bluetooth.
The NexDock itself is a not-too-light, but not-too-heavy all matte device with a ho-hum matte display. Remember, folks $99. The 10,000 mAh battery is rather huge especially when you bear in mind that the NexDock doesn't do any actual processing. It just acts a dummy display with a low-energy Bluetooth connection.
In addition to HDMI, the NexDock features two USB ports with one being able to output an impressive two amps. That output is so that connected devices can be fully powered (or recharge) and is a nice touch. There is a USB camera too, but that won't work through Continuum in its present form.
Typing was okay and is dependent on how good your Bluetooth connection is along with (hopefully) no interference. There is the occasional lag, but all of that is on Microsoft and the experience of using Continuum rather than NexDock as there is no "processing" going on from their end.
Worth the cost?
Unless you got the NexDock as an early-bird Indiegogo backer ($79), you are looking at a $99 purchase although Indiegogo is now up to $119. The experience is quite far from a full-on laptop replacement, but you can't help and see how all of this Continuum and Windows 10 Mobile thing is coming together.
Ideally, the NexDock would have had a Type-C connector, which would have been preferred due to the near lagless experience and the ability charge the phone at the same time. However, for now, the company wanted to open up NexDock to other devices like the tablets, Raspberry Pi and so-called PCs on a stick (like the one from Lenovo). Later, other versions may come out with Type-C if the Indiegogo project proves to be successful.
For the money it is hard to be too critical of such a device. You are getting a decently sized display, keyboard and a big battery (you could use a dongle with Type-C and HDMI, which would let you charge and stream at the same time). The display is washed, not very bright and very matte, but it also gets the job done.
For those looking for a low-cost computing experience with a full keyboard, the NexDock may prove to be a viable purchase. I think we're still a year or two out from the whole Continuum and Windows 10 Mobile vision realizing its full potential, but every new paradigm needs to start somewhere, and NexDock could go down as one of the first on that path. We're likely to see other devices that do the same with higher specs and price points, but for now, NexDock looks to be a fun way to dabble in the future of modular and expansive mobile computing.
Assuming the Indiegogo campaign gets funded expect NexDock to start shipping in June. We have one on order ourselves and will follow up when they start shipping.
Let us know what you think of NexDock in comments and whether you have ordered one or are thinking of doing so!
Daniel Rubino is the Editor-in-chief of Windows Central, head reviewer, podcast co-host, and analyst. He has been here covering Microsoft since 2007 when this site was called WMExperts (and later Windows Phone Central). His interests include Windows, Microsoft Surface, laptops, next-gen computing, and for some reason, watches. Before all this tech stuff, he worked on a Ph.D. in linguistics and ran the projectors at movie theaters, which has done absolutely nothing for his career.
OMG, its the Palm Foleo 2.0!

Yeah, no thank you. they should of used the USB-C method like the official dock and than the keyboard/mouse and possibly webcam wouldn't of needed to use bluetooth and would of charged the device with 1 cord and no adapters needed.

Yeah, if had type c it would be mine

There's a stretch goal at $500k to add USB-C. It might not make it there though.

I read elsewhere that one of the biggest reasons they didn't have the port was because they used an off-the-shelf shell from a really popular Chinese laptop. This makes time to production faster and the price lower. That case lacked USB-C, so here we are.

I agree. I jumped on this too soon as I wanted to get in early. If I hadn't noticed that it was lacking USB-C. I hate to "wish" failure, but I wouldn't be too upset getting my $$$ back to invest in something with USB-C.

After seeing the HP products I'm also wanting more. At least charge it

I don't want to be too critical to this product as I love the concept but yeah, the lack of proper USB-C connection is a big hurdle to this product. It's getting there, only the lack of USB-C is keeping it as a great product. For now looks okay but that lag and tediousness can be really a no-go. But anyways, this opens up the bigger possibilities in the near future especially when big OEMs starting to make Continuum-enabled hardwares. I'm always waiting for Asus to step up and make a W10M version of their Transformer Book V which is essentially a phone can be docked inside a tablet then it can docked to the keyboard to be a laptop. Other hardware such as simple monitor that have NFC and wireless charging on its base that can initiate wireless Continuum instantly. Keyboard with Touchpad that have USB-C dock for W10M with Continuum that have HDMI to the monitor or Miracast.

With ya on this one. I'm currently looking into getting a new laptop. The problem I'm having is that I only need it for occasional use. If they had usb-c on this, this would fit my cost/use profile perfectly.

"should OF", "would OF" ? what is this?

translation table: of == have, than == then. >_>

It's such an inspiration. I wish to try continuum but as of this moment it's only possible in the flagships. Hoping to see more cheaper continuum enabled phones.

It will happen. This is only the beginning.

Need to wait for qualcomm to make low end chips that support 2 displays at once. I think a couple 6XX chips do.

I'd love a similar device with USB-C into the device. With internal USB hub to USB touchpad/keyboard and external port. Would work 100% with no lag. I think that is more what the HP device was like.

Great concept. Count me in as one waiting for the type-c connection with a better screen.

I had an idea of installing a screen and dock in a car to replace the stereo. Just connect the USB-C cable and have a "PC" in your car, well, kind of.

You mean with the touchscreen monitor and chassis from these guys? http://e3io.com/custom-computers-car-pc Continuum WILL be driving my in-car entertainment\navigation soon. It'll be brilliant. :)

Damn, they have a lot more models now than last time I checked, but more money than I'd like to dump into a PC in my car. I mean just a touch screen monitor and a dock, no chassic, I'd just mount the screen custom and save money, use a dock plugged into a AC/DC converter and someone makes an adapter that is a incar preamp with all the connections that connect via bluetooth or a input cable. A lot of people have been using these to install tablets in their cars. It's either that or install a Dell Dock from the Venue 11 Pro 7130 and use my Dell Latitude 13 7350 as an incar PC I can take with me when not in the car. The latitude 7350 works with the Venue 7130's dock.

Do a hdmi-rca adaptor and you can have continuum on any dvd or navigation head unit.

Yep. I have that running too. Pretty cool. The available in car low power USB connection is alreacdy sufficient to power hdmi-rca+MS Wireless Display adapter. Nice stuff.

What i can recommend are the Mounts from "Brodit". No shaky phone, very nice stuff.

Well, that's basically what been doing on Infotainment systems on the car. I'm not really fan of having "PC" on the car and it's not even unecessary though. What we need is just a proper infotainment car UX when we docked or pair W10M on the car, without a need of Continuum. They need to take advantage of MirrorLink as soon as possible.

As someone who loves to dabble, I can't say no to the NexDock. I mean, I can use one dummy laptop for Continuum, Pine A64, Raspberry Pi and whatever else I can think of to hook up to it? Sold! Also, FYI, guys, while the price has gone up to $119, their first stretch goal is to put a USB-C port in it, and their second is to upgrade the screen. I'm also wondering a little bit why we couldn't just use the Dock and run an HDMI to mini-HDMI cord from it? Maybe I missed something with that...

Doesn't the dock have to be plugged in and that would complicate things for portablity IMO. They just need Type-C in it and I'm sold, a better screen would be nice, but i rather keep cost down over a nicer screen.

Yeah, it does. But Daniel was talking about buying a splitter so that you could charge it at the same time, which... seems kind of like using the dock. I agree, having a Type-C in this thing would be incredible!

Why not $200 and do it right?
Wouldn't fit the normal WP experience I suppose.

With how amazing is the 9050 XL's screen, I wouldn't want to use something that makes it look worse. It has to be done right to make sense. With a good screen and the right connectivity, I would totally get one. This is a compromise that falls short of the intended desirability for the product.

Because then you'd be saying that it's too expensive.

Ah, I thought it was just a keyboard plus screen to use WITH Display Dock. Well, sounds nice but not having a USB Type-C connection is a huge deal breaker.

I'd love to have type c, but for $99 (or even $119) it's hard to complain. Two questions: First, can you charge other things with it when it's closed (making it essentially an external battery pack)? Second, what size screen? Looks like 14 or 15 inches.

Resolution is also an issue, if the scren is too crappy it's a downgrade from using the phone. I get it they're going for "cheap" instead of "done right", but I think I'd rather have it be a good experience of use.

If you are using it with continuim and doing spreadsheets and word documents, I hardly 720p screen resolution is really going to be that big of a deal. The fact that it provides a 14 - 15" screen for doing small work makes it worth the 99 dollars to me. Everyone want quality on the cheap, which doesn't make any business sense.

I supported this indiegogo for 2 of these laptops, waiting for shipping time in June.

What is the dumlap screen resolution?

It's 768p. Low, but then again, very low price.

So in the channel 9 video it shows the speaker hooking up via Usb. Also a portable flash drive gets plugged into it and they access files directly off of it. Do you know why there is such a discrepancy in what you are showing?

If it's not type-C USB, it's not "Built for windows 10"! So be it!

Microsoft should make this thing, just a nice thin "laptop" with a slot for the phone so it automatically becomes a 15" lumia with a 15000mah battery and laptop peripherals, sell it as "the ultimate college laptop"

Yes, continuum dock built-in and a small interface plate with phone support slides out from the left and behind the screen...that would be cool!

It's technically been done by Asus with their Transformer V. We need an updated version of this that runs W10M instead.
http://tech.firstpost.com/wp-content/uploads/2014/06/asus_transformer_bo... We need OEMs to play around with these new exotic hybrid form-factors. Maybe Microsoft can create a spark with their rumored Surface Phone if OEMs still not willing to take.

HOLY ****, Imagine Continuum with THUNDERBOLT 3! True plug and play!

I wont be jumping. I jumped for rt look where it went. see build how many times did it mention mobile phones... its dead..

Nice to see such things. I wouldn't buy it as it is, but there are many tech things around which were only bearable after the third or so iteration for daily use. A pocket for the handset, eg, would be great, something like in the cars, but of course slimmer. So many things which are possible on phone are done on a notebook just because it has a better keyboard and a much bigger screen. I can think of such a thing for older people, who do not need to run Win32 applications, just checking mails, skype, maybe facebook, looking at the fotos from the grandchildren, loading them via SD Card reader in the thingie, and writing a letter with word now and then. But it needs to be "seamless", no cables, no hassle, (except the charger of the dock, but maybe even this could be made wireless charging). Why eg not form the trackpad with the phone, by just clicking it in and setting it in landscape. Would need an adaptor, but that wouldn't be a big deal.

I'm an early backer. At $79 is cheap enough to just play with it. It just has to reach the fixed goal. With 16 days left it looks like it will.

@daniel, which smartwatch are you wearing in the video? Posted from My Lumia 830 on Windows 10 Mobile

Where can i order this ? Sent from DOS

Continuum sux...don't waste your time people, move on, nothing to see here. I moved to continuum to increase productivity on the go. It's had the exact opposite effect. Between outlook crashing, edge not working and random screen blackouts every few minutes it's the most alpha product microsoft have pushed out to market prematurely in a long time. Microsoft are going to have to double down on making this particular piece of hardware work a lot better before actively pushing it to a wider audience

No. But then again it's my second work space. And no, I see no issue's. Really only Edge on bad written websites in that it takes longer to load.

Would this shell also work with older Windows Phones (Lumia 640) to mirror the display and allow keybord use? If so then I'm in!

Nexdock is a compelling purchase. I can get that and a stick PC. I can afford to upgrade my PC regularly. I can also use my phone. It's good.

Would have gotten one if I had the 950xl

With the recent announcement of allowing Continuum through a PC.. I'm not sure this device is as appealing anymore. If you're going to toat this device around, then may as well take your laptop/surface which functions as both all around.

Price. This thing is a hundred bucks. Even the cheapest laptops are half as much again.

i think they will launch it with type c !!
may be the next gen of this nexdoc !!
this is just a trial...so, they aren't investing much on it ryt now !!
but, if if succeeds....they will add more features to it

99$? The concept is nifty. I could keep this "shell/dock" in my car and travel bags and when I don't have access to a full desktop/laptop just pop this guy out. I'm not keen on the usb>hdmi. I'll watch and see if they meet their stretch goal of 500K and add native USB-C for the optimal experience. Great idea though and ridiculously cheap.