Turn your Windows 10 Mobile phone into a laptop with NexDock and Continuum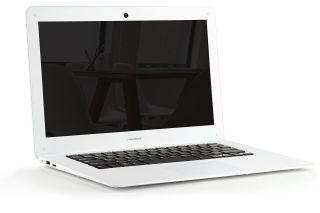 NexDock has launched an Indiegogo campaign seeking funds for a 14-inch monitor with built-in battery and Bluetooth keyboard that works with Continuum on Windows 10 Mobile. Unlike Microsoft's display dock that requires you to have your own mouse, keyboard and monitor to use Continuum on your Windows 10 Mobile phone, this is the complete package. Resembling a typical laptop, the NexDock has a 14-inch monitor that folds over the keyboard that can pair to your smartphone via Bluetooth.
If you have yet to grab a Windows 10 Mobile-powered smartphone, the NexDock can still be used for a number of other purposes as well. You can use it with PC sticks, or as a display for your Raspberry Pi, or even with a tablet or Android-powered smartphone and the iPhone. In the future the company hopes to be able to offer this with a variety of different displays and form factors, from tablets to desktops, as well as offering the processor and operating system of your choice.
For just $120, there is a whole lot of value to those who want to maximize the potential of their existing hardware in new ways, especially while on the go. Those who back the project early can get in on the NexDock for as low as $79. The company currently anticipates shipments to begin in June 2016.
Source: NexDock; Thanks, Lance M., for the tip!
Jared started off writing about mobile phones back when BlackBerry ruled the market, and Windows Mobile was kinda cool. Now, with a family, mortgage and other responsibilities he has no choice but to look for the best deals, and he's here to share them with you.
Ordered up mine. Hope it's good.

Congratulations. But I'd rather wait for the SURFACE PHONE then i will think of buying the accessories. I'm a proud 730 user. But on my phone windows 10 does not work like a charm. Its okay needs more polishing.

I'll offer a different opinion. The first thing I did with my Windows Phone was connect it to a bluetooth keyboard and my Miracast TV and was totally blown away. To me, this is the best example of how Windwos is changing the landscape and how I'm able to justify fewer apps on my 950. Count me in for a NexDock! Hopefully they have their ducks in a row on this one. I've been waiting for this since the Clambook concept back in 2012.

Will it work with lumia 650 which lacks the continuum feature?

No, I don't think so. it could just mirror your phone screen like the screen sharing app) but it's not like you will be able to do one thing on the nexdock while doing something else on your 650

Thanks for replying. This means I will have to wait for a Lumia midranger with continuum feature. I wish 650 had this feature.

Not for a lumia but for other brands midrangers yeah :)

From what I understand, any Windows 10 phone can use it. Yes, it will be like a small Miracast. It also will work with Android, iOS, Stick Computers, and I would think for something like the Kangaroo it would be perfect. Check out the website.

It will mirror what's on the phone if you have a Miracast dongle plugged into it. I'm asuming there will be one soon™ that will work with USB Type-C.

I dont think so. As stated from the campaign, "(works with Continuum feature)" meaning it needs to have continuum.

No, Continuum is included. As are tablets, Stick Computers, Wireless Displays. Just hook almost anything up with a cable. Or wireless display. As far as Continuum, it has the Dock capabilities. And much more.

If the phone lacks continuum, then no.

Google Cardboard like phone attachment could work well with continuum.

Is this the first of these types of accessories? Are there other portable screens docks that have been announced?

I had a motorola Atrix that you could put on a keyboard dock for this type of functionality like 5 years ago or so.

Yea I remember that, I meant for Windows 10 mobile and Continuum. Was wondering if there were other companies doing the same. I seem to remember that was vaguely announced with Windows 10 mobile.

Curious to see if HP unveils the big boy version of this next week at MWC...

The Atrix was a very different thing, howver. When docked, the Atrix booted up linux. It wasnt the same os running the same apps.

I could see me using this a lot if the phone docked in it. A powerful phone would handle most of my computing needs. I hope a lot more of the universal apps get continuum compatability.

Slap the phone on the back. Like with lego.

Please help me undertstand this. You don't want to carry a laptop but have no problem carrying a device like this that is larger than some ultrabooks and does very little with out a phone attached to it. I understand you, Daniel, getting one but for regular folks that don't review gadgets for a living, this just seems like a "because we can" type of thing.

yet people would carry a chrome book which is worse than this, Yall thinking wrong, right now im on a laptop for the only reason of view this so I can leave my device on table plug up my win10 usbc phone to device and browse from the phone, and also play games from the phone, etc but on bigger screen, and it has a battery right now my laptop is plugged in probally wouldnt be if it was conncected to phone? Plus it 100 buck and will be as fast as your phone which if it has the new 820 in it it will be pretty fast, moves also and with continuum you can talk on phone and use device at same time. And with a surface dream phone it will be as fast as the laptop that Im gonna have to replace soon.It not for everyone true but it has its uses

Just because it costs $80-$140, and not like $1300-$1500 and more for ultrabook. Pre-orderred mine to play with Continuum, and attach it to the Raspberry Pi 2. May be to try as secons screen for SP3

I can hook either my 640 or my Alcatel up to a TV via a cable to the HDMI port on it and mirror my screen. Add a wireless keyboard and mouse and it's just a big phone display. This will combine all three. The screen, keyboard and mouse (trackpad) in one unit. If you do have Continuum it will function as the Dock as well. This is still being developed. The website is worth a read.

I can see how this could be really nice, however, I don't think it quite hits the mark. If I'm going to carry this 3lb beast in my bag I don't also want to carry an USB-C to Mini HDMI adapter. Plus if I'm going to be using this quite a bit I want to be able to charge my phone while doing so. Thus you need a $35+ adapter that's able to do that, your phone charger, and the charger for NexDock. Unless of course you get an USB to USB-C cable to be able to connect to your $35+ adapter to then charge your phone.
The better option would be to build that into the device so I only have to connect via USB-C and have just one cable and one charger. Not seeing how this is anymore convenient that my current laptop.

I think this is a companion device. Leaving this at one place (say home) so you can use your phone as your PC. Then take the phone to work, then use your phone at work on one of these, or more dedicated combo. There will come a point, where our phones are our work PCs - of course they will. Moores Law with make that happen, and bar games, inbuilt GPUs will suffice. Interesting concept this company has, and I agree I think this is a niche that needs filling now, that might be mainstream in a few years.

If I left this at home I would rather have a dedicated monitor and use the display dock. If I want this to replace my laptop it better be a simple execution and not require a host of accessories or else I'd rather just bring my laptop. Which weighs less and does more.

Well said. This is a cool product to show what's to come, but right now is nothing more than proof of concept. I need windows phone to do a little more. I think later this year we will be pretty happy. Posted via the Windows Central App for Android

Well it doesn't make any more convenient that the current laptop. It's kinda a proof of concept still really. Though to be fair, since it also supports any other type of devices, this would be bit more useful even you don't own W10M device with Continuum. This is why Continuum needs to seriously step up as soon as possible but not rushed. Continuum needs at least 3 basic things, full desktop-rich environment with draggable window, full Windows Snap, full drag-and-drop, better File Explorer, and even better if W10M will support x86-class apps when on Continuum mode. Even x86 apps packaged as an UWP (Project Centennial) is still a huge boost in usefulness than what we have currently.

Hell yes. This is actually a rather nifty idea. Yes, that's right: I said "nifty." May seem weird to some having two "devices" but really it's just a well formatted screen and keyboard attachment for your phone/usbpc/etc. A portable larger format user interface, if you will. My wife needs a new laptop for things like editing her resume and other office tasks. Her 950 can do it but it's small. This is perfect, and much cheaper than buying a laptop just for simple document editing. It was even nicer getting in early for cheaper early bird rates.

Actually, although I love the idea of Continuum, I think it is quite an expensive choice. I can pick up a Lumia 640 for around £80 and something like a 13" HP Streambook for around £200 which is less than the cost of the L950 alone. Posted via the Windows Central App for Android

Daniel, what they are using to connect L090 to the NexDock? We are supposed to order USB Type-C -> HDMI (mini-HDMI) and HDMI -> mini-HDMI (if required) separately?

Don't you think they should have gone with USB-C, that way, we could use the USB ports to access external HDDs

Similar to the Motorola Solution they had a few years back. I like it.

I still have my old Atrix 4G, never had the lapdock for it, though...

That was a massive failure, they could learn alot from Moto and dodge this bullet.

This is hugely different, in that any phone with continuum support can use it. Plus Android and iOS screen sharing; second monitor, etc. The Atrix was ONLY useful with that phone.

I would hazard a guess that more Atrix phones are in the market than continuum enabled phones today. You can't sell to what isn't there. The number of people with docks today that are going to want this is tiny. I'm not saying it doesn't have a place, it's just an extremely small and low profit place.

Don't be stupid. Watch the video. You can also use a Nexdock with a USB Stick, Raspberry Pi, external laptop/desktop screen. I pledged :)

Yeah, at least this device doesn't rely only for W10M Continuum-enabled devices (we know what would happen if its only for W10M). So this can be useful for anybody if they have good use-case for it. Even Android users and iOS users can use this which is a big bonus already.

Similar, but Continuum makes it WAY better.

This is cool and useful idea..

After the Agent Watch I'm never backing anything crowdfunded over $10.

True. I felt betrayed by Jolla.

At least this doesn't rely on an OS/software. It's just a screen, keyboard, battery and Bluetooth. Should be pretty hard to screw up.

Yeah, I thought about that, but I won't be surprised if it doesn't make it's target ship date. I also backed a Bluetooth tracker (Stonetether) which seems so simple yet it's almost a year after it's ship date and it doesn't seem very close to being done.

Backed that too, what a waste of money that was. But this does look like a much simpler project.

Looks like money well spent.
Been wanting a small screen notebook.

Would be nice if it had a slot to store the phone inside and usb-c to connect keyboard and display (like an integrated display dock)

Store the phone inside?? That would add unnecessary bulk for a nearly useless addition. Keep it simple and compact!

Plus heat, plus not being able to use the phone while using the the PC...

Yes, I agree. That makes mire sense than connecting it via cable. This way you can just close it and be on your way, no worrying about cable/connectors/dock.

It would be nice too. A phone that can be inserted inside the laptop or even let's say a tablet hybrid with keyboard dock. This is actually done by Asus Transformer Book V already http://cdn.pocket-lint.com/r/s/970x/assets/images/phpse8dg4.jpg I think Asus could really release their W10M device in a Transformer Book V form-factor. That would be a great way to showcase what W10M can do (if only W10M Continuum is truly a desktop-like environment, not what we have now). Also just like in this concept video. We need new kinds of monitors that have Continuum dock within its base that we can connect other peripherals too in the monitor itself. When we got this kind of Continuum-ready hardware, then I think it will give at least a chance for W10M existence in this tough mobile marketplace. First though, we need W10M to be polished (very polished at least as WP8 did), and we need Continuum to have basic important things that we all use in desktop OS: Full Drag-and-Drop, Windowed mode apps, Run non-Universal Apps in a limited windowed mode, Full Windows Snap, and Project Centennial or ability to run x86 apps natively in Continuum mode.

Even work on older W10M phones?

That's how Continuum works, yes, with Windows 10 Mobile.

I believe he meant older hardware...

Since the old windows phones upgraded to w10m don't support continuum, I don't think so.

For less than the cost of a dock for early contributors, not bad at all.

I like the idea, but it needs somewhere to place the phone. Having the phone tethered to it doesn't seem like a great idea.

You could do the Lego mod that was featured today for a surface.

At least when it's tethered, you can still mess with the phone itself. Though, I do like Thazal's idea, too, haha.

To me the positive is being able to use the phone. Continuum right now does not allow split screen multitasking, so this would give you a small way of doing that. Like email on the phone, word on the screen.

That's the issue with Continuum mode in W10M really, the lack of full windowed apps system (like we've been doing in Desktop OS for years) and at least Windows Snap. W10M Continuum at the moment is pretty much a Windows RT mode minus Snap and no real desktop environment. Every apps in W10M Continuum runs full-screen, as if it was a tablet (we pretty much recycled the Windows 8 complaints even though Windows 8 still have full desktop environment).

Continuum lets the phone to act as a second screen, you can have for example the email app opened in this laptop dock and use the messaging app on the phone, so it makes sense to keep the phone tethered nearby and accessible, rather than docked somewhere inside the laptop dock.

You will start to see these in offices and coffee houses airports for public use, taking us one step closer to your phone as your only device

I've been waiting since I had this phone for a product like this to hit the market. I might just ditch a new laptop for a desktop and pick this up instead... Wow.

This was the first idea I had when I first heard about continuum. We need more like this from the bigger OEMs.

Hate to say, but this is not a new concept. Verizon had laptop dock that worked with a single Android phone a few years ago. Didn't work out. However, with more phones, etc. that could be compatible with this, it might just work out this time.

On the whole this IS a new concept. Watch the video again.

Though the issue at that time is it was running an Android OS. Which pretty much running a tablet OS on a laptop form-factor, not to mention that was few years ago when Android is also way more immature at that time. With Windows, it's in theory can be an excuse this time. Unfortunately, W10M Continuum isn't even that any better than Android running in a laptop, minus lesser apps and pretty limited capability. W10M Continuum needs to catch-up quick but complete just like OS with a desktop-environment such as Windows.

I could see MS releasing something like this as an accessory for the Surface Phone. I'll hold off to see if they offer something with a slot for the phone vs. having to tether. It does look pretty great, though, and the price makes it tempting!

That would mean a different model for each phone. I doubt they will sell so many as to make that a worthwhile task.

This is a fantastic concept. I can't trust some unknown company with my money for this, though. I just don't have faith in the build quality that's not even competed, for example. I'd buy this once it hits the market, if it is priced reasonably, reviews well, and is available in a color other than that nasty white in the above image. I've said for a while that I think a Zenphone-style offering between W10M and a Surface-like chassis would be a killer plan for Microsoft. I'm still hoping they consider this for their fall launch, but I'm guessing they don't.

This is exactly what I have been looking for ever since I got my Lenovo PC Stick via Black Friday! Thanks! I never wanted to do crowdfunding but since I can't find a similar product, I might go for it. So how is Indiegogo? Is it safe?

I just bought the 79 dollar contribution, charged my paypal with the amount that was stated.

This is like having continuum without paying $99 for the dock and without having to buy the monitor or the mouse or the keyboard. As soon as I get paid next I'm buying one

Hahaha!! Nice, I'm thinking about it also, while waiting for the paycheck ☺

With how the Surface Book works (GPU in the keyboard), could they do the same and put more powerful hardware into this device and get more out of the phone? Also, I'd like to see a touch screen version of this as an option down the road. Edit: they noted the concept in the video. We shall see what continuum will bring.

Might as well have a full blown laptop at this point. Forget the phone.

This is the very first model. When succelful other models will follow. No doubt. I'd like a FHD screen. But I also know that a 14-15" FHD screen alone costs about 200-250 dollars.

Novelty, buy a real 199 notebook or older Surface book.

Better than novelty. I can have this and use my phone that has all my stuff and not need to replicate it on another laptop. I could edit pictures with the bigger screen without transferring them. Someone could come to my house, use their phone...with their stuff to get stuff done. I could use this as a laptop with Internet, without buying a laptop data plan...I can use my unlimited AT&T data. I don't see the added benefit of a "real" sub $200 laptop.

Pretty neat concept, but I'm not digging the 1366*768 resolution and TN display. Crappy display will make for a crappy experience.

Exactly. Pretty ****** panel specs. Would gladly pay x2 or x3 for it if it had a 1080p IPS. Oh, and add a built-in chromecast receiver while your'e at it :-)

Just wait until the next model. Then again, how many would pledge at 300 dollars? And no, leave the chromecast out. No use and only adds cost. Realy shows you don't get the concept..

Yes, the display spec is garbage. TN panels are the worst!! And bluetooth keyboard and trackpad? It should be USB for a NO FUSS setup, since you gotta connect via cable anyhow. Though I applaud the idea. This is the kind of innovation that I was expecting to see as a result from the Continuum paradigm. Now we need all kinds of other fresh ideas and products to come out. Can't wait to see what else appears in the near future. But won't be ordering this one. Maybe a version 2 will have a better screen.

Off topic but how many updates it will take to get "update to w10 app" in W7. Got friends old pc which was sitting on closet since 2014. It has good specs but Video card is broken. Wwant to update on W10 soon as possible :P

Download an ISO and upgrade it that way. You won't have to update a bunch to get it.

it is possible to "Upgrade" via ISO file? I don't want to lose all my programs... Yeah Started already installing programs...

I bet if you ask this in the Forums you might get some answers.

Add a gpu booster with an x86 phone and this is the future. Look at their other dock concepts, very nice.

I had that idea as well. With the possibility to slide in the surface phone, with power and volume buttons and camera still accessible.

I think it's a fantastic idea. You could use anything like continuum or stick pc with it. Gives a lot of flexibility. They could put a big battery in it and have it last all day or just make it really thin, cool looking device. So many options.

I was considering it until I saw the specs. The 1366x768 screen is a deal breaker.

Same. I wouldnt buy a 5" phone with that low of resolution. Why is it still offered on laptops?

Well because of the cost. I could forgive it when that resolution is for 10-11" inch laptops, but for 12" and higher I really wish we have bit higher than that even for entry-level ones. 1366 x 768 resolution is staying for too long, at least 1600 x 900 would be better as a new standard.

With everything going into 2560x1440, I would like the trend to have 1080p as the minimum on standard laptops and hardware. Pictures are becoming high resolution, as is YouTube content, Vimeo, websites and more. Having 1330x768 now is not a futureproof design.

I like this so much, If anyone tells me this is not the future of Personal computing I will slap their face backwards. /s I can't wait for this to be the norm.

So the Phone connects via micro hdmi and not usb-c. Also to use the keyboard bluetooth needs to ne active. So you have battery drain for display output + bluetooth while the phone doesn't charge, as the USB port is already used? Doesn't seem like the best scenario for mobile use....

Watch the video again. Please...

You still can't charge the phone unless your USB-C to HDMI adapter also has a charging port. Because you sure can't charge through HDMI. Add on another $35+ for an USB-C to HDMI w/charging port adapter and a HDMI to Mini-HDMI cable to the cost. Anyway, Phoibos is correct, continuum will murder the battery and there isn't much you can do about it.

Went to the site to order mine, then I noticed the screen resolution. Wouldn't want anything less than FHD on a 14" screen.

That's -exactly- what I did.

No touchscreen, no backing.. Interesting idea though.

Why cables though? Would be nice if your phone could dock into it and charge up. Would be nice if it was built like a Yoga that can convert into a tablet.

So the phone can also be used as a phone at the same time. Next model could be a Yoga type model. Who knows.

This is EXACTLY what i am expecting/wanting from Microsoft. Very tempted to back this, though.

This is pretty cool, although a bit clumsy for confined spaces, the couch, lap, etc. The most interesting part of it is that someone is willing to even make such an accessory. Having an ecosystem of accessories is a necessity for success for a mobile platform. Perhaps a version could be made with a chip, RAM, aso. built in. That would effectively make it a successor to Windows RT devices and a competitor to Chromebooks.

Sounds like a new generation (and probably better version) of Celio Redfly Mobile Companion from good old windows mobile days. Resolution of this is only slightly better though.

Interesting. This will work great with my 950 as well as spot duty for when I need to directly connect to my headless server.

I've been waiting for something like this. They are only missing out on my two "needs". Miracast built-in and at least 1080 resolution. I'm a little suprised at how heavy it's speced at too. I ended up pulling the $79 trigger though. At that price, I can see if there's room inside the case to wire up the guts from a cheap ebay miracast receiver.

Battery and screen really impact weight. I just took my laptop apart.

I want ASUS to make a Windows Zenfone/Padfone dock. That form factor is wasted on android tablets as the larger landscape is still just bigger Android apps. Continuum Windows Apps for an x86/64 Windows phone would be amaze-za-zing.

Yeah! We need W10M version of Asus Transformer Book V. http://tech.firstpost.com/wp-content/uploads/2014/06/asus_transformer_bo... Only remaining issue is that W10M Continuum mode isn't any better than running Android OS on a laptop at the moment. If W10M Continuum have truly same desktop experience (windowed apps, Windows Snap, full drag-and-drop) and can run x86 apps natively or like Project Centennial.

Been talking up something like this, but it's not quite there. I'm thinking this needs the MS Display Dock guts in it, so you just hook up the one cable. Having the keyboard work over BT seems a missed opportunity. I have no problem if BT is an additional option, but the primary connection should be just the cable. A plus would be if there was a Miracast receiver capability for the screen. That way you could use the device purely via cable, attaching keyboard, screen, and batterry for the phone...or..connect completely wirelessly, BT and Miracast. Would be great if it charged the internal battery via USB-C as well (maybe it does that), didn't read the IndieGoGo stuff. Been burned too often by crowd funded stuff to jump into another, and don't want to be too tempted. I think this sort of thing absolutely has a market though. Needs to be smaller and lighter than a similar laptop/convertible though.

Ordered. It's $79, (or even at $99) so I think peoples expectations are a bit lofty. My big, heavy laptop is more like a desktop. I do photo and video editing on it and I rarely take it anywhere. This device will be amazing to take mobile and have a keyboard and larger screen for typing. It'll also be cool to use Fhotoroom with it. The best is that I can use my unlimited AT&T data and not an expensive tethering plan. I hope the battery is big enough to keep the phone from draining, too quickly.

Genius idea. Rudy Huyn tweeted something like this should happen and poof it is!

A dedicated place where you can put your phone should be provided, especially if the phone has to be connected with a cable for performance and battery reasons.

How about a Windows 10 powered home phone with Wifi. Basically the people hub where I can also send message to someone. 10" touchscreen display, maybe a browser or some sort of news display or photo hub gallery. Keep it beautiful, simple and inexpensive.

It universal otg of c Port charger convertr hnmmm...! That awesome

Man i am too late for the $75 , sold out. getting the $99 one I guess.

This is pretty genius idea and is precisely what Windows 10 with Continuum is built for...still waiting for the right catridge though: www.pcworld.com/article/2907539/this-fake-microsoft-surface-phone-is-the...

I'm really hoping that Asus gets their ass in gear and get working on the next padfone with Windows 10! Posted via the Windows Central App for Android

nice this is perfect fro my older family menbers.

wouild have prefered a unit the phone sat inside of like a pouch or something, the cable kinda anoys me a little.

I thnk that Microsoft's new all in one modular Computer will do what this thing does for Windows smart phones using Universal Apps and perhaps regular Windows phone store apps. I think Microsoft is going to build this all in one modular PC to be a Super Dock for the Microsoft Windows 10 Continuum mode smart phones and the new coming "Surface Pro" smart phone that will run full Windows 10 desktop store apps , Universal apps and some full desktop PC programs

Microsoft should enable the Coming 2016 "Surface Book 2" to be a super dock for Windows 10 mobile Continuum capable smart phones and the coming Surface Pro smart phone

Ok, I have an old Motorola Atrix Lapdock ... I'd never thought of this before, why couldn't I plug in my MS Miracast dongle (with Micro HDMI) adapter and plug in the Micro USB cable and do the same thing? (And yeah, this is kinda off-topic) Point being, I think this is kind of the same solution...

looks pretty amazing! it would also be awesome if they had a version which offered built in Miracast/ Wi-Di, and another version which auomatically connected the keyboard, touchpad and webcam through USB-C instead of via bluetooth as that would save a lot of potential hassle, and prevent potential interference in a crowded environment.

it would be good if the phone has a decent dock. Not sure where to put it though. but having a cord to have a good usability experience ruined the look.
Windows Central Newsletter
Get the best of Windows Central in in your inbox, every day!
Thank you for signing up to Windows Central. You will receive a verification email shortly.
There was a problem. Please refresh the page and try again.