Nexgen Reader apps add WhatsApp sharing support, on sale for 99 cents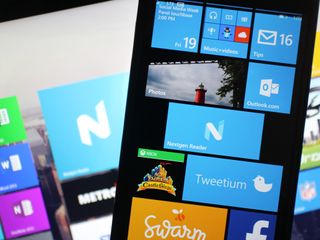 The popular Nextgen Reader RSS feed app for Windows Phone and Windows 8.1 got updated today with a few new features and bug fixes. One of them is the added ablity to share links via WhatsApp.
Here's what's new in the latest version:
Fixed crash issues on Windows 10 Mobile build 10136.
Set favorite contacts and share articles quickly via email. Tap the three dots next to email.
Share links via WhatsApp; Please go to app settings -> accounts to enable WhatsApp.
Many other improvements and bug fixes.
The app is also on sale for 99 cents for the next three days, a 67% price cut from its normal $2.99 cost. The developer of Nextgen Reader has already announced that the app will be available in a unified Windows 10 version.
Windows Central Newsletter
Get the best of Windows Central in your inbox, every day!
It's always had live tile notifications.

I think he has taking about the in app notifications option.

WhatsApp Update? When in India? /s off

Awesome!!! Best news reader app to date.

Awesome. I wish it would automatically mark items as read when scrolling like the browser does. And I wish it would not mark new items as read when marking everything as read. I mean when you scroll down 500 items half an hour can pass, and when you press mark as read then, also items that have meanwhile appeared at the top are marked as read. Feedly web does detect this. With these two features nextgen reader would be godlike.

Bought it two days back at $0.99. After using it for 1 year only thing I didn't do was buying it.

How to share on Whatsapp? I cant see Whatsapp on share screen.. though i enabled it in app settings.

Inoreader just got their own (official) app a week or two ago. I recommend it to anyone that still thinks that Feedly doesn't cut it as a Google Reader replacement. It may not be as pretty, but it's more powerful in many ways.

It's one of the fundamental issue of Windows Phone, unlike in Windows. It's supposed to have any app that can receive that content type are listed by default. You can't share a mere text form WC app to Whatsapp or Skype. MS.. haven't (won't ever?) learn enough..

One of the basics that won't make droids switch

other than the ability to share articles to different apps, are there any differences between the trial and paid versions?

Speakin of Whatsapp... I do hope they release that freakin voice calling feature for my Windows Phone some time, preferably before I die would be nice.

I would love to use the fast share via email, but where have they hidden it?

I just purchased and installed this as I assumed it would be able to do the basics like authenticated feeds seeing as everyone seems to think this is the best RSS reader available. Sadly I was wrong. It uses Feedly and Feedly doesn't support authenticated feeds. So, I'd like to know why everyone thinks this is the best reader when it can't even access authenticated RSS feeds? Back to SimpiRSS for me. I'm sorry Simpi for looking at another reader, it was wrong of me, I'll be faiithful to you forever from now on..

So are they gonna have Nextgen reader and nextgen reader! now? I figured they were gonna phase out the first one and support Nextgen reader! from now on.