Nimbuzz ends development of its Windows Phone app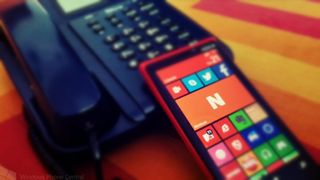 Nimbuzz, the popular messaging app service, has decided to stop developing its Windows Phone app. The company released the first version of this app in 2012.
In response to a Windows Phone user asking if the company had plans to update the app, the Nimbuzz Twitter account replied:
Nimbuzz, which is now based in New Delhi, India, claims to have 150 million users of its messaging and VoIP apps in 200 countries. It would appear, based on the response, that the company has no plans to release a Windows 10 or Windows 10 Mobile version of the app.
Thanks to Andres_Robayo17 for the tip!
Source: Nimbuzz
Windows Central Newsletter
Get the best of Windows Central in your inbox, every day!
Cool. Never heard of it...

It was popular in Symbian days. No body cares about it anymore. I think it'd better for them if they shutdown the company and runaway with whatever money they have from it

Yup. That's true. WhatsApp and Skype that's all..

...not even so popular, unfortunately.

Even the Windows central comment section has more chats than nimbuzz today!!!! LOL

Right. 100% agreed with you

Yah I tried it. Honestly, it probably has trouble building a new user base due to so many better alternatives. So it will just maintain it's current user base where people stick around due to being on it for a while.

No, in "Windows Mobile" days.

Never heard of it either, but there's definitely more than enough messaging apps in this world.

they already lost most of their marketshare to Whatsapp and Hike.

I think users gave up on this app long before they gave up on the platform. Posted from this here device.

They are not on any 'top 10 chat apps for iPhone', so I doubt they'll be missed much. Skype Kik Viber WhatsApp appear to be the main apps for chat.

Well... I don't need it though!
For these kind of Apps.... "Aao to Welcome, Jaao to Bheed Kam" Lol...

Ek no. Nahi chahiye nimbus, nimbu pani pi k khush hai hum. ;-)

Even if people who use rhe app now probably for passwordless privacy... You know if my mom comes to check the phone and she sees nimbuzz and she will be like "meh" who cares using it, not worth checking it out!!!!

It's riddance, assclown. Lol, you made it too easy.

Good riddance. Never heard of it.

How many messaging apps are there?

the least on Windows Phone for sure :)

Goodbye and fuck you. you will not be missed. Clownass

Wow, they must have really hurt your feelings to vent this much emotion. Maybe you better sit down and breath, lol!

Breathe, you ass clown, you made it easy. :P

It was one of my favourites app on my n79.. And it used to work so well on Symbian unlike in here..

Who was using it bdw ... Lol ... And I wonder if there are Droid and iOS users of this app ...

I used to use it on my E5 but I actually dont remember when that was :P

Short-sighted thinking from a company that I have never heard of. Moving on ....

Wow, such hatred so far in the comments! To some users, this could be their Snapchat--the big reason they don't use a Windows phone because the app isn't available. What's wrong with more app choices? Perhaps it may come back someday using the Astoria or Islandwood bridges.

I kind of doubt that. Still, no reason for all the hate. Small struggling companies have to allocate resources on what they determine gives them the best chance of success. No biggie.

Its not hatred. Its worthless. Was usefull during Symbian apps when messenger and all weren't that famous in India. They have never updated their way of service since first day of launch.

Why such hatred? Go ask comedies companies like this one. They actually have no excuse other than ignorance because WP's largest market share is in European countries.

They must be losing money, or not making enough so they have to make cut backs. This is the dead canary in the coal mine. Only a matter of time before they end support for other platforms too.

Snapchat has very large base compared to an app no one heard or care for.. We already have what's app, hike, Even bbm for chatting..

Nooooooo! Just kidding, I knew one person that used this app. Which was a symbian user previously they still have a following, because it was popular on symbian otherwise I am sure it was overshadowed by apps like whatsapp, kakao talk, line, wechat and snapchat.

No one uses it.
Stop making yourself proud by showing us the number of users.

Yeah i don't give a shit !

We got no time to say hi and bye, bitch!

Nimbuzz ain't no service I ever heard of, do they support Windows in nimbuzz? ..... I'll show my self out

LOL no one even use it on Android. All my friends with Android use Whatsapp and Messenger. Nimbuzz was popular 3 years ago.

I used Nimbuzz on my Nokia N97 on Symbian, it was cool but this app is a part of the past.
This is an app to connect at many places at the same time (Like IM+ on Windows phone or Windows 8.1) but it's now useless.....

It was popular back in the days. Not sure how popular it is now. But that does not matter lol it all depends on their reasons why they stopped. Maybe it wasn't worth it?

The world needs 52 less messaging apps. At least.

it was great when I was on Symbian, used it for a while on wp since my gf was still using it

I feel bad for both of the people who were using this app.

I use nimbuzz to call international destination and it allows calling using many voip accounts and wp has huge dearth of voip apps. At least ill miss it. But I never use it as chatting app, since nobody is there to chat

All the best VOIP apps are available on windows phone including Skype, Viber, whatsapp etc..

None of them offer cheap international call like nimbuzz and none of them allows using other company voip account use.

Let me think about it Posted via the Windows Central App for Android because it's superior to the Windows Phone one

Never heard of this app.. LOL... Windows should not appreciate cheap apps...LOL

Well beggers are not choosers you know!!

I'm one of those 150 million users, but I last logged in to their platform on my WinMo 6.1 6 years ago... It was never good.

150 million users. 3 active ones. I bet even the people working for that company use Whatsapp by now.

Who cares ??? !!! And who uses this app ???? Hehehe......

Nimbuzz is now in my memories. About 4 year ago I was using nimbuzz on my FLY B436 a java feature phone for 2 years for Facebook Chat and Gtalk. After that I start using LG Optimus Pro stopped using Nimbuzz because Facebook Messenger and Gtalk app on my phone.

R.I.P Nimbuzz! We won't miss you!!

It was barely functional anyway

People seem angry towards this small company (possibly struggling too) for prioritising resources, they are not saying that you've chose a bad operating system and are therefore a thicko, they're saying that they stopped developing for it... That's all

Going by the tone of their tweet, it looks they are saying just that- that were f**ked u because you're using an OS we don't like.

Isn't Nadella also from India?

Yup Mr. Nadella is from India. Chaiya chaiya chaiya!

So this is like Whatsapp for India? I remember saw it in Nokia Store but at that time of period, WhatsApp was popular already. Symbian...aaah N8 days

Nope, no one uses it even in India. We had this app, like you said, years ago!
We use WhatsApp, hike and/or Messenger lately..

Never had a need for any messaging app...

Just say thanks before they shut down the service

I think that people that doesn't know Nimbuzz are kind of newbies on smartphones and they never heard about Symbian, windows mobile 6 and others...
It's not because you don't know it that it is not famous!
It was very famous app connecting to many chat services at the same time but it's just a part of the past now.
Rest in peace.

In the age of Project Astoria how much it's tough to make a universal Windows app??

Hmmmm... Nadella doing so much for India and an Indian company says screw you Windows Phone.

Aren't there only 195 countries in the world? I call shenanigans on "200 countries."

Perhaps they're including Mars?

I used this app on desktop and symbian when i was younger. Never thought they would survive this long.

Good now I can uninstalled it

They are uninterested in about 200 million users?
ROTFL

I think 200 millions total users in all times, I'm sure 95% of them are inactive

I didn't know that Nimbuzz is still alive. I have never seen anyone here using this app, whether in Android or iOS. Maybe there is but not too many maybe.

Its Wikipedia page needs to be updated. It says that Nimbuzz gets about 210,000 registrations per day.

It's better than Chuck Norris messenger

Lol. Even WhatsApp doesn't has that rate. If people grew by that rate , a year will be enough to fill entire world in nimbuzz profiles. Well nobody fucking cares about this app anyways

Wow this is an app I haven't heard of in quite a long time. It was popular enough during the flip phone era. Didn't even know it was there on WP.

I think they didn't remember themselves that they was on WP lol

What if it's our nagging for an update that ruins any sort of desire from the company to even make an app on WP...?

It isn't outside the norms for customers of software applications to expect quality assurance and service if said development expects any kind of business success...I mean just look at htc, they just churn but no burn, but that's hardware. =[

Well, after seeing Microsoft do pretty much the same thing with the phones themselves, I can now understand this move if the company is apparently struggling I suppose...since it was apparent they couldn't even be bothered to support the application, they must be on minimal staff and no returns. =[

I've just used it for a few times because it worked with Facebook messages.. Sad to see the development process ended, but as long as it's still in the store, then it's all ok for those who need it.

It's a dead app they stopped on a dead OS.
Nothing abnormal

Interesting timing to pull an app now. At this point, why not wait a bit longer to see if things improve with Win10?

Yeah! Fuck knows about this nimbuzz or whatever... App we have WhatsApp, Facebook and Skype so your developement can fuck off! Well it hurts though that they dont give a fuck to windows phone but Android and iOS. :(

Those 6 people who still used this app will be so sad :P

Six? That's being generous ;)

I don't even know why there are so many messaging apps. It's not exactly something you want a lot of as it relies on a huge user base and once one or two have a large user base you can forget about building up your own.

Nimbuzz are useless for many users :P

I used it once upon a time for my Symbian s40 and belle OS.... Its exactly that same buggy and lagging in its latest build in android.... So I don't think anyone feeling sad for this....

I used it on my java mobiles.. Numbuzz, ebuddy, queep,mig.. Ohh.. Memories..

I tried it once, the desktop version. it was crap and never used it again, because Skype was and is million times better. sometimes I wonder why people would want to use these services when they aren't that great and there are other apps that do a better job like Skype.
so not a big loss here.

Don't call it popular.. Glad junk apps are going away

I would have done the same, who would like to waste time and Money on almost a dead platform.

Why are you here reading news about a dead platform? Go away.

Oh yeah then what the hell you are doing ob windows central. You should be on android central or Mac rumour page..

Oh no the sky is falling. What's a nimbuzz? /s

I remember back in the windows mobile days of old and Symbian this was a decent aggregated IM client. But somehow it just fell off a cliff and into obscurity (along with ebuddy).

Good, get rid of the clutter I guess

Nrver heard, don't care. The fact that they ignore the Windows 10 market share blow's my mind.

Good move, should be able to port the android one in the near future anyhow.

Never heard of it, no great loss.

I used it on J2ME in the days of Yahoo! Messenger

Enjoyed it on my Nokia N73 a long time ago in Symbian days but after the arrival of WhatsApp and others nobody cares about it.

My favourite app during symbian days....RIP....good we have Whatsapp!!!!

Haven't really used it, not even back in Symbian days, just had it installed for checking it out, but that's all.