Nokia 920T reportedly spotted in the wild, heading to China Mobile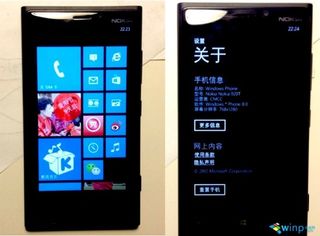 Some leaked photos have appeared showing what looks to be the Lumia 920T destined for China Mobile. A Chinese version of the Lumia 920 will be a leap for Nokia in the large Asian market, where the manufacturer retains strong brand recognition with previous reports suggesting Nokia Windows Phones overtaking Apple's iPhone.
The device, which has the familiar prototype branding printed on the phone, is said to include essential compatibility with China Mobile's TD-SCDMA standards.
Outwardly the device hasn't changed from what we see in a Lumia 920. The only difference appears to be support for the correct network standards. It's good to see that Nokia are endeavouring to make sure their devices will reach as many customers as possible, and that the Chinese market wont have to wait too long to get their hands on the latest hardware.
Chinese consumers have previously made their own Lumia 920 devices in anticipation of the Windows Phone 8's release. Some more shots of the Lumia 920T can be found below.
**Update** the site is now saying that the device is set to become available in November.
Source: winp.cn; Thanks, hengxiang32401, for the tip!
Windows Central Newsletter
Get the best of Windows Central in in your inbox, every day!
Wowwww , but why not just use "c" like lumia 800c ?

Because 920T sounds cooler

Because in China, a "C" letter after the phone model means it's a CDMA phone.

"C" is for CDMA2000 "T" is for TD-SCDMA

"Chinese consumers have previously made their own 920 devices" this is potentially misleading.

+1 I just wrote the same thing lol

Chinese consumers previously made their own Lumia 920 devices. - What does that mean?

I know what it means and what it refers to but on it's own, it is misleading

Yes, it is, that's probably why it's used not on it's own but has been linked to an earlier story 8)

Ah, yes, but in the official WPCentral app, the text is not highlighted as a link. Likewise when someone copies the text, the link may not follow. It is misleading, and hyperlinking the text doesn't make it clearer. Apparently I was not the only one to have the same thought.
I was just pointing it out as a service to the author. As a journalist, I am sure Mr. Brand wouldn't want his article linked to as an example of "those rampant Chinese counterfeiters stealin' other's idears..." :)

I think it's the most important market for Nokia.

It is the most important market in the world.
It's also the largest market for Windows Phoen and smartphone sales in general.
Windows Central Newsletter
Thank you for signing up to Windows Central. You will receive a verification email shortly.
There was a problem. Please refresh the page and try again.