Nokia to adopt Windows Phone 7 OS -- It's official!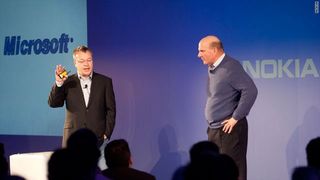 The rumors have been swirling for days but this morning it was official announced by both companies that Nokia will be adopting Windows Phone 7. In a joint open letter, both companies spelled out what the partnership means--let it be clear it's as big as it is deep--this is not just Nokia using Bing but a whole agreement in a virtual merger on smartphone strategy:
The core of the decision is for Nokia to use Windows Phone as its primary smartphone OS, with MeeGo going to the back-burner (but living on). The OVI store will merge with Microsoft's Marketplace, Bing will be on all Nokia services and Nokia wil provide mapping data for Bing.
The combination of Nokia, who's the largest cell phone maker (by volume) and Microsoft should create quite the juggernaut and gives Windows Phone the gravitas it needs to be taken more seriously (by consumers, carriers and the market). Indeed, this changes everything today. Will it pay off? Who knows, but we're happier with this decision than without it.
Why not Android? According to Nokia CEO Elop:
Have they started collaborating on a device yet? From Ballmer:
When? "We'll be shipping in volume in 2012", varying price points -Elop (via AllThingsD)
(Quote via via ElectricPig; part 2)
After the break, see the full official strategy between the two companies as outlined in their "open letter" and video...
Open Letter from CEO Stephen Elop, Nokia and CEO Steve Ballmer, Microsoft
GLOBAL – Today in London, our two companies announced plans for a broad strategic partnership that combines the respective strengths of our companies and builds a new global mobile ecosystem. The partnership increases our scale, which will result in significant benefits for consumers, developers, mobile operators and businesses around the world. We both are incredibly excited about the journey we are on together.
While the specific details of the deal are being worked out, here's a quick summary of what we are working towards:
Full list of the agreement between Nokia and Microsoft:
Nokia will adopt Windows Phone as its primary smartphone strategy, innovating on top of the platform in areas such as imaging, where Nokia is a market leader.
Nokia will help drive and define the future of Windows Phone. Nokia will contribute its expertise on hardware design, language support, and help bring Windows Phone to a larger range of price points, market segments and geographies.
Nokia and Microsoft will closely collaborate on development, joint marketing initiatives and a shared development roadmap to align on the future evolution of mobile products.
Bing will power Nokia's search services across Nokia devices and services, giving customers access to Bing's next generation search capabilities. Microsoft adCenter will provide search advertising services on Nokia's line of devices and services.
Nokia Maps will be a core part of Microsoft's mapping services. For example, Maps would be integrated with Microsoft's Bing search engine and adCenter advertising platform to form a unique local search and advertising experience.
Nokia's extensive operator billing agreements will make it easier for consumers to purchase Nokia Windows Phone services in countries where credit-card use is low.
Microsoft development tools will be used to create applications to run on Nokia Windows Phones, allowing developers to easily leverage the ecosystem's global reach.
Microsoft will continue to invest in the development of Windows Phone and cloud services so customers can do more with their phone, across their work and personal lives.
Nokia's content and application store will be integrated with Microsoft Marketplace for a more compelling consumer experience.
We each bring incredible assets to the table. Nokia's history of innovation in the hardware space, global hardware scale, strong history of intellectual property creation and navigation assets are second to none. Microsoft is a leader in software and services; the company's incredible expertise in platform creation forms the opportunity for its billions of customers and millions of partners to get more out of their devices.
Together, we have some of the world's most admired brands, including Windows, Office, Bing, Xbox Live, NAVTEQ and Nokia. We also have a shared understanding of what it takes to build and sustain a mobile ecosystem, which includes the entire experience from the device to the software to the applications, services and the marketplace.
Today, the battle is moving from one of mobile devices to one of mobile ecosystems, and our strengths here are complementary. Ecosystems thrive when they reach scale, when they are fueled by energy and innovation and when they provide benefits and value to each person or company who participates. This is what we are creating; this is our vision; this is the work we are driving from this day forward.
There are other mobile ecosystems. We will disrupt them.
There will be challenges. We will overcome them.
Success requires speed. We will be swift.
Together, we see the opportunity, and we have the will, the resources and the drive to succeed.
via ElectricPig; part 2
Daniel Rubino is the Editor-in-chief of Windows Central, head reviewer, podcast co-host, and analyst. He has been here covering Microsoft since 2007 when this site was called WMExperts (and later Windows Phone Central). His interests include Windows, Microsoft Surface, laptops, next-gen computing, and for some reason, watches. Before all this tech stuff, he worked on a Ph.D. in linguistics and ran the projectors at movie theaters, which has done absolutely nothing for his career.
Wow ! This is just fabulous news ! I have been a long time Nokia user and I always thought they made the best build quality phones out there. I love Windows Phone but to be really honest I never thought that the physical quality of the phones were impressive .. at least for the price you paid. I am an HD7 owner and I would happily change to a 4" Nokia phone in a heartbeat.I think this is what both companies really needed. Nokia, although are down since iPhone 2G, are still very popular and they can penetrate markets easily, but they desperately needed a new OS. Microsoft on the other hand, needs a good hardware. And Nokia always failed in heavily breaching the US market so what would be the best way to do that than Microsoft?Overall I smell only win out of this. The only problem would be time as it always is. I still have my E61 in my bag btw :)

I'm really looking forward to a N9 based WP7 phone. It has incredible specs, and if it comes out within the next few months, I'd be all over it.Especially if they keep most if not all of the specs.N9 Specs,512 MB RAM1.6 GHz Atom (Variant of the ARM which with a little coding should run WP7)4.1" AMOLED display64 GB ROM + MicroSD,8MP Cam with Carl Zeis Lense and a vga front facing cameraFM Transceiver,HDMI mini out (1.4) (in theory could do 3D) This could really put pressure on the other manufacturers to step up their game. Particularly if Microsoft commissioned a reference based on this phone.

Nokia hardware aside the bigger news for me is all the links between the MS and Nokia services, specially maps and navigation, plus Nokias expanded direct billing services which should help with WP7's marketplace.Nokia will give MS the ability to expand WP7 to more markets faster now because of this deal, so it's win-win for us who already have a WP7 device outside of the initial launch countries.Nokias EU maps and localization being fed into Bing Maps? I mean that's huge for Bing and WP7 as well.

I used to always get Nokia phones until they pretty much stopped showing up in the U.S. at reasonable prices/features. This'll be interesting.

The one thing I'm really hoping to see from this is expansion of Microsoft services to Norway and other "2nd and 3rd rate" countries. Nokia already has alot of Map data and turn by turn directions for these countries, and if this could just be added to Bing maps I'd be in heaven. They also had a music store, which I now believe is closed, but those rights and payment services might be good for Zune aswell.And then there is hardware especially camera hardware. Nokia have always been at the forefront there.

"Microsoft will continue to invest in the development of Windows Phone and cloud services so customers can do more with their phone, across their work and personal lives."Why is this particular statement part of the Nokia agreement? Even without the Nokia agreement it should be pretty obvious that Microsoft would invest in its own mobile platform.Have I misunderstood something?

I've always loved my Nokia phones (and still do). Then smartphones came and made my life/work easier. Everytime something happens to my smartphone, I revert back to my trusty and still functional Nokias (remember butterfly keyboard? LOL). Though I am quite fond of my Samsung device, this collaboration will definitey be fun to watch. This is a win-win for everybody.

"Success requires speed. We will be swift."bwhahahaha. this is the funniest thing I read all day! Swift. Microsoft has been moving slower than a damn snail to deliver the 1st patch. new definition in the dictionary would be, Swift: to move something slower than the movement of a snail.

Not included in the above was a follow-up that Nokia CEO Stephen Elop gave for the press after the sell-off and price plunge in Nokia stock, off 14% on Friday:On Sunday, a day ahead of the start of the Mobile World Congress cell phone trade show in Barcelona, Nokia CEO Stephen Elop told press, analysts and industry players that apart from the benefits of the alliance that were laid out Friday, Microsoft is paying Nokia billions of dollars to switch to Windows Phone 7."This is something I don't think was completely explained" on Friday, Elop said."- as reported by AP.So there you have it: despite all the chest beating and back slapping it came down to one thing - money. Microsoft bought Nokia off.Nokia does know how to make good hardware and is the world's leader in feature phones, It's success has not translated to the high margin smartphones and has so far been unable to penetrate the US market for such devices to any degree. WP7 has so far captured only a few percent of the US market (AP). I'm not optimistic about the combination, especial one that appears to be aimed primarily at markets outside the US and won't produce tangible results until 2012, at which point the only thing that can be said about the smartphone market is that it'll be drastically different than it is today, making Friday's statements largely irrelevant.The people that had the real take on the situation where Nokia's own employee's, which using their flextime to maximum effect, left work early in droves after the announcement...

Spoilers from future:
Microsoft buys Nokia.

hahahahahahaahhah! nice one! +1520

Wish all of this didn't happen.
Windows Central Newsletter
Thank you for signing up to Windows Central. You will receive a verification email shortly.
There was a problem. Please refresh the page and try again.