Nokia announces Lumia 610 with NFC on Orange, available Q3 2012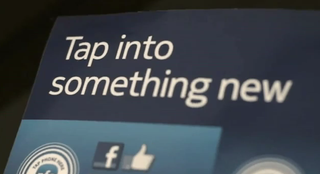 Nokia has announced the Lumia 610 today with NFC (Near Field Communication) support, which we covered earlier with the above video being uploaded to Nokia's Youtube account by accident. The Lumia 610 NFC was revealed at WIMA NFC 2012 in Monaco and is expected to be available early in the third quarter of 2012 with Orange listed as the first partner carrier.
But what's all the hype about NFC, and what can the technology do to make life easier for Windows Phone owners? An NFC enabled device will enable users to share photos and other media by just touching other handsets, make payments in stores with MasterCard PayPass, use the Windows Phone as a travel ticket (e.g.: Oyster on London public transport), just to name a few examples.
Check out the video for more information and quick demos from Nokia's Andrea Bacioccola of what NFC can achieve on Windows Phone and read more on the announcement at Nokia Conversations. Unfortunately the Lumia 710, 800 and 900 do not support NFC.
Check out the press release after the break. Video Source: Youtube
Nokia brings NFC to Nokia Lumia 610 smartphone with operator Orange
Monaco - Nokia today announced an NFC version of the recently-launched Nokia Lumia 610, the most affordable smartphone in the Lumia range and the perfect introduction to Windows Phone for a younger audience. Orange will be the first operator to range the Lumia 610 NFC, which can pair with NFC accessories and read NFC tags. The Lumia 610 NFC also has the hardware and software enablers for the implementation of NFC payment and ticketing solutions, and has been certified for contactless payments both with MasterCard PayPass® technology, and with Visa's mobile application for payments at the point of sale, Visa payWave.
"Nokia continues to lead the field in NFC with this latest implementation on the Windows Phone platform, in which we have the full support of Orange," said Ilari Nurmi, head of product marketing for Nokia's Smart Devices business unit. "We're bringing NFC right across our portfolio, and together with our ever-growing range of NFC accessories we're making it easy for people to connect via a single tap. We're also enabling operators and other service providers to build NFC payment and ticketing solutions on top of our smartphones."
"Orange is committed to rolling out mobile NFC services in all its European territories and as part of this goal we're very excited to be the first operator to launch the Lumia 610 NFC," said Yves Maitre, Senior VP Mobile Multimedia & Devices at Orange. "The Nokia Lumia smartphones have been very well received by Orange customers. We are now going one step further and adding an NFC-enabled handset to this popular range of devices, enabling people to use contactless services via a single tap. Nokia is a natural fit for us regarding NFC and, like Orange, has shown a very early commitment to the standard."
Payments certified
MasterCard PayPass® technology provides consumers with a fast and convenient alternative to cash at the point of sale for their everyday purchases. Devices certified by MasterCard, such as the Lumia 610 NFC, go through a rigorous testing process by a MasterCard accredited laboratory to ensure they will work seamlessly with the PayPass network.
"We are excited to have certified the Lumia 610 NFC for use with our industry-leading PayPass technology, joining other Nokia smartphones helping consumers choose when, where and how they shop on devices they own and love," said Mung Ki Woo, group executive, Mobile at MasterCard.
The Lumia 610 NFC is expected to be available early in the third quarter of 2012.
Windows Central Newsletter
Get the best of Windows Central in in your inbox, every day!
Rich Edmonds is Senior Editor of PC hardware at Windows Central, covering everything related to PC components and NAS. He's been involved in technology for more than a decade and knows a thing or two about the magic inside a PC chassis. You can follow him over on Twitter at @RichEdmonds.
So glad I didn't sign a contract for my Lumia 710 (and refuse to for the 900) because of this exact situation (not I would sign a contract for this phone because it's still low-end). Found my 710 for 200 and am now a free agent on Tmobile prepaid. I've said it before and I'll say it again....I refuse to buy a device that does NOT have at least a Front cam, NFC, and and a decent GPU for gaming (don't care about processor necessarily). I'm not a spec whore (the reason why I am with Windows Phone vs Android), but if I'm going to sign my life away for 2 years (especially to a crappy company like AT&T) it better be on a device that is pretty future proof. The current crop of Windows Phones are recycled Android handsets with different manufacturers basically. I don't need an XBox 360 in my pocket, but I at least want a device that "feels good to have" and not feeling like I'm missing anything when things start to pick up (NFC support, better gaming apps, etc). I don't need these specs for current day usage, and if I could find any of the newer high end 2nd gen devices for a good price off-contract then I'm all for it. But as is... I refuse to sign a 2 year agreement for the crop of devices out now.....

The lumia is a very good handset and not a recycled android....you must be referencing HTC because all there devices look the same. I'll go out on a.limb and say the lumia family of phones support this feature but it won't be made unlocked on the 710, 800, or 900 until the next update. I had a first Gen focus and tethering was there, just not unlocked as opposed to the 900 where tethering is native

NFC is really that big a deal for you? I have a debit card from ING Direct which puts my name on the back of the card instead of the front. This little thing has actually caused a bit of confusion when presenting the card. In one instance it resulted in a little hositility from the merchant! That said I really don't see NFC blowing up like people expect it to, no way not in 2012 and not in 2013. I see it more a passing fad like QR codes were in 2009/2010. There are thousands of Android & iPhone users who go without ever buying a single app (registering a debit card to the phone) let alone turning the phone itself into the debit card. Adoption will be small. Perhaps it just sounds big because of the circles we frequent on the internet.

NFC is important to me because wife and I share a checking account because of her bad credit (and I do not write checks because I hate them). We only have one debit card (and everything is in my name), and when I had my Nexus S it was very convienent to just pull it out and use it as places for lunch and stuff, while my wife kept the card (she is a stay at home mom primarily with our 3 kids).

Q3? Isn't that pretty far down the road? Is it starting to look like Apollo devices are going to be Q1 2013?

Apollo isn't aimed at people looking at low end devices so does it matter?

I guess that is true. Never thought of that. I guess I'm just used to phones coming out in waves after each OS update.

Wouldn't the technology have to be listed on the boxes? Also, it would have had to have been mentioned in the documentation when it was trying to pass the FCC and someone would have definitely mentioned by now if the current Lumia devices had it. It would be nice of this were true, but I just see it as being possible. Also, tethering isn't something that requires anything besides a cell radio. The rest is handled by software, whereas NFC is Bluetooth technology so if you don't have a device with a specially code named Bluetooth 4.0 chip you won't have NFC (from my understanding). And yes, I was basically referring to HTC devices, but the Lumia family isn't excluded from my rant because internally they are just the same as every other WP device (minus a better screen, better build, and better camera maybe). The argument holds for ANY current Windows Phone out...

I wasn't too impressed with NFC on my Nexus S 4G. I was given a $10 prepaid card from Google when I signed up for Wallet but I couldn't ever find someplace to spend it. Every Starbucks and Caribou coffee I frequent has a Paypass readers but they are not activated buy the retailer. It's just easier to pay with a credit or debit card in my wallet anyways. Although, member cards or public transit cards would be nice to integrate.

I will disable NFC if any device I own ever has it. Don't need it, don't want it.

Yes. NFC is an invention by the Devil.

Q3 is not to late for the beginning of WP7 low cost devices lunch? Q4 is when Apollo will comes out...
I was waiting for a lunch in Q2 (for Tango devices of course).

I just have a feeling it might be another year before we see a true 2nd Gen phone. Hope I'm wrong, I'm holding onto my quantum and give it until the end of the year to see what happens. Then a W8 phone and tablet for me.

Just watched a cool little vid over on wmpoweruser that shows off the NFC capabilities nokia are trying to push, was interested to see what looks scarily like a lumia 800 being used with NFC about the 6min mark would be pleasantly surprised if it does have the hidden chip like the c7 did when it first launched before the Anna update

Just realised probably n9 :(
Windows Central Newsletter
Thank you for signing up to Windows Central. You will receive a verification email shortly.
There was a problem. Please refresh the page and try again.